Connections
Share Opportunities
We make it easy for organizations and programs of all kinds to connect with Simon's Rock talent. Employers, graduate and professional schools, foundations, nonprofit organizations, and other groups can find a way to reach our students and alumni through our services and special programs.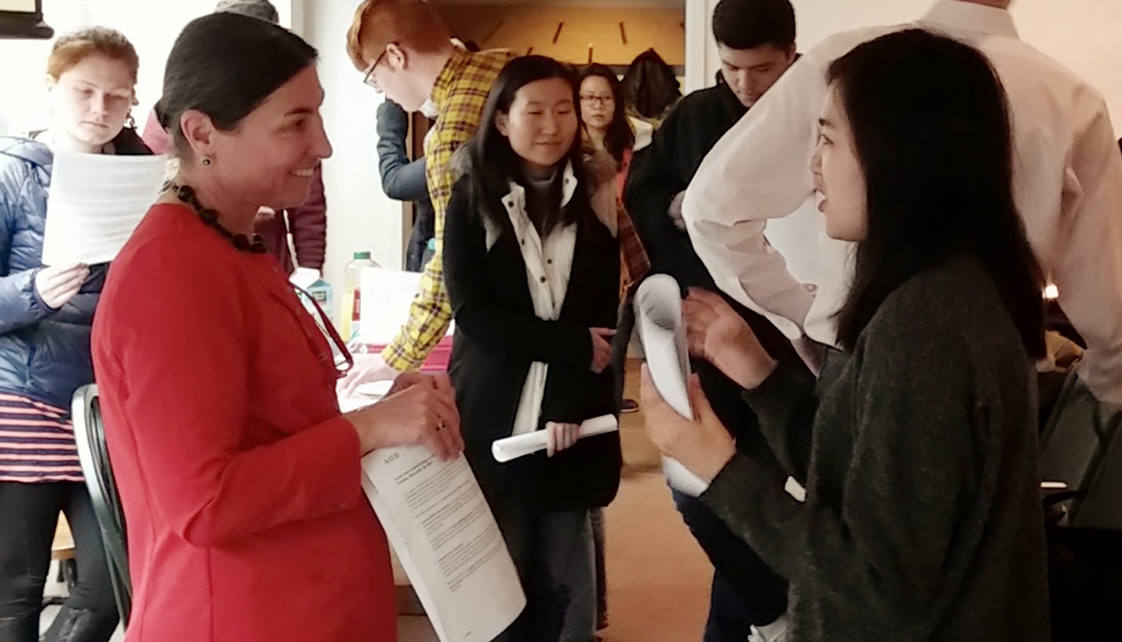 Alumni Library
Atrium
Bard College at Simon's Rock
84 Alford Road, Great Barrington, MA 01230
Presenting Your Opportunities to Students and Alumni
We offer posting and promotional services for any kind of opportunity including internships, jobs, externships, graduate and professional programs, fellowships, service programs, study away, volunteer opportunities, and special or alternative programs.
Post now. The fastest way to reach students and alumni is to register your organization with our online career services platform. After we activate your account, you will be able to post opportunities as often as you like.
Spread the word. We provide targeted mailings and cross-postings through social media and other channels as appropriate.
Internship cross-posting. As part of the Nationwide Internship Consortium (NIC), we collaborate with 16 other colleges and universities across the country to deliver high-quality internships to our students. We may selectively cross-post with our partner institutions, so please let us know if you specifically do or do not want your internship posted to NIC.
Getting in Front of Students
You can recruit more effectively at Simon's Rock through on-campus or remote information sessions or visits, and you have lots of possibilities. Most events should be scheduled at least two weeks in advance, and you can expect ~10 students for a standard recruiting event.
Come on-campus. We will host you for recruiter visits of any kind, including information sessions, tables at the dining hall, individual meetings, and interviews. For dinnertime events, we recommend purchasing food.
Connect online. Set up a webinar, Google Hangout, or Skype session with us. You do not have to come to campus to get an audience with students.
Get Creative
Simon's Rock students crave to know and do more. If you want to maximize your recruiting impact and attract a larger audience, you might consider any number of alternative possibilities or work with Career Development to design your own.
Build skills, knowledge, and insight. Build professional development skills or give a tutorial in your field or industry. Engage students in the important problems in your field. Show off some research or important work you are doing. You will get their attention. Where appropriate, special sessions with you may be linked to ongoing courses as well.
Sponsor a challenge, event, or resource. How about an essay competition, design challenge, or event sponsorship? Engage students in meaningful activity that helps you see their strengths in real-time.
Special Programs
Our special programs give you new opportunities to involve Simon's Rock students in your work.
Virtual Internship Experience (VIE). Build high quality, project-based internships in partnership with Simon's Rock. VIE coordinates virtual internships offered by organizations or initiated by students in a variety of career fields. Career Development further supports and encourages student interns through educational programming and space designed to enhance the virtual internship. We also serve as a liaison for partner organizations to help match opportunities with strong candidates and provide limited administrative support. Learn more.
Semester internships. We can facilitate full-time academic year internships connecting liberal arts students directly to career opportunity through a twist on study-abroad. Rather than study at a distant educational institution, students would spend a semester of the junior academic year on-location, at work at your organization, for-credit. Students should also continue to take part in studies back at Simon's Rock through tailored tutorials. Contact us to get involved.
Internships for credit. Students may pursue substantive internships with well-defined learning outcomes for credit during the summer or concurrent with their studies. Contact us if you would like to pursue this option.