Christopher K. Callanan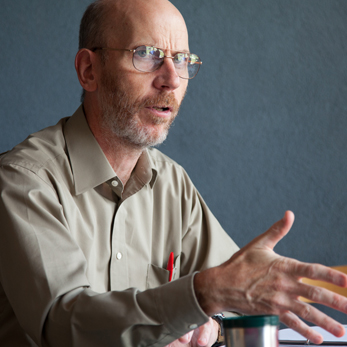 Professor of Classics
Contact
Hall College Center
Academic Program Affiliation(s)
Areas of Specialization
Post-Aristotelian Greek Philosophy
Greek Grammarians
Interests
Research Interests: Neoplatonic philosophy; Hellenistic grammarians
Teaching Interests: Hellenistic Greek philosophy; ancient epic
Biography
PhD in Greek and Latin Philology with a minor in General and Indo-European Linguistics, University of Göttingen
BA, Amherst College
After learning how to learn from the Jesuits at Loyola High School, Dr. Callanan attended Amherst College where he majored in Classics, while also studying German and Medieval Studies. He went on to do the Staatsexamen in Greek and Latin Philology, with a minor in Philosophy, at the University of Göttingen in Germany. Dr. Callanan continued his graduate education and studied in particular under Prof. Dr. Klaus Nickau. He taught in the Classics Department of the University of Göttingen for eight years before accepting a position at Bard College. Dr. Callanan has been teaching at Simon's Rock since 1999.
Highlights
Junior Fellow of The Center for Hellenic Studies, Washington, D.C., for academic year 1987-88.
Kellogg Fellowship for graduate study in Germany, 1979-8.
Amherst College Fellowship for graduate study, 1978-79.
Book: Die Sprachbeschreibung bei Aristophanes von Byzanz. Vandenhoeck & Ruprecht (Hypomnemata 88), Göttingen 1987.
Articles: "Übersehene Favorin-Fragmente aus einer Oxforder Handschrift," Rheinisches Museum 1986, pp. 170-184.
Article/Review of Karlheinz Hülser, Die Fragmente der Stoiker zur Dialektik (Stuttgart-Bad Cannstatt 1987) in: Historiographia Linguistica XVI:3, 1989.
"A Rediscovered Text of Porphyry on Mystic Formulae," in: Classical Quarterly 45, 1995, pp. 215-30.
Translation of the Catulli Carmina of Carl Orff for a performance by five soloists with the Chor des bayrischen Rundfunks (Bavarian Radio Chorus) in the Avery Fisher Hall of Lincoln Center in May of 2001.
Reviews: of Lowell Edmunds, The Sphinx in the Oedipus Legend (Königstein 1981) in: Fabula 23, 1982, pp. 316-18; of Lowell Edmunds and A. Dundes (edd.), Oedipus: A Folklore Casebook (Garland Folklore Casebook IV. New York/London 1983) in: Fabula 26, 1985, pp. 144-46; of Alfred Bammesberger, Lateinische Sprachwissenschaft (Regensburg 1984) in: Indogermanische Forschungen 92, 1987, pp. 303-8.