Erin McMullin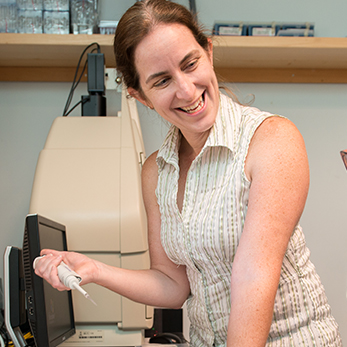 Assistant Professor of Biology
Contact
Fisher Science & Academic Center
Academic Program Affiliation(s)
Areas of Specialization
Population genetics
Evolutionary genetics
Interests
Teaching Interests: General introductory biology courses and topical biology courses for non-majors; upper level courses with a more cell and molecular biology focus; evolutionary biology, with a focus on molecular evolution and population genetics; symbiosis
Other Interests: All things biology, from the very small (molecular biology) to the very large (ecology)
Favorite/Regular Courses Offered
Bard Academy Year 2 Biology
Introduction to Biology
Cell and Molecular Biology
Neurobiology
Immunology
Biography
PhD, The Pennsylvania State University
BA, Oberlin College
Before obtaining her doctoral degree, Dr. McMullin was a predoctoral fellow in a cancer research lab at the NIH, then a field assistant with Margaret Davis at the University of Minnesota, and, finally, a bookseller at Barnes & Noble while applying for graduate programs. After graduate school, Dr. McMullin held a post-doctoral position at the University of Delaware, and then taught at Bowling Green State University as a Visiting Assistant Professor and at Denison University as a Visiting Professor. She has been teaching at Simon's Rock since 2011.
Highlights
Recent Publications
(In prep) S.J. Snyder, R.E Schmidt, E.R. McMullin, B.F. Parker & H.J. Ferus. "Gymnophthalmus underwoodi Grant, 1958 (Reptilia: Gymnophthalmidae), a new record for the island of Montserrat." (in prep for Check List, a journal of biodiversity data)
2016. N.F. Shoobs, R.E. Schmidt, & E.R. McMullin. "A new record of the freshwater polychaete, Namanereis hummelincki (Polychaeta, Nereididae) from epigean waters of Montserrat." Zootaxa. 4061(2):157-63.
2015. R.E. Schmidt and E.R. McMullin. "Freshwater and Brackish-water Fishes Observed on Montserrat, Lesser Antilles, West Indies." Caribbean Naturalist. 25:1-12.
2013. J. Hemdal and E.R. McMullin. "Husbandry of a Lake Victoria cichlid, the Pitch-black fulu Haplochromis piceatus, in public aquariums: a 20 year retrospective." International Zoo Yearbook. 47(1):112-119.