The concentration in creative writing offers students the opportunity to explore an array of writing styles and genres, thereby helping them discover and develop their own voices.
Beyond the introductory course in which students write fiction, poetry, and creative nonfiction, students take specialized workshops offered each term, as well as tutorials and independent studies. A number of Simon's Rock graduates have gone on to great success in graduate programs in writing, and have published their own stories, poems, essays, novels, and biographies. However, the concentration is intended to assist all students who wish to make creative writing a part of their major program, rather than only those students interested in writing as a profession. Because the concentration affords students the opportunity to explore writing as a means of knowing, it serves very well those major programs that focus on literary studies, gender studies, theater, visual arts, and the social sciences. Creative writing can help students become better readers of their own work, of themselves, and of the world around them.
Related Career Paths
Students with a concentration in creative writing may enter into fields and positions such as fiction writing, editing, screenwriting, communications, grant writing, and advertising.
Curriculum
Students in this concentration balance time spent on their own writing with literature courses in which they develop familiarity with literary genres and the works of published writers. All students are required to take Introduction to Creative Writing or Modes of Making, which focus on a number of different genres and assist students in developing effective skills for critique and revision of their work. They must earn an additional six credits through writing workshops and at least 11 credits through literature courses, including one of the College's introductory genre courses. Two courses in the concentration must be literature courses at the 300-level or above. The minimum total credits for the concentration is 20. Beyond this, students are encouraged to take tutorials or independent projects in writing, to select literature courses that link up with and forward their writing interests, and to take courses in other disciplines that enrich their work in creative writing.


Course Spotlight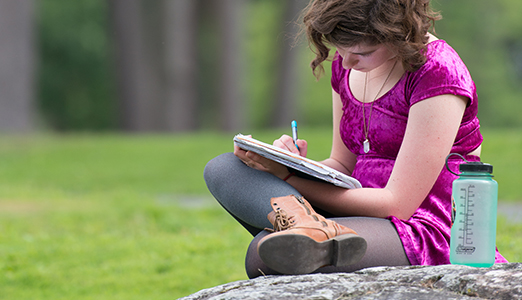 Literature 288/388: Fiction Workshop
You'll receive helpful criticism in a workshop atmosphere, this course combines structure and freedom: Structure in the form of assigned exercises drawing attention to the elements and techniques of fiction, and freedom in the form of longer, independently conceived stories. Some time is spent each week discussing short fiction by contemporary writers as well as that of students in the workshop, with the goal of sharpening our abilities as writers, editors, and critics.