Students interested in contemporary cultures, both popular and high art, are invited to consider concentrating in cultural studies.
Sometimes referred to as the "folklore of industrial societies," cultural studies analyzes the construction of what is popular and valued in a given time and place, exploring the implications of extending the term "culture" to include the activities and reactions of ordinary people, those traditionally excluded from elite culture. In cultural studies, human interactions and behavior, as well as all sorts of visual, written, and oral expression, are interpreted in light of their underlying roots in the world from which they emerge.
Arising out of philosophical crises in the disciplines of the humanities and social sciences in the 1970s, cultural studies is premised on the conviction that everything human has meaning and reflects particular economic, political, interpersonal, and cultural circumstances. It aims to discern those connections, as well as to highlight the forces that create difference, division, and alienation.
Consequently, it uses a range of theories and methodologies—notably Marxism, feminism, deconstruction, psychoanalysis, and ethnography, as well as aesthetic theory—to interpret particular activities, trends, and individual works. The close reading of these works and behaviors illuminates underlying human circumstances, at the same time that analysis of those shaping conditions enables students to see what can be done, thought, and said at a particular time. Increasingly, cultural studies has included a focus on the emotional and interpretive reactions of readers and audiences.
Related Career Paths
Students with a concentration in cultural studies may enter into fields and positions such as law, education, social work, and public administration.
Curriculum
Students interested in this concentration should take the core course, Anthropology 200 Introduction to Cultural Studies. Further work in the concentration should balance theoretical courses with those that focus on particular phenomena, moments, movements, genres, or works.
To satisfy the minimum requirements, students must take at least six courses, two of which must be at the 300-level or above, for a minimum total of 20 credits. The six courses should include the core course, and at least one of the theoretical courses listed below or an appropriate alternative approved by the major advisor.
In addition, the student's program must include at least two courses focused on different particular cultural phenomena, samples of which are listed below. Students should propose suitable choices to the major advisor for approval.
The two additional courses in the concentration may focus either on a theoretical approach, on particular phenomena, or an integration of the two.
Course Spotlight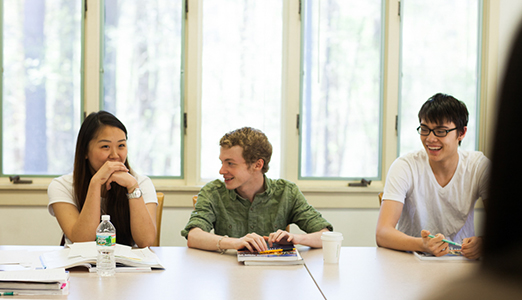 Social Science 302: The Foucault Effect
Noting that Foucault's work is relevant to important new understandings of the social sciences, the arts, literary criticism, and politics, this course analyzes the fruitful encounters of his ideas with past and present critical theory, poststructuralism, and feminist and postcolonial analyses of marginalization and resistance. It thus explores possibilities for creating a future freer and more just than the present, which so exercised Foucault's iconoclastic ire.