The core of what is most frequently termed "the West," Europe is the parent culture for many Americans and the home of political ideas and forms of economic and social organization that have helped to shape the contemporary world.
Peoples originating in Europe have proclaimed peace on earth as a religious ideal even as they created what has been seen as one of the most aggressive and expansive of the world's civilizations. Admired, imitated, and reviled, Europe is the place where democracy and romantic love were invented; it is at the same time the birthplace of Adolf Hitler and the site of the Holocaust. Devastated in World War II and in retreat from its position of world preeminence, the European community has since made a remarkable recovery and may now offer new models of accommodating cultural difference within a productive economic framework and egalitarian political structure, as well as instances of ongoing ethnic conflict.
European studies is unified by a respect for the diversity and the achievements of the peoples of Europe and by the search for critical perspectives on their experiences which will enhance our understanding of human potentialities in the past and the present.
Related career paths
Students with a concentration in European studies may enter into fields such as education, research, foreign services, writing, journalism and publishing.
Curriculum
This concentration offers many avenues for exploring the richness of European civilization and history. Students might choose, for example, a group of courses that provide perspectives on Europe within a meaningful chronological segment (e.g., Europe since 1789); courses with a specific regional or national focus (e.g., Central and Eastern Europe, Italy); or courses that focus on particular aspects of cultural production (e.g., literature and the arts). Students are encouraged to enhance their appreciation of European culture and history by spending part of their junior year in Europe and by pursuing fluency in a European language at Simon's Rock. In consultation with the major advisor, the student constructs an interdisciplinary concentration consisting of 16 to 24 credits of appropriate courses such as those listed below. Two 300-level courses are required, and more than one discipline must be represented.
Course Spotlight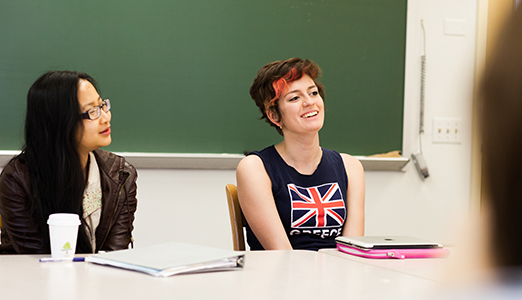 Art History 211: Picasso's Art: Erotics and Politics
This course explores the private and public worlds of Pablo Picasso and presumes that his art cannot be understood without considering both. The course begins with his early work affected by the anarchist movement in Barcelona and ends with his joining the French Communist Party in 1944. Students develop a visual familiarity with the most significant works done by Picasso starting from his youth, continuing through the Rose and Blue Periods, the highly innovative Cubist experiments, the Neoclassical phase, his Dada and 95 Surrealism involvement, and ending with his monumental Guernica in 1937.