Latin Courses
Explore the Latin courses offered at Simon's Rock.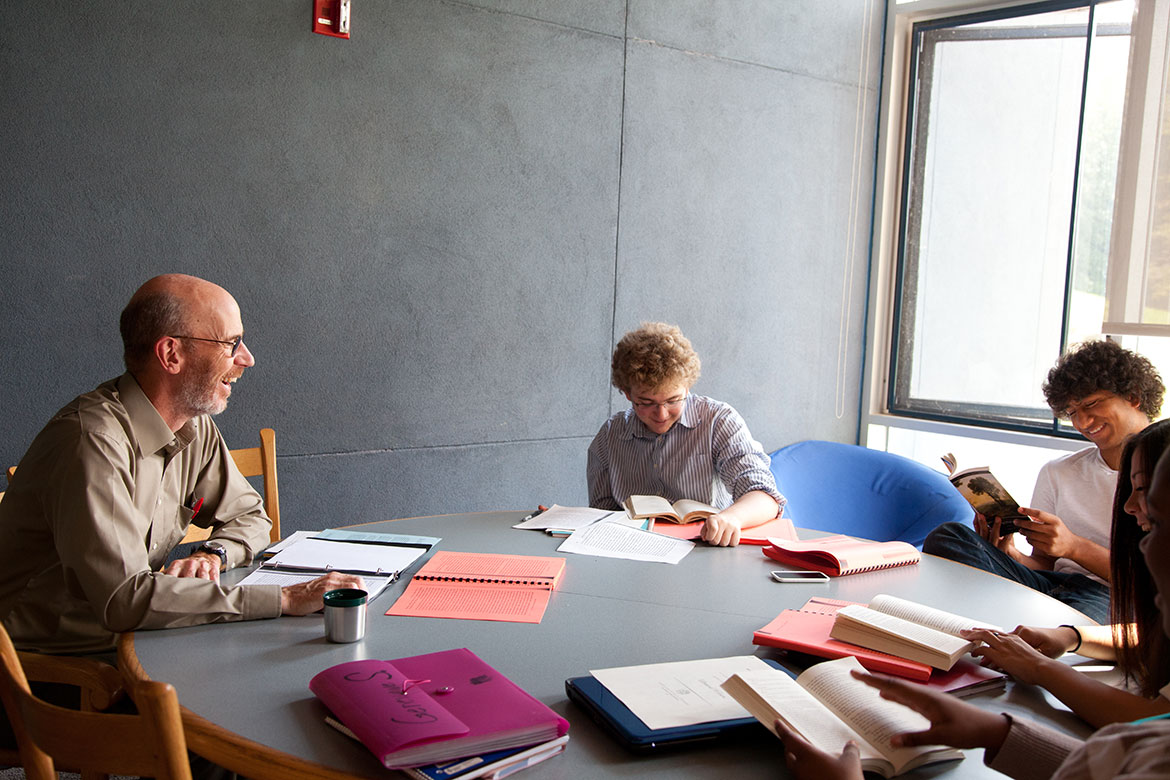 Professor with students in Tutorial
Accelerated Beginning Latin I & II
Latin 100-101 | Callanan | 4 credits
Latin is the language of Virgil, Cicero, Horace, Catullus, Tacitus, and poets and scholars into the Renaissance and beyond. Western culture and its vocabulary were transmitted to Western Europe or first invented in Latin. In this course, students with no (or relatively little) previous experience learn Latin, as far as possible, as a language spoken and heard in the classroom. We speak, chant, sing, and perform skits in Latin, in addition to reading. Explanations are, of course, given in English, and we practice translating in both directions. By the end of the year, students are able to hold their own in conversation and ready to begin reading most Latin authors.
This sequence is offered every year.
Intermediate Latin I: Roman Civilization and Virgil
Latin 204 CP | Callanan | 3 credits
Designed for students who have completed Latin 101 or its equivalent: We focus on a significant portion of one of the greatest works of literature, Vergil's Aeneid. Those parts not read in Latin are read in English translation. This is the student's first experience of reading an extended Latin text, and so we will work on techniques of translation, vocabulary building, and recitation. Attention is also devoted to mastering meter and poetic language. Throughout the semester we will look at the cultural and literary background of the tragic love affair between Aeneas and Dido and the role of the epic as an interpretation of Roman history and specifically of the Augustan Age.
Prerequisite: Latin 101 or permission of the instructor. This course is generally offered once a year.
Intermediate Latin II: Roman Civilization and Comedy
Latin 205 CP | Callanan | 3 credits
This course is designed for students who have completed Latin 204 or have had the equivalent of one semester's experience in reading extended Latin texts. The reading for this course consists of at least one Roman comedy, either of Plautus or Terence. Most of the comedies of Plautus and Terence are read in English translation during the semester, and discussion—in class and in short papers—of Roman culture, the literary genre and its techniques and conventions is an integral part of the course. Sections of the play are usually publicly performed in Latin by the students during the second half of the semester.
Prerequisite: Latin 204 or its equivalent (see instructor for placement). This course is generally offered once a year.
Latin Tutorial
Latin 300/400 | Callanan | 4 credits
Under these course numbers, juniors and seniors design tutorials to meet their particular interests and programmatic needs. A student should see the tutor to define an area of mutual interest to pursue either individually or in a small group. A student may register for no more than one tutorial in any semester.