Claim Your Merit Page and Celebrate Your Achievements
Simon's Rock uses Merit from Merit Pages, Inc. to celebrate and publicize your achievements inside and outside of the classroom.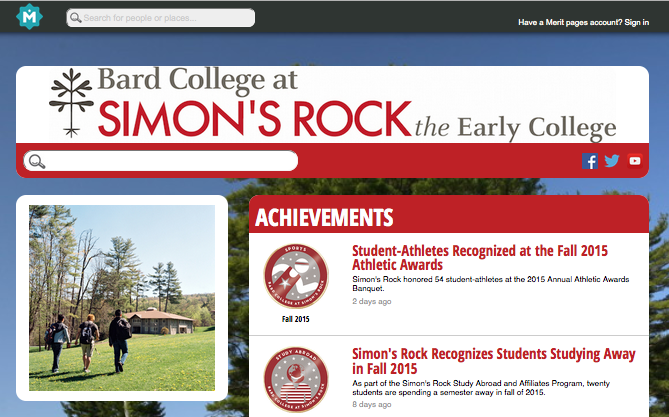 Merit is a network that students, Bard College at Simon's Rock, and other organizations use to collaboratively showcase and share student accomplishments.
Hundreds of colleges in the U.S. use Merit to promote their student's success through personalized profile pages. During your time at Simon's Rock, your accomplishments are highlighted on a verified online profile – a Merit page. By claiming your Merit page profile—which is available to all College students—you'll receive recognition when you make the dean's list, study abroad, engage in volunteer activities, and much more. Announcements will be sent to your hometown newspaper for publication.

Best part? Your Merit page is created and updated automatically–you don't have to maintain it; the College does it for you. Updates to Merit pages are shared with a network of stakeholders who are invested in your achievements and success: family and friends; employers; former teachers, coaches and schools; volunteer organizations and more. Your Merit page is also social, so sharing news with your inner circle on Facebook and Twitter is easy. In addition to keeping achievements and activities in one virtual place, Merit pages build your online profile to help you secure jobs, get internships, and collect references.
You can also update your Merit page with activities and work experience, and customize your profile by adding a photo, bio, and videos. Organizations in the Merit network, like national honor societies and service groups, can also add achievements to your profile page.
See Simon's Rock Merit Page to find out what other Rockers are doing on campus and beyond.