Uncommon Journeys
Uncommon Journeys is a speaker series that celebrates Simon's Rock alumni who have trailblazed their own paths to success.
The series was established in 2016 and is generously sponsored by Dr. Scott Shenker and Mary Ruth Quinn P '09 and '11.
Past Speakers
David Felix Sutcliffe '98
In February 2016, David returned to campus to screen his award-winning documentary (T)ERROR. The screening was followed by an informal Q & A and reception. A Sundance award-winning filmmaker and cinematographer, David's work has screened in festivals throughout North America—including Tribeca, Full Frame, Hot Docs, and of course, Sundance. In 2013, he was included in Filmmaker Magazine's annual list of "25 New Faces of Independent Film."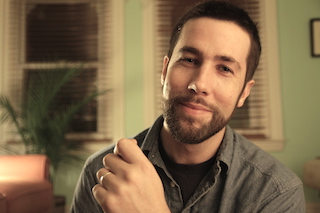 He was selected as a fellow for the Sundance Institute's Edit and Story Lab, as well as their Creative Producing Lab, in 2014. The BBC, NEA, IDA, ITVS, Tribeca Film Institute, Bertha BRITDOC Journalism Fund, and Sundance Institute—have all funded his work. PBS broadcasted his first film, Adama, in 2011.
Brooke Skinner Ricketts '97
Brooke is a digital and communications strategy expert. She returned to campus in September 2016 to talk about how she turned a BA in Politics and Art History from Simon's Rock into a successful marketing career. She is the Chief Marketing Officer for Cars.com and previously worked at FinTech startup, Avant, and Twitter as head of brand strategy.
Uncommon Journeys - Brooke Skinner Ricketts
Her talk, entitled "Selling Out Early: Lessons from a Career on the Implosion Team," discussed how she's combined the values of her education, her own life experiences, and her expertise in corporate marketing to effect social change within the corporate world.
John McWhorter '81
John is a professor of linguistics, English, and comparative literature at Columbia University, contributing editor at The Atlantic, as well as a prolific author and commentator who specializes in language change and language contact. John has contributed to The New Republic, the New York Times, Time, The Washington Post, CNN, The Daily Beast, Good Morning America, Today, and The Colbert Report. He has also given two TED Talks and hosts Slate's popular podcast Lexicon Valley.
Uncommon Journeys - John McWhorter
John returned to campus in March of 2017 for Uncommon Journeys. Simon's Rock Professor Brendan Mathews sat with John on the stage of the McConnell theater for a freestyle conversation about John's life, career, and longstanding relationship with Simon's Rock.
Jan Staller '70
Photographer Jan Staller became famous for his study of urban and industrial landscapes in the Greater New York area beginning in the 1970s. His work has appeared in The New York Times Magazine, Life, Fortune, and Forbes, among many others. Projects have included the books Frontier New York and On Planet Earth, film stills from Twelve Monkeys and Fargo, and countless solo and group shows.
Uncommon Journeys - Jan Staller
Jan returned to campus in April of 2017 to present a talk on his life and work entitled "Regarding the Disregarded," which provided an elegant overview of his experiences photographing subjects that most of us tend not to observe: recycled scrap, twisted steel, roadways speckled with trash, and untrammeled snow in New York City.
Event Curators
The series is curated by a committee of alumni and the Office of Alumni Engagement. Special thanks to the following Uncommon Journeys Committee members:
Christopher Derhammer-Hill '86, member of Board of Overseers and Alumni Leadership Council
Cathy Ingram, director of alumni and parent engagement
Michael Lawrence '98, Alumni Leadership Council
Sara Mugridge '97, academic transitions advisor
Matthew Strassler '81, member of Board of Overseers
Read, watch, and learn more about the unconventional journeys—and successes—of Simon's Rock alumni.