SEVEN, a documentary play
Saturday, August 26, 2017
Daniel Arts Center - McConnell Theater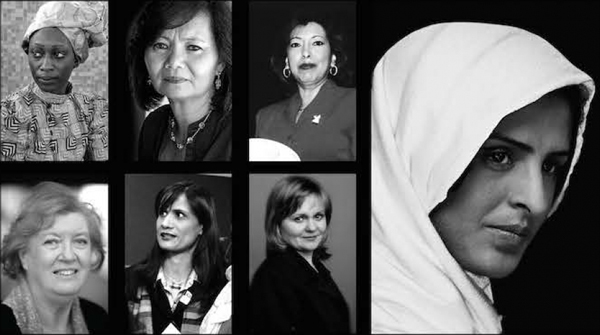 The Bard College at Simon's Rock Council for Equity and Inclusion and CeCe Sloan invite you to a reading of SEVEN--a documentary play.
A riveting piece of documentary theatre, SEVEN tells the true stories of seven women who bravely fought for the well-being of women, families, and children around the globe: in Russia, protecting women from domestic violence; in Cambodia, rescuing girls from human trafficking; in Guatemala, giving voice to the poor; in Afghanistan, empowering rural women; in Nigeria and Pakistan, fighting for women's education and rights; and in Northern Ireland, promoting peace and equality.
Free Admission
Suggested donation $10 at the door. All donations benefit the Elizabeth Freeman Center, providing services and leadership to address domestic and sexual violence in Berkshire County. 
Registration Required
Introduction and post show discussion with director, activist, and long-time member of the United States National Committee of UN Women, CeCe Sloan.
Register online or call 413-528-7400 and please leave us your name, email address, and best number to reach you. 
Cast
Barbara Greenbaum, Carla Lewis, Sheila Dabney, Gail Ryan, Tyler Malik, and Anne Undeland 
---
More About the Play
SEVEN--a documentary play is a dramatic work commissioned in 2006 by the Washington-based Vital Voices Global Partnership, who tasked a septet of playwrights, including MacArthur Foundation "Genius" grant-winner Anna Deavere Smith, with interviewing and dramatizing the harrowing stories of seven extraordinary women who have labored in recent decades to improve the living conditions of women in Africa, Central America, Europe, and Southeast, Central, and Western Asia.
Inspired by these tales of triumph, the playwrights gave voice to these remarkable stories of leadership and fierce courage and through the powerful medium of theatre, these seven women's stories come to life for us, illustrating that in diverse corners of the world women are overcoming tremendous odds to advance peace, justice, and freedom.
SEVEN has been translated into 23 languages, with over 300 performances staged in 32 countries.
The seven women and their respective dramatists:
Farida Azizi, Afghanistan | Playwright: Ruth Margraff
Mu Sochua, Cambodia | Playwright: Catherine Filloux
Anabella de Leon, Guatemala | Playwright: Gail Kriegel
Hafsat Abiola, Nigeria | Playwright: Anna Deavere Smith
Inez McCormack, Northern Ireland | Playwright: Carol K. Mack
Mukhtar Mai, Pakistan | Playwright: Susan Yankowitz
Marina Pisklakova-Parker, Russia | Playwright: Paula Cizmar
---
For more information on this and other events at Bard College at Simon's Rock call 413-528-7400 or email danielartscenter@simons-rock.edu