>
>
>
>
Parties and Rentals
Making plans for a birthday party, corporate event or group retreat? Our expansive facilities offer a number of venues that are perfect for team building, focus and fun. Use the pool, gymnasium, or even test your strength on the climbing wall. The lobby Snack Bar is the perfect location to gather and eat good food.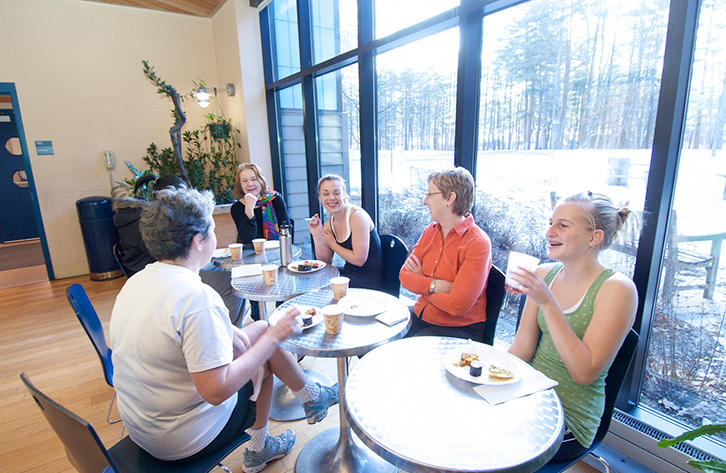 Birthday Parties
We invite you to consider the Kilpatrick when making plans for a birthday party. Choose two of three locations for one hour each (pool, gymnasium, or rock wall),plus one hour for cake and presents in the snack bar.
$105.00 for members, $130 for non-members.
The price is based on 15 children for the pool or gym and eight for the rock wall.
Additional children and additional spaces can be added for an additional fee.
For details, please contact our Service Desk Manager Kerry Hamill at khamill@simons-rock.edu or call 413-528-7777
Group Facility Rental
Group Facility Rental options are available for the Aerobic Studio, Gymnasium, Rock Wall, Soccer Field, Swimming Pool, and Tennis Courts.
AEROBIC ROOM
One large studio or use the dividing wall to create two smaller spaces. Each room has a sound system.
Rental Options
Yoga, Aerobics, Dance, Martial Arts.
Group Meetings
Cost
$40 per hour + instructor cost
$20 for each additional hour
GYMNASIUM
NCAA regulation basketball court plus four adjustable side baskets. Air conditioned.
Rental Options
Basketball
Volleyball
Indoor Soccer
Ultimate Frisbee
Special Events
ROCK WALL
Various routes and handholds for beginners and experts.
Rental Options
Instructional Climb
Non-Instructional Climb (Must be an experienced climber)
Cost
$70 per hour for up for up to 8 people.
$40 for each additional hour.
SOCCER FIELD
Lined for soccer. Corner flags and goals provided.
SWIMMING POOL
Eight Lanes, 25 yards long. Available for lap swim or pool parties. Foam noodles and accessories provided.
Rental Options
1 lane
Multiple lanes
1 corner of the pool
Cost
$50 per lane hour (Discounted multiple lane reservation)
$50 per corner hour
TENNIS COURTS
Four beautiful outdoor hard courts.
Rental Options
Call 413-528-7777 for more information about parties and group rentals.
Cost
$20 per court hour
Racquets, tennis balls and tennis ball machine also available.