Youth Aquatics
Swim lessons will begin on June 28, 2021!
Swim lessons are an essential safety skill for the community, and we are dedicated to providing this service in the safest and most comfortable way for our students and instructors. To register, please complete the form below and submit it to kilpatrick@simons-rock.edu.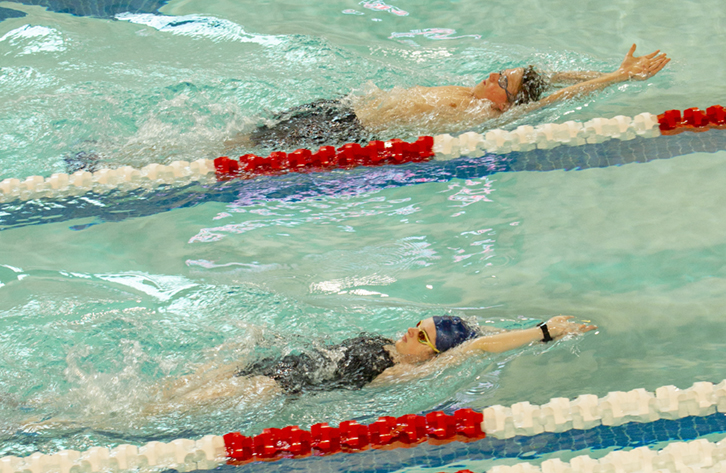 Private SwimAmerica Lessons
We will resume private swim lessons at the beginning of July. Group lessons remain on hold.
To register, please submit the form above.
Here is a preview of how lessons will work:
All lessons for children 3 years and above will be taught privately, one-on-one unless there are two siblings who are close to age and ability.
All our instructors are fully vaccinated and will teach with as little contact as possible while wearing a face shield.
Lessons will be taught on individual platforms so the students can stand confidently in the water.
During the lesson, one parent or guardian will be allowed in the facility and remain in the designated seating area.
Parent/Infant Swim Lessons
Age: 7 months to 2 years; small groups
Two sessions available on Tuesdays (7/6-7/27) or Thursdays (7/8-7/30)
Time: 10:00 a.m. – 10:30 a.m.
These classes are taught with the parent's assistance, so we will be able to offer them in small groups. This class helps young children develop a love of the aquatic environment and provides training to respond to an aquatic emergency. Goal orientated songs and games teach your baby essential safety skills in a nurturing environment. To register, please submit the form above.
Private Swim Lessons- Preschool to Adults
Age: 3 and up
For the summer of 2021, all of our lessons will be taught privately or semi-privately. Lessons are 25 minutes long, starting and the top and bottom of the hour. To register, please submit the form above.
Snapper Swim Club