>
>
>
Health and Counseling
You'll have access to resources at Simon's Rock that will support your overall well-being, including health and counseling services.

Health Matters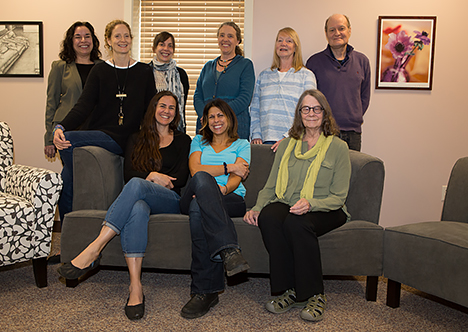 With a staff of experienced nurses, doctors and nurse practitioners, Simon's Rock Student Health Services makes quality medical services available to students. You'll find support and education that will help you maintain your health and make the transition from living at home to assessing and accessing your own health care needs. The health services office is in a quiet, private section of the centrally located Livingston Student Union. We welcome walk-ins as well as appointments during the week.
A nurse is on-call when the office is closed, and we can make referrals to doctor's offices and arrange necessary transportation.
Your health is important, and no concern is too small. You're welcome to stop by anytime.
Counseling Services
Counseling services are available, free of charge, to all students during the school year. You may schedule appointments for consultations or ongoing psychotherapy. Drop-in hours are scheduled throughout the week, and counselors are available for emergency consultations as needed. A consulting psychiatrist is available for evaluation and treatment. Contacts with counseling staff are held in strict confidence.
There are also several adjunct staff members who can be available on a weekly basis for individual, family, or group therapy. In most cases, student health insurance and private insurance may be used to cover all or part of the cost of off-campus referrals. When there is sufficient student interest, the counseling service also offers workshops or groups on such topics as alcohol and drug use, eating disorders, intimate relationships and sexuality, date rape and sexual abuse, and women's and men's issues.
Students may make appointments for counseling through the counseling center receptionist, or directly with each counselor. For more information about counseling services, confidentiality policies and staff contact, visit the department page.