2019
At the 2019 Commencement ceremony, 100 students received their associate of arts degrees and 66 received their bachelor of arts degrees. Speakers throughout the event addressed issues of liberation, inclusion, and justice.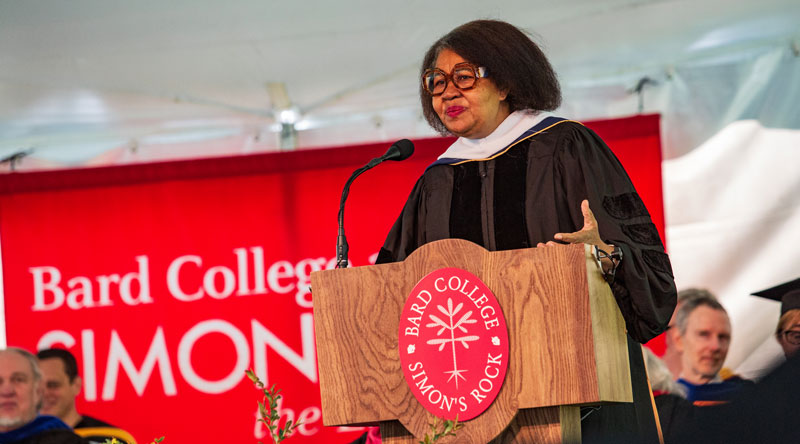 An honorary degree was bestowed on Edward "Ted" Siedle '72, an independent financial investigator and whistleblower who has taken on major financial institutions and won. He shared how building resilience helped him to question the status quo, and he encouraged graduates to embrace their own paths, even if unconventional.
Award-winning author and Harvard Professor Jamaica Kincaid spoke on the practice of kindness and overcoming the borders that separate us. She analyzed Robinson Crusoe and used it as a frame to understand our world. In the novel, Crusoe finds himself in a new land. He is in need of help from others and at the same time passes judgment on them. She pointed out the book was part of a larger trend of European texts that cast fear and judged so-called "cannibals" while justifying or ignoring the terrors of slavery perpetrated by the colonial powers. She questioned nationalism and noted how essentialism separates us. "We all come from somewhere else. … We are not blood and soil. We are this delicate, fragile, ridiculous thing called a human being." And we need each other. "It's possible that we naturally have a tiny, some germ of empathy in us and maybe we can nurture that."
The AA class speaker Fanta Ballo '17 talked about the "power in being true to yourself and controlling your narrative." She said she couldn't wait for someone to offer her a seat at the table, "it was time we started making some room."
Divya Dinraj '15 and Stone Erickson Mims '15 gave a joint BA class speech. They spoke to the challenges students of color face as well as the inspiration and support they get from their peers.
"The women of color on this campus, for the last four years, whether they be staff, faculty, or students, have fought to create spaces for themselves and those who look like us," says Divya. "We have held this campus together and we will not be ignored."
Looking ahead, Stone sees progress. "I know that you, the AA class will achieve feats of activism... I am not afraid of the future because you are the future and I expect great things."
Awards
Outstanding student achievement was recognized across divisions. Division of the Arts prizes were awarded to Olivia Keyes Hunt, Molley Judith Knight, Novia Kayfetz-Vuong, and Allana Loraine Tyson. Division of Languages & Literature prizes were awarded to Grace Scott Folds, Aster J. Greenblatt, Caleb D. Sabatka, and Stone Erickson Mims. Division of Science, Mathematics, & Computing prizes were awarded to Kairo N. Baylor, Rachel Jun Shi, Vivian Grace Shi, and Chengcheng Xin. Division of Social Studies prizes were awarded to Benetta Giftee Nayou, Adishri Saisha Manan, Cole J. Peterson, and B. Sabin. Interdivisional Studies prizes were awarded to Safi Rahman, Alsebai Miranda, and Renee Herreid.
Community Service Prizes were awarded to staff and faculty who demonstrated outstanding leadership and contributions to the campus and surrounding communities. The Dr. John A. Glover Award was awarded to Francisca Oyogoa in recognition of her love of learning, dedication to students, and excellence in teaching. The Ruth B. Ide "Good Sport" Award was awarded to Manat Wooten for helpful and supportive work in Career Development and the Win Student Resource Commons. The Richard C. Drumm Sr. Award went to Kaye Graves. Presenting the award, Coco Raymond described Kaye as having "...the brilliance that only comes from experience, and the kindness that only comes from a genuine love for what [she does]." The Wendy Shifrin Award went to Brendan Mathews. Stone Erickson Mims and Jane Wanninger spoke about the impact of his teaching and advising, his successful literary career, and community service.
In Memoriam
Nathaniel Bokaer-Smith honored Professor of Theater Karen Beaumont who passed away this year. Karen was part of the Simon's Rock community for 30 years and had a profound impact on students and the Simon's Rock community.
"This ceremony, which was dedicated to the memory of our long-serving professor of theater and eternal friend Karen Beaumont, reflected her belief in the power of a Simon's Rock education to bring forth our students' greatest capacity," says Provost Ian Bickford. "The students graduating today were changed by their time at Simon's Rock, they changed our campus for the better, and they will continue to make positive change in the world."
Commencement concluded with the ringing of a Burmese gong, a Simon's Rock tradition started by U Ba Win.