"The most important thing about Simon's Rock has been the ability to think critically. ...they say that in the admission packets...and it didn't really mean much until coming here. Then my thinking changed. My view of the world changed."

-Sheeba '08
The Writing and Thinking Workshop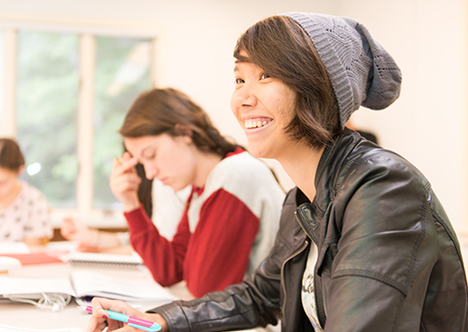 Conceived by Simon's Rock (and Bard) President Leon Botstein, the Workshop sets the stage for the kind of intense interdisciplinary work you'll tackle during your time at Simon's Rock. You'll experience what it means to participate in an intimate intellectual community; you'll learn to take initiative; you'll begin to speak up and think differently while listening to alternative ideas; you'll present personal work for feedback; and you'll provide thoughtful criticism on others' work. The Workshop—a five-day, all-day, intensive seminar held before the start of your first semester at Simon's Rock—is a common experience for all new Rockers. This is where you'll gain the foundational skills in critical reading and writing you'll need for advanced study in any discipline.
By the end of the workshop, you'll have all the important tools you'll need to face the academic challenges that await you.
"It is not just about knowledge and learning to absorb information and then regurgitate on a test, but actually being able to use one's brain in any situation, academic or otherwise. This skill is indispensable in any time or place."

-Sarah '08
Seminar 1 & 2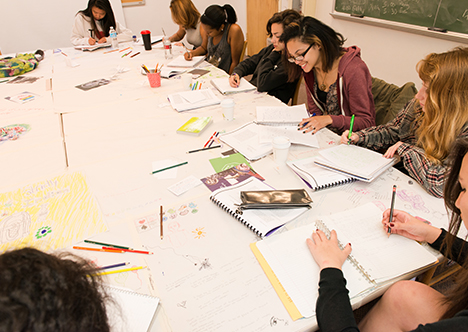 All first-year students participate in Seminar 1 & 2, a two-semester, writing-intensive class that explores significant and challenging works of philosophy, literature, social analysis, and art. Drawn from classical Greece, Song dynasty China, Renaissance England, and 20th century America, the texts encompass a wide variety of styles and perspectives. The selections for the year present a range of diverse perspectives on the complex and ever-changing question of "What it means to be human."
Most importantly, in the seminars, you will hone your abilities to read, think, and write critically, and you and your peers will develop your ability to engage in meaningful intellectual discussion together. You and your classmates will leave Seminar 1 & 2 ready to dive into big ideas together, and you will—right into the deep end.