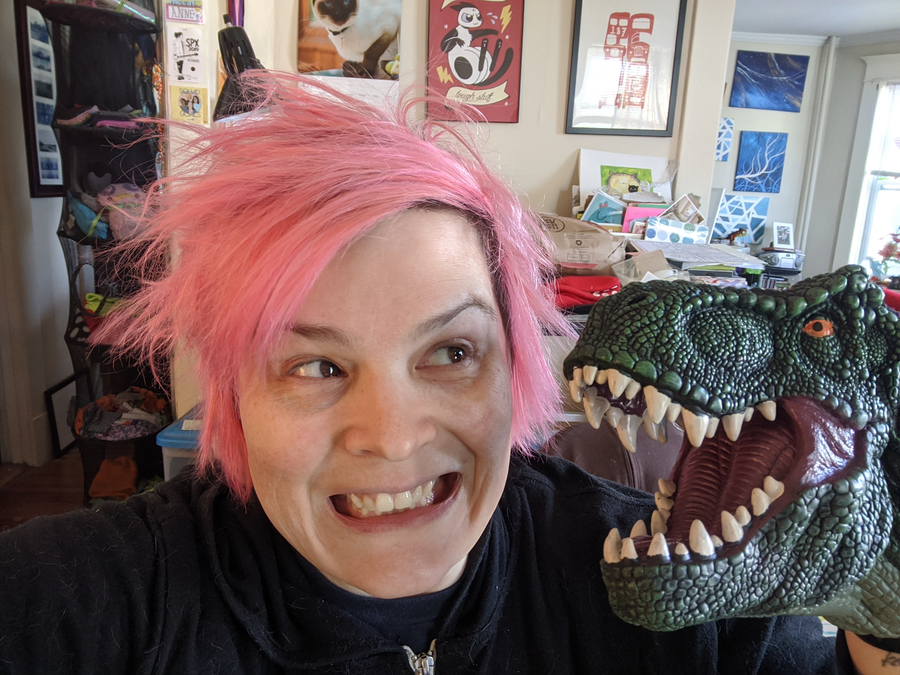 Anne has a B.A. from Simon's Rock in Literary Studies. She holds an M.A. and Ph.D. in English from the University of Delaware. Based in Western Massachusetts, she is an educator, artist, and activist supporting survivors of gun violence.
Summarize your Simon's Rock experience in 12 words or less.
Even with everything that happened, I don't ever regret going. Unparalleled zeitgeist.
What artist has most influenced you?
Keith Haring.
You were close to Ñacuñán Såez, the faculty member who, along with Galen Gibson, was killed on the Simon's Rock campus 29 years ago. Please share a memory of him.
Natalie Harper was my advisor — she was the grande dame of the college and while she was smart and kind, she suffered no fools. I would sit in her office and say, "Ñacuñán is so smart and I am so scared of him." She finally got so sick of it, she pushed me out of her office to go and meet with him. I turned the corner and he popped his head out of his office. I found out after the fact they'd staged the whole meeting and they both thought it was so funny. I have never met anyone like him since.
What does being an activist mean to you?
It's about defying expectations and not just pushing back against the status quo. It is about leaving the world a better place and taking responsibility for fixing what is broken.
Why do you give to Simon's Rock?
I am an open book when it comes to talking about the shooting and what happened. Because campus shootings were at one point an anomaly, Simon's Rock had no language to speak about what happened and our grief as a community. I now try to take active steps to leave the world a better place than I found it. If something sucks, it is on you to fix it. Ñacuñán was a fascinating, brilliant, and generous person who treated all of us like academics, intellectuals, and people capable of higher work. I learned from him, and now as a teacher, my students learn from me, so this thread carries on. This is what Simon's Rock is all about. Giving to Ñacuñán's fund was a way for me to honor his legacy, assist people who were currently at Simon's Rock, and to engage others to give to something that matters be the gift large or small.