>
>
>
International Students
Simon's Rock enthusiastically welcomes applications from international students. Living with and learning from a diverse and talented group of peers is a key component of a Simon's Rock education.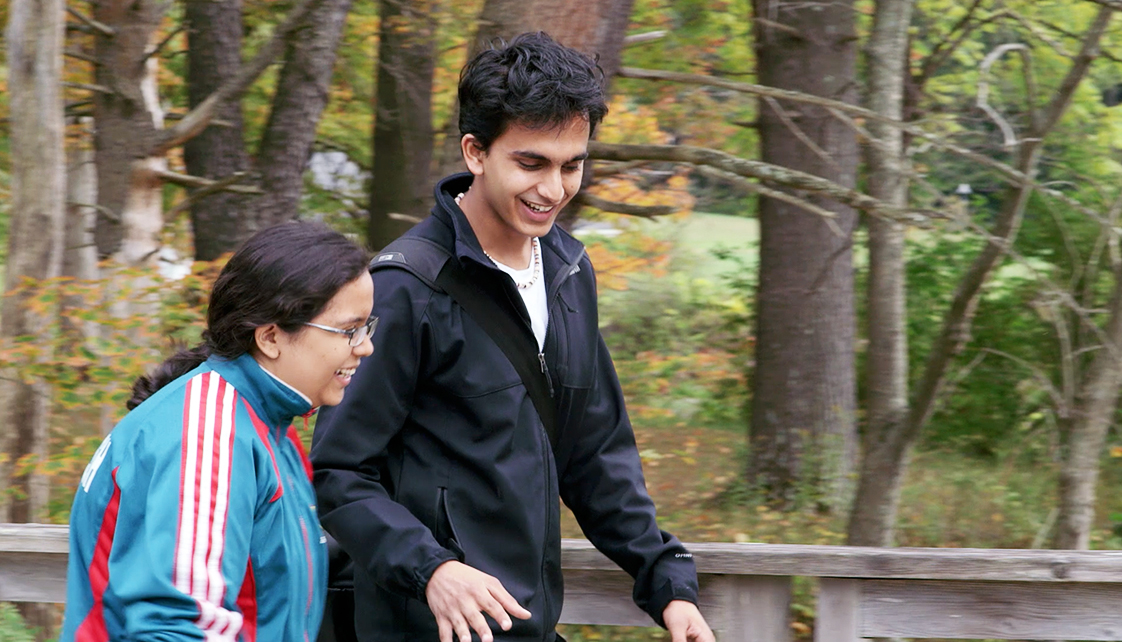 International students greatly enrich our community with their perspectives and experiences. In recent years, our student body has included individuals from Brazil, Bermuda, Burma, Bhutan, China, Dominica, Ecuador, El Salvador, France, Germany, Israel, Kenya, Korea, Kosovo, Mexico, Namibia, the Netherlands, Nigeria, Papua New Guinea, Peru, Turkey, Singapore, Sudan, Tibet, the United Arab Emirates, and the United Kingdom. Our small classes and the personalized attention students receive both inside and outside of the classroom help international students to adjust to life on campus and in the United States.
Information for students in Arabic, Korean, and Hindi:
Guidelines for International Applicants
You'll find general application instructions here; below are special considerations for international students. If you have any questions, please feel free to contact your dedicated international admissions counselor:
Sophie Mettler-Grove
International Admissions Counselor
smettlergrove@simons-rock.edu
413-528-7312
Remote Interviews
The interview is an important part of the application process. It gives us the chance to listen to you and learn more about your motivation for applying to early college. We understand that international students may not be able to come to campus for an interview and are happy to arrange a skype or telephone interview at your convenience.
Bard College at Simon's Rock provides an intellectually rigorous liberal arts education to bright, motivated adolescents who are ready for college after the first or second year of high school. Simon's Rock is also home to Bard Academy. If you are a student in a middle school program (or its international equivalent) who is ready for an enriched 9th and 10th grade experience that will prepare you for early college at Simon's Rock, you'll find information about Bard Academy and an application for admission here.
Language Proficiency Requirements
Simon's Rock courses require a strong facility with the English language. If English is not your first language, and if you have not studied in the United States or in an English-speaking country or attended a school in which English is the primary language of instruction for at least two years, you will be required to submit Test of English as a Foreign Language (TOEFL) or International English Language Testing System (IELTS) scores. For regular entrance, applicants should have a TOEFL score of 100 or above, or an IELTS score of 7 or above.
Applicants who are prepared for the greater challenge of college at a younger age, but who need further instruction to advance their English language skills should consider applying through the Pathway to Academic Choice and Excellence (PACE) program at Simon's Rock, which requires a TOEFL score above 65 or an IELTS score above 6.5. Scores must be sent directly to the Office of Admission or included on the official transcript; our TOEFL DI code is 3795.
Financial Aid & Scholarships
International Students are eligible to receive Simon's Rock institutional financial aid and scholarships. All first-year applicants are considered for scholarships; a separate scholarship application does not exist. Scholarships are awarded based on merit, but amounts of awards vary by need, so it is still important to complete a financial aid application. To apply for scholarships and financial aid, international students must complete the International Student Financial Aid Application and the International Student Certification of Finances. You should submit these forms at the same time as your application for admission to be considered for the full range of merit-based scholarships and need-based financial aid.
Visa Applications
Students living abroad, who are not citizens or permanent residents of the United States, will require a student visa to study at Simon's Rock. Following admission to the college, applicants requiring a visa will be sent an I-20, with which they may begin the F-1 student visa application.