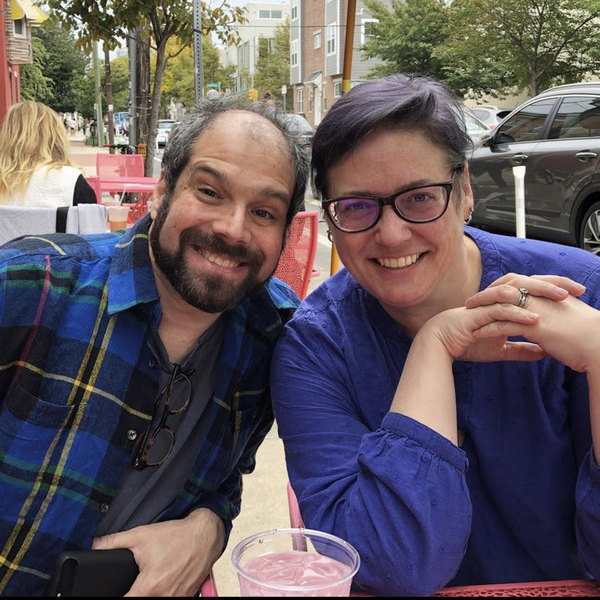 Shani received her BA from Simon's Rock and later attended Drexel University for her MBA. She serves as an associate and the marketing manager for EwingCole, an architecture and engineering firm with ten locations across the United States. Lionel also graduated with his BA from Simon's Rock and went on to study at Temple University, where he received both his JD and LLM and currently works as an attorney. They met while attending Simon&rsqsuo;s Rock, are now married, and live in Philadelphia with their two children and beloved pets.
Lionel: We have the official song and the unofficial song.
Shani: Give her the one that's fit for public consumption, honey.
Lionel: We'd always done "Maybe I'm Amazed" by Paul McCartney, but then there&rssquo;s the fact that our first movie date was to the South Park movie back in the day, so we sometimes say "our" song is one from that movie.
Shani: I graduated with my BA in 1990, so I was not on campus at the time, but I had dear friends who were still students. I considered Ñacuñán a friend as well as a teacher. It was hard for me being off campus because I felt so helpless and I couldn't hug anyone. I think I spent 48 hours straight talking to friends on the phone after it happened. I was pro gun control before, but it certainly solidified that. Guns don't belong in civilian hands.
Lionel: I was there for everything but the actual shooting. The semester before, I'd gotten into a fight with my thesis advisor. I happened to be on campus that weekend to plan for the completion of my thesis. My band played that Saturday night. On Monday morning, December 14, I had an appointment with Bernie Rodgers to discuss my thesis. I'd also spoken to Ñacuñán that day because he wanted to be on my thesis committee. He had been my Sophomore Seminar teacher. There was a snowstorm coming to Great Barrington that night, so I basically fled at 5:00 PM to avoid the weather and return to Philly. I did know Galen pretty well, too. This event was one of the major, formational events of my adult life in a very real sense. I was testifying before the Philadelphia City Council for a semi-automatic weapons ban 4 or 5 months after it happened. It was one of the reasons I went to law school in the end.
Lionel: Paul Newman and Joanne Woodward.
Shani: Oh god, I wish! I have a good answer, Marge and Homer Simpson. Although my hair is purple, not blue.
Shani: We had two weddings. The second was the same year as our first wedding. The first we did on the sly. We sort of sprang it on our family. We had a Quaker style wedding without an officiant.
Lionel: My mother had died in February of that year and we made all of these wedding plans that went out of the window. I suggested that because her parents were coming to town the weekend I graduated from Law School, we could get married then. Shani put me to the test. She said if I figured out how to get a license and how to get the rings made we could do it.
Shani: We got married in a public square in Philadelphia at sunset.
Lionel: Guerrilla ceremony, we didn't get a permit.
Shani: There's a bench where families tend to sit, and little children play on a brass statue of a goat. We had just enough guests to fit on this big curved bench. We had 21 people there including us. We brought little tea light candles and put them on the wall. After the ceremony, we went across the street to a very nice restaurant for dinner.
Shani: Because Simon's Rock is important, it quite literally saves lives. I, personally, was miserable in high school. I didn't fit in. I'd started at a big, well-respected public high school, but I didn't have a niche there. I then transferred to a small, private school where it was academically great and socially terrible. I still didn't have a community of people and friends. My mother had attended the University of Chicago's Early College Program, so it wasn't a totally foreign concept to go to college early. I cannot imagine having done anything else. There must be an option for people who need a different educational environment, and Simon's Rock absolutely filled that need for me.
Lionel: I went to a public high school in Philly in a terrible neighborhood. I despised school then. I hated it and I had to get out of there. 30 years later, our oldest son considered attending that same school and I took him on a campus tour. My son said I involuntarily shuddered when we walked through the gates. Unlike Shani, I still don't hold a high school diploma. I hold an AA, BA, JD, and LLM, but no high school degree.