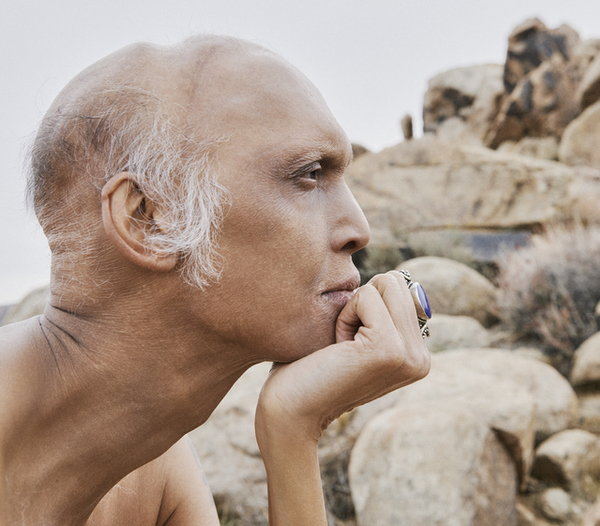 Shahzad Ismaily '89 received his AA from Simon's Rock and studied biochemistry at Arizona State University. He is an accomplished and multi-instrumental musician, composer, producer, and improviser. His cross-genre collaborations include Feist, Yoko Ono, Arooj Aftab and Vijay Iyer, Laurie Anderson, and the late Lou Reed, to name only a few. He is a member of Marc Ribot's Ceramic Dog, and runs the record label figureight records. His self-study has taken him around the world to explore the musical traditions of Pakistan, India, Mexico, Turkey, Japan, Indonesia, Morocco, Iceland and Japan. Shahzad lives in Brooklyn, NY with his daughter Anika, and mother, Malika.
Home is complicated for me because when I was a kid, home was a three-person object; me, my mom, and my dad. I did have a younger brother who lived for a week. I imagined myself as an only child and spoke about myself in that way until recently when I started holding onto the idea that I have a brother's presence in my life. My parents worked really long hours growing up. At a young age, I was already kind of annoyed and independent. We didn't have set meal times, we didn't talk to each other about how anybody felt. I remember just going straight to my room, closing the door, and doing my thing. Here I am at 51, without the skills of knowing what it is to make a home and having the fallout of that. One part of this fallout is losing a recent relationship which is very hard for me to suffer through at the moment. The second part is my daughter who is seven, and reticent to be at my place, while happily spending time at her mother's. I think this is because it doesn't feel like home. Now, as an older person, I have to try to learn what it is to make a home so my daughter stays over more. I am absurdly well-suited to the lifestyle of being a musician. I'm very happy to be in a hotel and have no need to be in my own bed or have anything familiar around me. I was born and raised to be in the lifestyle of waking up in the morning and immediately being on the move. I thought to give myself the gift of a two-week Eurail pass and try to figure out a way timetable-wise to never be off a train for more than 20 minutes. So, home, in a larger way, I've been lucky to place it in myself. As I am in motion, home is what my hands feel like that morning, and what my hands feel like tomorrow morning. It is that close to my body, I suppose.
Silence is more beautiful than music.
It was at Simon's Rock that I learned to play music. It is where I really decided to do it, regardless of the obstacles in front of me. I met my lifetime friend here, Rhett "Zig" Pepe '88. He was two years older than me. In passing, he told me that if I wanted to learn to play music, "just be on the instrument all the time and take it with you everywhere." The next day, I put an electric bass on and wore it all day. On my way to the dining hall, in all my classes, I would play it under the table while eating or in class. To this day, it's still an anomaly. I don't think I have ever seen someone in New York leave their house, take a walk, or be on their way somewhere and play an instrument as they go. When my daughter was little, I'd put her in a carrier and put the guitar in front of the carrier, and we'd go on walks together. Discipline was a part of it too, but not in a militant way, it was an inviting discipline. Passion is also a part of it. Passion allows you to wake up and see no obstacles in front of you where there are, actually, many. You continue to wake up and think, "There's just nothing stopping me today."
What I would say to them, I am still looking to hear as well. For me, making a solo record is still far away from me. It is an impasse that I don't understand how to traverse yet. Somewhere along the way, I encountered Emerson's essays. Within one, he was describing row houses in England where all the houses are the same and the yards are the same. He noted that each garden plot in the back had a different angle of sun, different amount of rain, and different amount of shadow. Therefore, each person's garden was going to grow differently. For that reason alone, it is important to make artwork. Your collected understanding and experience, no one else has, not a single other person on the entire planet lived the life you did, and only for that reason, it is worth you making art about it. This is healing because it is a nice way to immediately kill the hierarchy of good, bad, above, below, successful, and less successful.
What still sits with me is being a kid of 15, just prior to Simon's Rock, feeling really out of sorts, very sad, and disconnected from any kind of peer group. I came across the U2 album Joshua Tree and Tracy Chapman's Fast Car. This music has a tone of melancholy and sweetness and the quality when you wake up in the morning, of "this is what it is, this is what we are amongst." You have to suffer through it and find a way to still be okay in it. In the 90's this became emo music, using major 7th chords, from bands like Sunny Day Real Estate, Mazzy Star, Red House Painters, and Ida. I still come from this musical culture.