>
>
Reunion
Join us on campus, July 8-10, 2016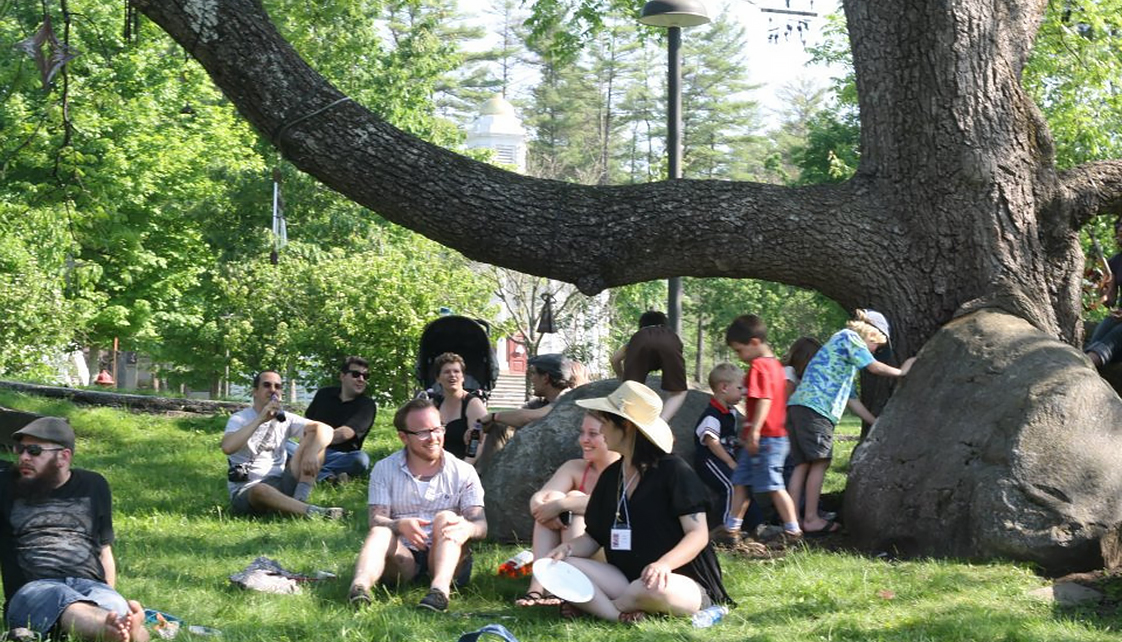 Kick-off the 50th anniversary
All alumni are invited to the annual Simon's Rock reunion, as we celebrate the anniversary classes of 1966. 1971, 1976, 1981, 1986, 1991, 1996, 2001, 2006, 2011. Check back soon for more info on the schedule of activities. Here is the 2015 general overview to give you some ideas:
FRIDAY
Welcome Reception at Blodgett House
Meet your friends and make plans for the rest of the weekend. Enjoy the comfort and beauty of Blodgett House inside and out.
SATURDAY
Alumni College with current and former Simon's Rock faculty
Sit in class as a student again and experience the Simon's Rock of today with Rockers of all ages. During these 90-minute seminar-style classes, current and former faculty from various disciplines will lead discussions in a range of topics.
Rockfest picnic on Kendrick Lawn
Remember the outdoor picnics and MayFest? Come enjoy music, food and games for all on Kendrick Lawn.
Open stage Alumni Coffeehouse & Bonfire with s'mores, stars, and friends
Enjoy performances by fellow Rockers in this laid-back setting. Want to entertain? Bring your instrument and join in the fun. Afterwards, gather 'round the fire with old and new friends and enjoy the impromptu fun of it all.
SUNDAY
Jazz brunch with class celebrations, alumni awards, and toast to retiring faculty
Witness the 2015 Outstanding Alumni Awards. Help honor the anniversary classes and retiring faculty and staff. Stay afterwards for an open Alumni Leadership Council meeting.
Reunion Committee
(in formation)
Meriweather Clark-Connors '76
Cordelia Derhammer-Hill '86
Shani Ferguson '85
Bethany Geiger '10
Tara Jacobs '88
Lisa Martin '76
Lynn Mulheron '86
Jennifer Rivers-Cole '86
For more information or to volunteer on the Reunion Committee, contact Cathy Ingram, Alumni and Parent Relations Officer at 413-528-7266 or cingram@simons-rock.edu.
See more Reunion chatter and photos on Facebook.
See you soon!
*Interested in planning ahead for Reunion 2017? Save the dates: July 7 - 9, 2017!