Book Talk - BANKSY: COMPLETED
Tuesday, September 18, 2018
Daniel Arts Center - McConnell Theater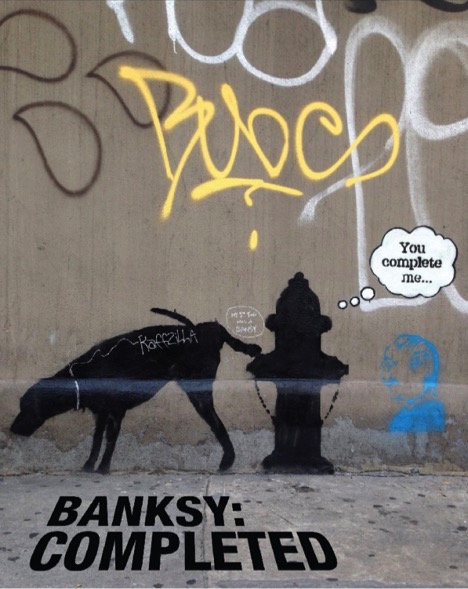 Artist and art critic Carol Diehl will explore Banksy as provocateur, the story of what happens after a painting goes on the wall, and the events that unfold around it (including their social, economic, and political implications). The title of this lecture, Banksy: Completed, comes from a painting Banksy did on the streets of New York in 2013, which depicted a dog peeing on a fire hydrant and a thought bubble floating from the hydrant that read, "You complete me."  
After Banksy's self-styled month-long New York "residency" in October 2013, where he produced a work of art in one of the five boroughs each day, Diehl spent several months investigating his work. Her inquiry resulted in an as-yet-unpublished essay (now becoming a book) that she has given as a lecture at California State University/Fullerton, where a residency supported her research; Rochester Institute of Technology; the University for the Creative Arts (U.K.); and the Berkshire Museum. She is also featured in the HBO documentary, Banksy Does New York (2013).
"Arguably the world's most famous living artist and a hero to many young people, the anonymous British street artist known as Banksy is regarded with suspicion, if not outright derision, by the established New York art world," Diehl says. Following the clues embedded in his work and writings, as well as his 2011 Academy Award nominated film, Exit Through the Gift Shop, Diehl continues, "I discovered that Banksy's seemingly flippant interventions are driven by an underlying philosophy based on such diverse sources as Greek mythology and post-Holocaust political theory," and concluded that he is one of the most important artists of our time who, among other things, challenges the culture to reconsider what art is, as well as its value and purpose."
About Carol Diehl
For many years, Diehl served as a contributing editor to Art in America as well as a frequent contributor to ARTnews. Diehl has exhibited her paintings at the Sidney Janis Gallery, Hirschl & Adler Gallery, Gary Snyder Fine Art, and the Queens Museum (all in New York City), the Aldrich Museum (Connecticut), and the Berkshire Museum (Massachusetts). She has served on the faculties of Bennington College and the Graduate Fine Arts Program of the School of Visual Arts (NYC), and is the recipient of artists' fellowships from the Pollock-Krasner Foundation and the New York Foundation for the Arts, as well as a 2011 Creative Capital/Andy Warhol Foundation arts writers grant for her blog, Art Vent. Diehl has been a senior critic in Graduate Fine Arts at the University of Pennsylvania, and visiting artist at Yale University, Stanford University, the University of Iowa, Columbia College (Chicago), and the Massachusetts College of Art and Design, among others.
This event is free and open to the public, and is presented by the Daniel Arts Center at Bard College at Simon's Rock.