Faculty Concert: Winds in the Wilderness
Sunday, March 3
Kellogg Music Center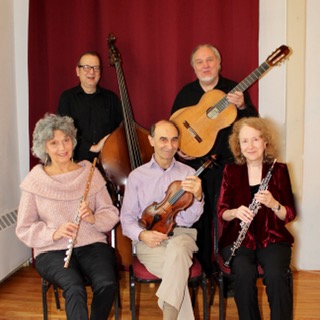 An afternoon of jazz, classical, and world music performed by the Winds in the Wilderness Ensemble, an award-winning chamber group composed of Bard College at Simon's Rock's own faculty in music. The concert will feature Judith Dansker on oboe, Ronald Gorevic on violin, Sharon Powers on flute, John Myers on guitar, and Pete Toigo on double bass. Featuring arias arranged from Handel's operas, dance-inspired piano numbers from Granados and Satie, solo performances on the Indian sarod and violin, and jazz music including a classic of Charlie Parker's and a composition by the Ensemble's own John Myers, this program of diverse gems is sure to please any music aficionado.

The program will begin with two beautiful arias arranged from Handel operas, where the soprano and countertenor solos are transformed by a lilting oboe. Dance-inspired piano pieces by Granados and Satie are juxtaposed alongside several short pieces by Honegger, with contrapuntal voices crossing the aisle to craft striking harmonies. Solo pieces will include a raga played on the sarod, a Hindustani instrument, and the monumental Adagio and Fugue from J.S. Bach's Sonata in G Minor on the violin. The program will conclude on an electric, jazzy note with renditions of Charlie Parker's classic be-bop anthem "Anthropology" and "Look In," an original jazz piece by Ensemble member and Simon's Rock professor of music John Myers, providing all of the Ensemble's virtuoso musicians the chance to shake things up a little.
All of the members of the Ensemble are renowned and prolific performers, receiving acclaim for their performances in national and international symphonies, orchestras, and solo concerts. They are also beloved educators on the music faculty of Bard College at Simon's Rock, with individual members also serving on the faculty of Smith College, Hawthorne Valley School, the Berkshire Music School, among other institutions. Judith Dansker, oboist, is a solo and chamber musician who has performed at the Frick Museum, Weill Recital Hall at Carnegie Hall, Alice Tully Hall, and the Library of Congress. Ronald Gorevic, violin, has toured internationally in various orchestras, string quartets, and solo recitals. Sharon Powers, flautist and leader of the Ensemble, has taught and performed extensively across the United States, Europe, and Asia. John Myers, guitar, earned his PhD at the University of Maryland at Baltimore and teaches music composition, history, jazz, and Asian Studies at Bard College at Simon's Rock. Pete Toigo, double bass, has performed as the principal bassist in the Albany Symphony, and was named Best Jazz Bassist of the Capital Region by Metroland Magazine in 1999.

This event is free and open to the public. Come by the Kellogg Music Center and enjoy the music!