Joanna Macy: The Power of Community
Friday, April 26, 2019
Lecture Center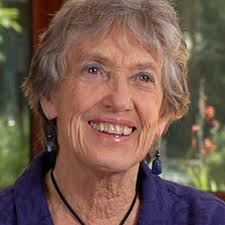 Come watch and discuss an hour-long interview with world-renowned Buddhist eco-philosopher Joanna Macy. This event is presented as part of the February 2019 Global Eco-Village Summit on "The Power of Community," which laid the groundwork for the April 2019 Findhorn Climate Change and Consciousness Conference (CCC19). Joanna invites us to reconnect with the broader Earth community, human and non-human, including our ancestors as well as the future beings who depend on us to steward the planet towards a livable future. In this interview, she speaks of the power of emotion: joy and hope as well as grief and despair. The time has come, Macy says, for us to come home to each other, growing together in resilient community, with courage and gratitude in the face of uncertainty.
Hosted by Jennifer Browdy, associate professor of comparative literature at Simon's Rock, and Rosa Zubizarreta, co-founders of the Berkshire Climate Change & Consciousness hub, this event is part of the CCC19, a collaborative and participatory investigation into how we can steward a sustainable future on what has already become a radically changed planet Earth. The conference brings together eminent scientists, wisdom keepers, business people, activists, artists, entrepreneurs, young people and others, to envision and begin to inhabit our joint future. An international, inter-generational and multi-disciplinary gathering, featuring keynotes by renowned environmental activists such as Bill McKibben, Vandana Shiva, Charles Eisenstein, Xiuhtezcatl Martinez, Pat McCabe and more, as well as many smaller workshops and events, some of which will be recorded for distribution through the global "life-streaming" hubs. We have travelled to this 'new' planet on a burst of carbon dioxide. A new planet requires new ways of living. Participants will be invited to awaken (face the truths of climate change); celebrate (use the arts of express our love for the Earth and all life); and act (develop global and local responses).
About Joanna Macy
Joanna Macy is a scholar of Buddhism, general systems theory, and deep ecology. A respected voice in the movements for peace, justice, and ecology, she interweaves her scholarship with five decades of activism. The author of more than twelve books, she is the root teacher of the Work That Reconnects, a ground-breaking theoretical framework and workshop methodology for personal and social change. Her wide-ranging work addresses psychological and spiritual issues of the nuclear age, the cultivation of ecological awareness, and the fruitful resonance between Buddhist thought and contemporary science. Many thousands of people around the world have participated in Joanna's workshops and trainings. Her group methods, known as the Work That Reconnects, have been adopted and adapted yet more widely in classrooms, churches, and grassroots organizing. Her work helps people transform despair and apathy, in the face of overwhelming social and ecological crises, into constructive, collaborative action. It brings a new way of seeing the world, as our larger living body, freeing us from the assumptions and attitudes that now threaten the continuity of life on Earth.
Joanna Macy: The Power of Community in the Age of Climate Change is free and open to the public. ACE credit available for students.