Indian Wars Everywhere Book Talk by Professor Stefan Aune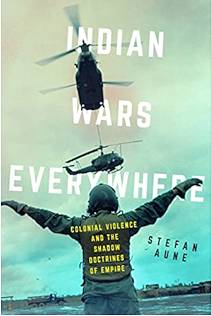 Dr. Stefan Aune, Visiting Professor in American Studies, Williams College, will be discussing his new book, Indian Wars Everywhere: Colonial Violence and the Shadow Doctrines of Empire, just published by University of California Press.
References to the Indian Wars, those conflicts that accompanied US continental expansion, suffuse American military history. From Black Hawk helicopters to the exclamation "Geronimo" used by paratroopers jumping from airplanes, words and images referring to Indians have been indelibly linked with warfare. In Indian Wars Everywhere, Stefan Aune shows how these resonances signal a deeper history, one in which the Indian Wars function as a shadow doctrine that influences US military violence. The United States' formative acts of colonial violence persist in the actions, imaginations, and stories that have facilitated the spread of American empire, from the "savage wars" of the nineteenth century to the counterinsurgencies of the Global War on Terror. Ranging across centuries and continents, Indian Wars Everywhere considers what it means for the conquest of Native peoples to be deemed a success that can be used as a blueprint for modern warfare.