Joyce Kim selected as PopTech Social Innovation Fellow
Joyce Kim's career has evolved quite a bit since she graduated from Simon's Rock in '95. She has been a serial entrepreneur, lawyer, and even a venture capitalist. Now, Joyce is the cofounder and executive director of Stellar, a tech startup in silicon valley. But Stellar differs from other technology startups in one key regard: it doesn't have shareholders or investors. Joyce chose instead to make her startup a nonprofit.
Stellar is part of a growing number of startups that rest at the intersection of tech and nonprofit. Technology, according to Joyce and her cohorts, can be an incredibly effective means of tackling some of the world's hardest social problems.
The hard social problem Joyce wants to tackle? Poverty. That's why she founded Stellar.org, a nonprofit with a mission to support financial services for the 2 billion people who don't have economic access. The Stellar network is an open financial network that lets anyone send and receive money for less than a fraction of a cent.
As the daughter of Korean immigrants to the United States, Joyce saw firsthand how hard it was to move money across borders. In fact, remittances are such a worldwide, large-scale problem that Joyce spoke at the United Nations on how Stellar can help. Every year, the world spends $44 billion on the fees alone for remittances. People are paying just to send their own money home to their families. This creates, in essence, a tax on the poor. The Stellar network provides a way to send multicurrency, cross-border transactions instantly and for free. When low-income working people can keep more of their own money, communities all over the world will see a huge positive impact.
But Stellar can help with more than just remittances; it can also be a tool for savings. In South Africa, a nonprofit is using Stellar to build mobile savings apps for girls. It's been proven that girls who save money are more likely to stay in school longer. Access to financial services like savings become a means to a greater end: education, better health outcomes, and lifelong participation in the formal economy.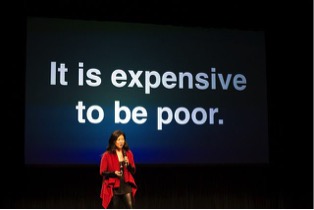 Joyce's most recent accomplishment is her selection as a PopTech fellow. PopTech, a conference that spotlights social innovators, hosted Joyce's talk on how Stellar can enable 5 million transactions for 20 cents.
Joyce envisions a world where money moves as easily as email, and 2 billion people are included in the worldwide economy. She's dreaming big—but we'd expect nothing less from a graduate of Simon's Rock.