Dr. Mike Bergman's New Textbook/Monograph: Earth's Core: Geophysics of a Planet's Deepest Interior | March 08, 2022
March 08, 2022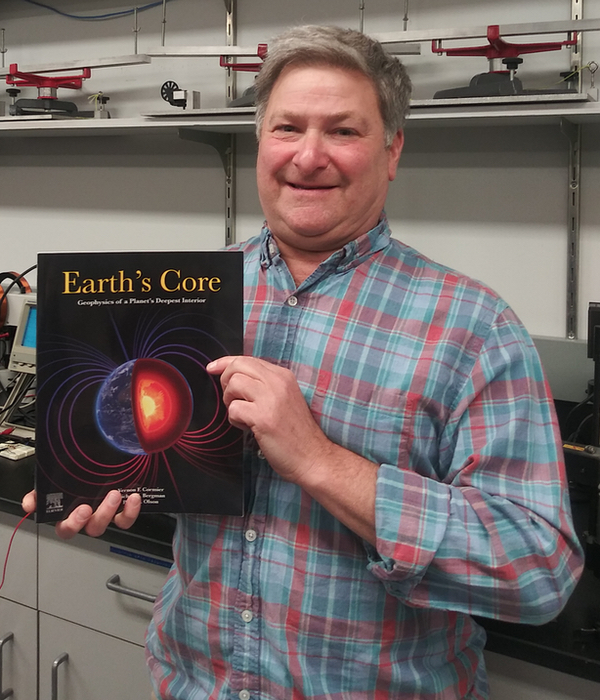 Dr. Michael Bergman, Emily H. Fisher Professor of Physics, recently co-authored a new book, Earth's Core: Geophysics of a Planet's Deepest Interior with Vernon Cormier and Peter Olson. The book was published by Elsevier in December 2021.
Earth's Core: Geophysics of a Planet's Deepest Interior, " provides a multidisciplinary approach to Earth's core, including seismology, mineral physics, geomagnetism, and geodynamics. The book examines current observations, experiments, and theories; identifies outstanding research questions; and suggests future directions for study (Cormier, Bergman, Olson, 2021). The book includes homework problems and poses research questions for students to solve and study.
The authors initially intended for the book to address open research questions but realized during their four-year writing process that most texts focus on specialized disciplines bearing on Earth's core. Bergman stated that "The subject [Earth's core] is really wide and what would be really useful is if we wrote a book that would allow students to get into the field no matter what their background." Since Bergman, Cormier, and Olson wrote their own chapters in their areas of expertise, Bergman's being mineral physics, thermodynamics, and solidification and deformation, the book offers different perspectives, which is a first for a book about the Earth's core.
Most books about the Earth's core are focused on the details of a particular topic, whereas Earth's Core: Geophysics of a Planet's Deepest Interior is the first book that studies the Earth's core from a multidisciplinary approach, which is ideal for the student who needs to learn multiple subjects, rather than a singular specialty.
Visit Elsevier for more information about Bergman's book.