Simon's Rock Alum Chazlee Myers '12 Awarded Fulbright to Teach English in Italy | April 08, 2022
April 08, 2022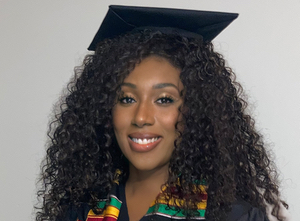 by Fiona Scruggs
Simon's Rock alum Chazlee Myers '12 was awarded an English Teaching Assistant (ETA) grant by the US-Italy Fulbright Commission to provide assistance to local English teachers in Italy and act as a cultural ambassador for the U.S from October 2022 to June 2023. Myers is one of only ten ETA grant awardees for Italy. She is in good company as a Fulbright Fellow from Simon's Rock, joining the ranks of 11 (now 12) Simon's Rock students, alumni, and faculty to have been awarded Fulbrights since 2010.
It was during Myers' time at Simon's Rock that the dots began to connect for her Fulbright award. Myers first became interested in the Fulbright program through a classmate at Simon's Rock who had previously completed the program. For Myers, the Fulbright was an excellent opportunity to further her scope of research in language studies. She soon realized that her thesis was a natural fit for a Fulbright English Teaching Assistant grant since it was very similar to her thesis research on the methodologies of language acquisition and best practices for teaching languages to students. As part of her thesis, Myers had already created a four-week language learning lesson plan for middle school students in three languages, German, Italian, and Spanish; all by the time that she received her BA at Simon's Rock.
Myers shared that she chose to focus on middle school since many students stop their language studies around that time in their education, often because there's not enough cultural immersion. Her lesson plans included a strong emphasis on the cultural components of learning a second language.
Although Myers majored in German Studies and Photography at Simon's Rock, she selected Italy for her Fulbright. She found during her prior study abroad in Germany at the University of Marburg, that German schools already emphasize teaching English as a second language, whereas the emphasis is different in Italy. Additionally, she saw and connected with how Italy took a leadership position in addressing rising migratory conflicts and advocating for the voiceless.
When Myers begins her position in southern Italy in October 2022, her focus will be on working with at-risk populations, especially young African women and young refugees. According to Myers, these particular populations often have difficulty finding work, and many become sex workers, not always by choice. Two organizations that she plans to partner with are Donne di Benin City Palermo and Refugees Welcome Italiaa>. At these organizations, Myers plans to lead events and workshops connected to her other major, photography, so that the people she works with will gain valuable skills for future events. She also plans to host language lessons in the town where she'll teach, as she feels language is one thing we can take with us wherever we go and it invites others to understand who we are and how we think. She is excited to work with these two organizations and help in these important ways.
Myers also plans to take courses at a local university while in Italy. She shared that she feels she brings a different perspective as a Black American and that it will be interesting to teach about and discuss race relations and her own perspective while in Italy.
"Thank you for your willingness to guide and encourage me throughout the application process. Your efforts and dedication to this journey were such a blessing and it was truly an enriching experience. I am honored beyond words and I plan to make you and the Simon's Rock community proud," expressed Myers to her faculty at Simon's Rock.