Spotlight on David Franco, Professor of French and Spanish | September 05, 2023
September 05, 2023
By Jesse Wein-Gold, student intern for Communications and Marketing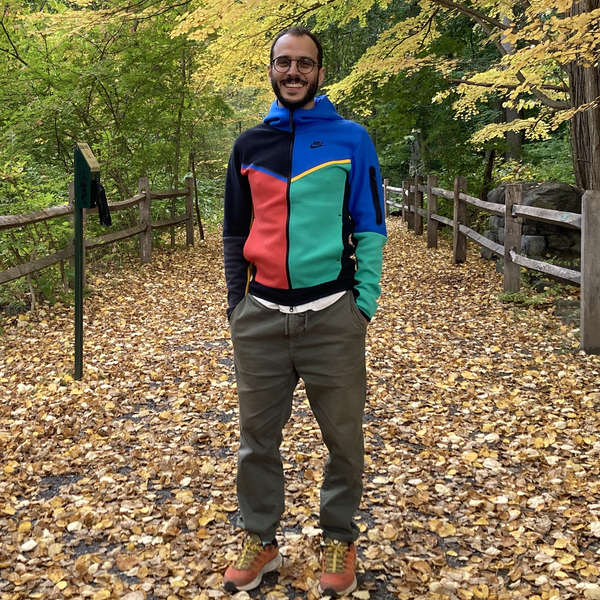 Teaching at the intersection of Language and Literature, David Franco has served as an Assistant Professor since 2019. Dr. Franco teaches classes in English, Spanish, and French–supporting beginner Spanish students as they navigate vocabulary and grammar, leading advanced French speakers through fluency and French Literature, and exploring 17th century French drama and cinema.
Dr. Franco's depth of research allows for an abundance of niche class offerings and the guidance towards rich conversations. David started his scholarship in Colombia, gaining his BA in Journalism from the Universidad Javeriana, Bogotá. He went on to get a MA in Hispanic Literature from Villanova University, then getting both a M.A. and Ph.D. in French Literature from Rutgers University. Much of his research examines the notion of heroism in 17th century French drama, like his current book project entitled Corneille: a Tragedy of the Ethos, studying the works of Pierre Corneille. He is an active member of his field, presenting at the annual conference of SE17 (Sociéte d'Études du dix-septième siècle français) and the University of Gent, Belgium.
On his work as a Professor, Franco reflects:
"I really enjoy both my language and my literature classes. Language classes are really playful, and the ludic element is beautiful because it allows us to relate in the way children do, with openness and spontaneity. Lit [literature] classes are also really fun, because the subject pretty much always has some kind of connection with our personal experiences, which in turn leads us, often unexpectedly, to share real, deep, and sincere thoughts about life. If I have to choose one class, I really have a blast teaching Victor Hugo's Les Misérables."
David's classes serve as invitations for advanced students to extend their horizons beyond grammar and vocabulary, to apply their language skills to better understand theater, cinema, and literature. This coming semester, that of Fall 2023, Dr. Franco is teaching Performing Madness in French Theater, a class that weaves together the French language and the theater since the Early Modern Period. Students explore 17th century neoclassical plays to the work of contemporary masterpieces, watching Pierre Corneille's Medea and Marguerite Duras. In the final project, students have the opportunity to perform (or record) their newfound understanding of "folie," the French word for madness. This is the culmination of a semester's study of French Theater and Language, of script writing, acting, and collaboration.
Reflecting on the Simon's Rock experience, he shares:
"For me the most precious aspect about the Simon's Rock experience is how close students and faculty are able to work together. I'd say it is sort of a win-win situation. We as faculty have the opportunity to learn a lot from the students. And the students receive lots of personalized attention and guidance from faculty."