Simon's Rock Awarded Early College Full School Impact Planning Grant of $150,000 to Partner with Southern Berkshire Regional School District | April 11, 2022
April 11, 2022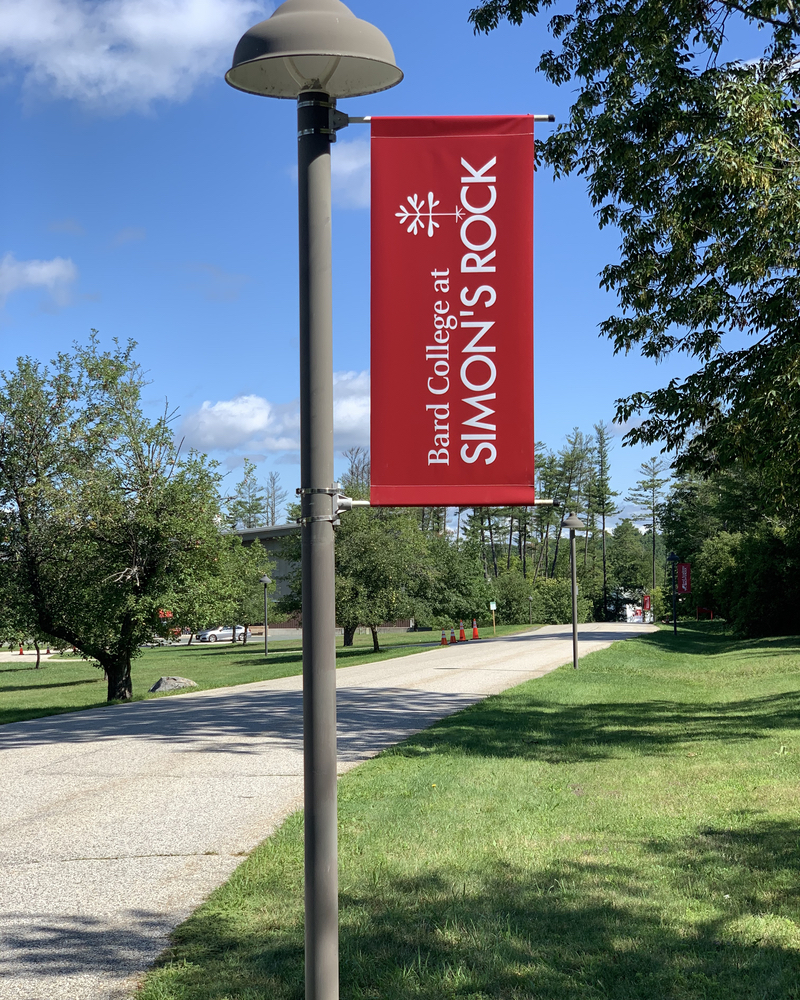 by Fiona Scruggs
Simon's Rock was recently awarded an Early College Full School Impact Planning Grant of $150,000 from the Department of Elementary and Secondary Education of the Commonwealth of Massachusetts.
The purpose of this competitive grant is to provide significant planning and resources to support a district and/or high school and college partner in designing and developing an impactful, large scale, or "full school" immersive Early College program model. The grant will support a three-year pilot program for Simon's Rock to partner with Southern Berkshire Regional School District (SBRSD) to develop a shared immersive whole-school model Early College program beginning in fall 2022 (Massachusetts Department of Elementary and Secondary Education).
The whole-school model partnership was specifically created for Mount Everett Regional High School (MERHS) and draws upon elements from Simon's Rock and Bard Early Colleges. As a pilot program, Simon's Rock began partnering with SBRSD in the fall of 2019 in providing students at MERHS with the opportunity to take Early College courses and earn credits towards their associate degrees while still enrolled in public education. The program took a one-year hiatus due to COVID-19, but returned in the summer of 2021. The reciprocal nature of the program provided the opportunity for Mount Everett students to participate in their courses on campus at Simon's Rock during the summer with Simon's Rock professors teaching courses on Mount Everett's campus in the fall.
Associate Dean of Studies for Sophomore Year and the Upper College Ken Knox has been instrumental in developing this program, along with Michael Peters, Senior Strategy Fellow for the Early College Research Institute at Bard College at Simon's Rock.
Knox shared that "Over the past two years, I've helped to originate and maintain the pilot program and continued to advocate for the idea that we can create an Early College community among the wider group of south county high-school students. I'm currently the program liaison between Simon's Rock and Mount Everett and working with the larger administrative team to plan for the coming years. That the program has expanded so quickly and profoundly is a testament to the incredible hard work and support from the teams at Mount Everett and Simon's Rock, and to Simon's Rock's continued leadership in the Early College movement."
The full program, designated by the Massachusetts Early College Initiative, aims to involve every Mount Everett student in college preparatory work and will allow students to complete up to a full year's worth of college courses (up to 31 credits) while still in high school. Students will be engaged as early as eighth grade to explore their interests, develop an academic plan that includes early college, and connect that plan to their career aspirations.
The program is open to all and each student will have access to deliberate and thoughtful support. We intend to increase college completion rates, reduce the time to college completion, and reduce the total cost of college to district students and their families.
In the whole-school model, which is the first whole school partnership in Massachusetts in a rural district, students at MERHS will have increased educational opportunities in a school district with only one comprehensive high school option. The Simon's Rock and MERHS whole-school partnership is an innovative approach for rural students, who have been underserved by Early Colleges, and can be a model for small comprehensive districts, particularly rural ones.
The curriculum in the Simon's Rock and MERHS whole-school model draws from Simon's Rock courses such as "Mathematics and its Applications" and "Philosophical Problems," as well as the Pathways to the American College Experience (PACE) program, College Experiential Learning & Research Workshops from Bard High School Early Colleges in Newark and Cleveland, and the Civic Engagement Capstone from Bard Early College Hudson. The whole-school model will blend Early College with career pathways and includes 3+ credit levels for 5 different pathway options with only 35-50 students per grade. Teacher training will also be provided through the Early College Research Institute to further expand Early College access.
"I'm looking forward to working with Mount Everett students and faculty as we build this new Early College community, to close collaboration between Simon's Rock and the District that will help students connect college to career, and to providing universal access to college coursework or college preparatory coursework to Mount Everett students," shared Knox. "I'm also looking forward to continuing teaching courses!"
Michael Peters, Senior Strategy Fellow, Early College Research Institute, Bard College at Simon's Rock shared that "As part of the Simon's Rock and Southern Berkshire Regional School District (SBRSD) team developing the new program, it was an amazing experience to see the dedication to service of all involved to the future of local students. Both institutions brought decades of experience and professionalism into developing a program focused on the unique needs of Mt. Everett students with a unique early college program. It is a groundbreaking and historic program not only for both schools but with potential for other rural high schools in Massachusetts."