Rocker Applies Dual Degree in Engineering and Medical Fields
Eldred Lee '12 is taking an innovative approach to health care needs as an engineer.
Eldred has been admitted to the Medical Physics Education Program at Dartmouth, a joint graduate program of the Thayer School of Engineering and Geisel School of Medicine. He will be pursuing two fields for his doctoral degree: Materials Science and Engineering and Medical Physics (Radiation Oncology). Eldred is considering a postdoctoral degree or a medical physics residency, and ultimately would like to teach engineering or physics at Bard College at Simon's Rock or Dartmouth College.
Through the Dual Degree: Dartmouth Engineering Program offered at Simon's Rock, Eldred earned his bachelor of arts in Physics from Simon's Rock in December 2015 and his bachelor of engineering in Biomedical Engineering from Dartmouth in March.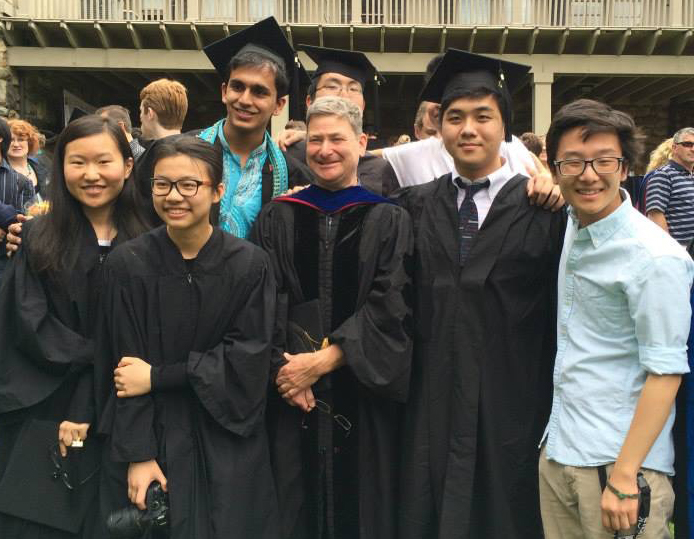 Eldred, second from right, with Professor Mike Bergman and friends at the 2015 Simon's Rock Commencement.
Eldred originally planned to study music and math at Simon's Rock, however professor Mike Bergman's PHYS 101: Physics II class ignited Eldred's interest in physics and the dual degree program. By the end of his second year, Eldred had completed four of the five physics classes in his concentration—all of them taught by Mike. One of his favorite physics classes was interactive and hands-on, which complements his love for physics and engineering. "That's what I love to do" and "why I'm an engineer now."
During a research internship with Mike the summer after his freshman year, Eldred became interested in Materials Science and Engineering, which he is studying at Dartmouth. His work with Mike helped Eldred develop skills that he has utilized on other prestigious research projects. "Early exposure to research work is very important and I think the summer internship programs at Simon's Rock prepare students well for these kinds of situations."
The focus of Eldred's senior thesis at Simon's Rock was connected to a humanitarian project he worked on as part of a team during his first year at Dartmouth. The project, SafaPani ("clean water" in Nepali), "got me interested in doing engineering for the good of humanity and people's health." Eldred focused his undergraduate career on low-cost and innovative medical device design to help those who need appropriate health care and medical attention.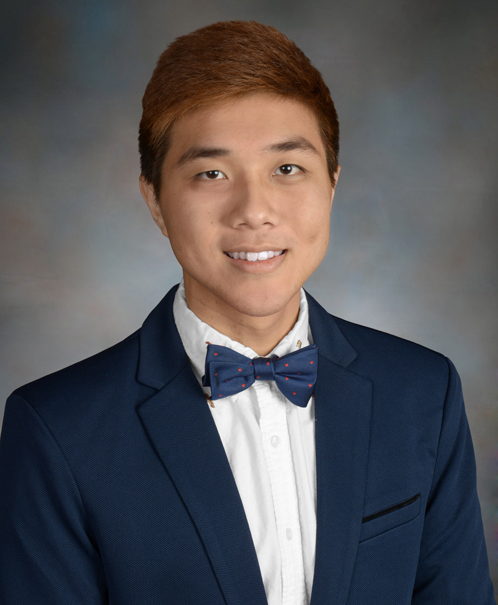 "Going to Simon's Rock made me think more progressively."

-Eldred Lee '12
Eldred was awarded the John F. Warren 1971 (Thayer 1972) Fellowship at Dartmouth. It is given to an engineering student who has demonstrated academic ability and shows promise of contributing to the engineering profession.
The dual degree program afforded him the opportunity to attend Thayer, which offers a broad spectrum of engineering studies and allows students to work in a variety of engineering disciplines. "If you're interested in making change and helping humanity with your engineering knowledge, Dartmouth is the place to be."
Academic life at Dartmouth is rigorous, but taking many prerequisites and advanced math and science courses at Simon's Rock better prepared Eldred for the engineering curriculum. Plus, the size of the engineering school allowed him to get to know his professors personally and easily seek their advice and help, just like at Simon's Rock. The combination of liberal arts and technical training got Eldred to think outside the box. "Going to Simon's Rock made me think more progressively."