Simon's Rock and James Weldon Johnson Foundation Residency Foster Creativity
For several weeks each summer, five established, mid-career, and emerging artists are granted time and space to create works inspired by the values that James Weldon Johnson dedicated his life to: creative expression, social justice, civil rights, erudition, and community.
The James Weldon Johnson Foundation partnered with Bard College at Simon's Rock for the second annual artist-in-residence program, which invites these artists to stay on the Simon's Rock campus and use the College's studio space. The artists also have access to Five Acres, James Weldon Johnson's nearby home and writing cabin, where he wrote some of his most famous works, including God's Trombones and his autobiography Along This Way.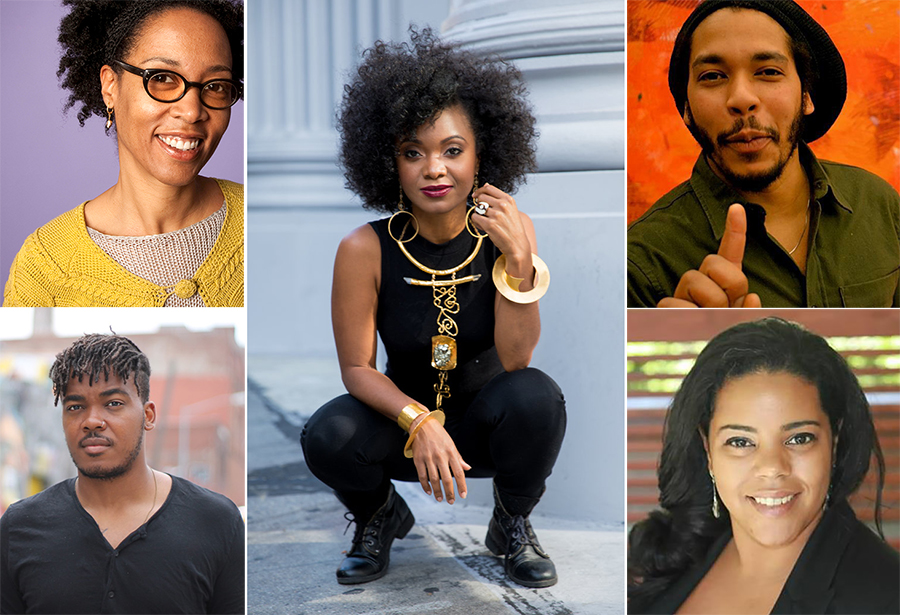 The 2018 Fellows—Sonya Clark, Patrick Eugène, Douriean Fletcher, Kamil Peters, and Meclina Priestley—called the experience, and "place and space" at Five Acres and Simon's Rock, "the magical place," said Rufus Jones, co-founder and president of the Foundation.
A first this year was a studio tour following the opening reception, which allowed some of the artists to share and show their creative process. Guests were invited to touch and feel the art, thereby using their tactile senses to explore the art and to hear directly from the artists.
"The results of the partnership between the James Weldon Johnson Foundation and Simon's Rock have been more outstanding than I could have ever dreamed. The artists are delighted with the premier art facilities, and the whole community has come together to welcome them and enrich their experience," said Jill Rosenberg Jones, executor of the James Weldon Johnson Literary Estate, and co-founder and chair of the foundation. "Last year we had all fine arts painters and this year we expanded into 3D arts. The top-notch arts facilities at Simon's Rock are wonderfully versatile and made the transition from paintings to metal sculpture, the fiber arts, and jewelry making smooth as silk. I am ever so grateful for this partnership and very excited about our future together."
About the Artists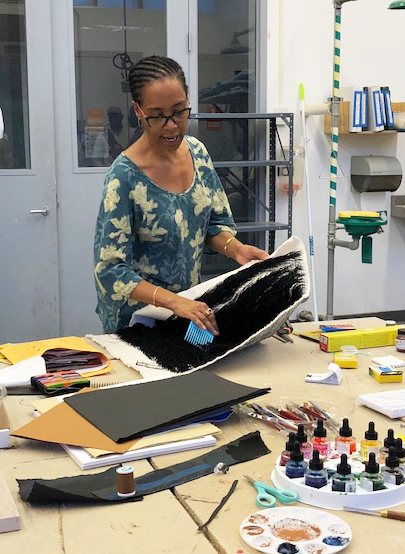 Sonya Clark is well-known for using a variety of materials, including human hair and combs, to address race, culture, class, and history. Sonya's work has been exhibited in more than 350 museums and galleries in the Americas, Africa, Asia, Europe, and Australia. She is a professor at Amherst College and has won multiple national and international prizes, and recognition for her art.
She drew inspiration from James Weldon Johnson's poem Lift Every Voice and Sing to create textured pieces of art using hair. "I'm convinced we are on sacred land here. This place and space are a magnet for talent," she said of Five Acres.
Patrick Eugène is an emerging abstract expressionist painter who challenges the social, cultural, and societal expectations placed on and held by his contemporaries. The painting he worked on was inspired by James Weldon Johnson's poem Mother Night and created using found materials on the Simon's Rock campus.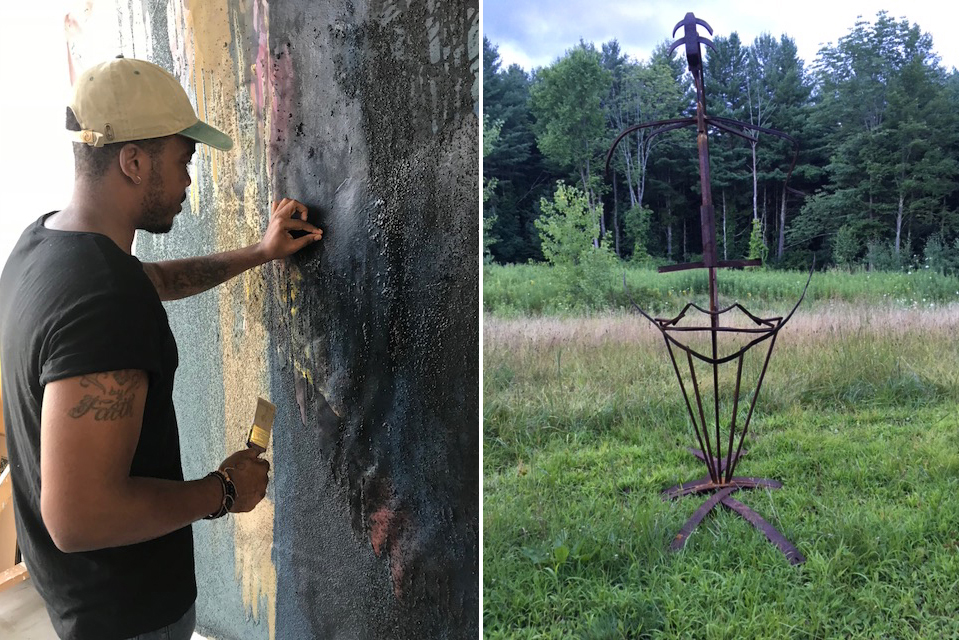 Kamil Peters's contemporary metal work of intricate masks, sculptures, and large-scale commercial installations incorporate the spirit of the past with a distinct modern edge as an interpretation of the natural world. One of his residency pieces is the face of James Weldon Johnson assembled from discarded metal pieces found around the art studios.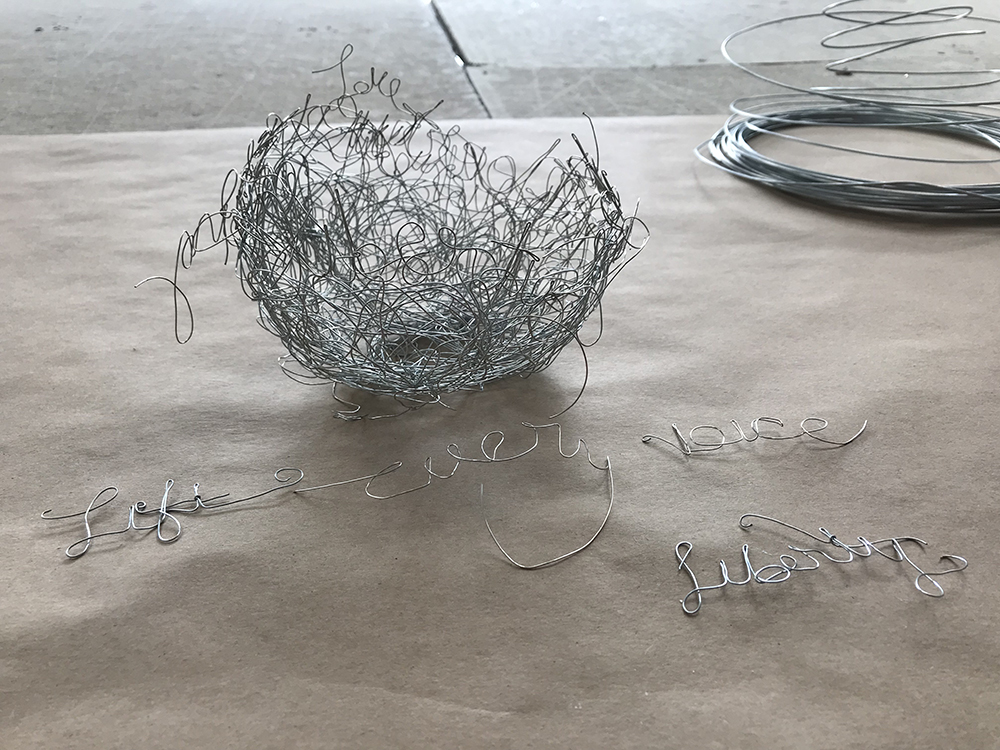 Meclina Priestley is a returning Fellow and coordinated the programming for the artist residency. She is a micrography artist specializing in using micro-sized phrases and words to create images that invite conversation and contemplation. Among the work she exhibited for the 2017 residency was a micrography portrait of James Weldon Johnson composed using his writings. She continued her micrography work during this year's residency.
She is thrilled to return for a second year and to join this year's cohort of artists. "It is our intention to create a space that fosters relaxation, contemplation, and creativity. We shared insight on our careers, laughed by the fire pit, and even explored local historical sights together. Time is such a precious commodity and to have this space in this glorious location has been a true gift to us all."
Douriean Fletcher, a specialty jeweler and metal artist, creates unique one-of-a-kind wearable art pieces using natural raw materials, gilded 18K and 24K gold metals, and bold abstract shapes to depict an ancient yet futuristic opulence. Douriean was the specialty jeweler costumer for Marvel's Black Panther. The jewelry, 144 pieces of armor, and other wearable art she created for the movie were inspired by African tribes and their jewelry. Douriean is now the official licensed jewelry designer for Black Panther and has made history by becoming the first jeweler in the Motion Picture Costumer Union.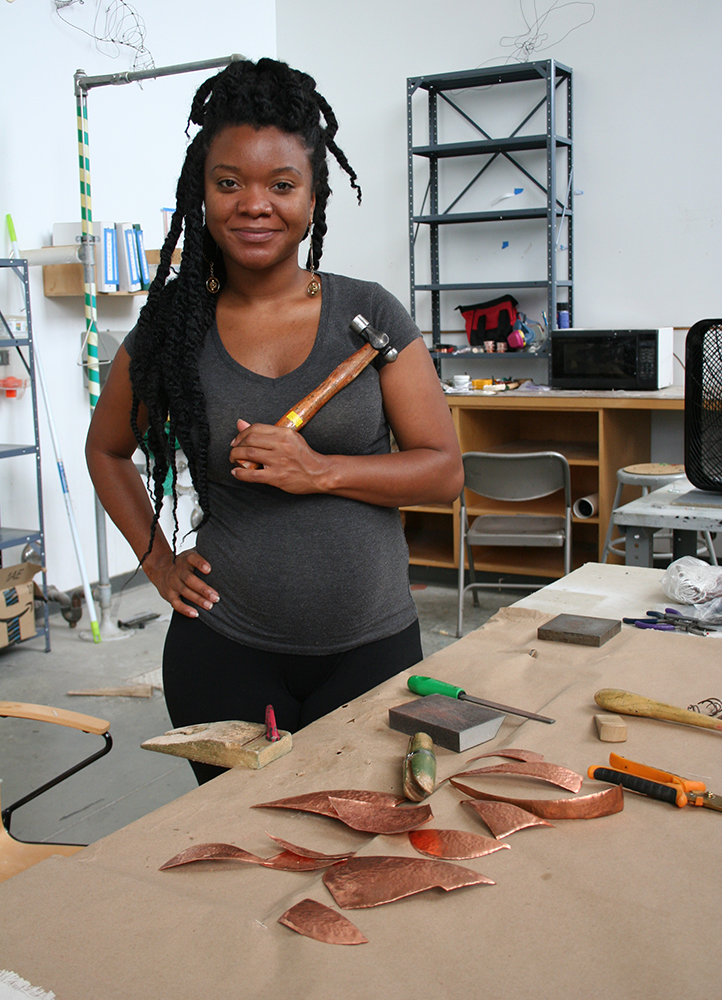 During her residency, Douriean had the opportunity to speak to a group of young girls participating in an arts-centered summer camp held on campus. She told them it had been her dream to one day see actress Angela Bassett wearing her jewelry. That dream came true when she learned the actress would be wearing her creations in Black Panther and on the red carpet at the Hollywood film premiere. Douriean shared with the group something she has carried forward from early on in her career and especially while working on the film: "no matter what is going on around you, keep focused."
For her own collection, Douriean is inspired by her own experiences and dreams. During the residency, she created a crown made of brass pieces leftover from Black Panther. This crown, her version of Nefertiti's crown, is meant to tell a story—her story of expecting her first child, of her transition from artist to mother.
Douriean called the residency eye-opening and a blessing. "I had a busy year and I needed something to feed me and my soul. The residency has done that. It has meant a lot to take a break from promoting the movie and the jewelry, and to get back to the reason of why and how I got here." Being in the studio at Simon's Rock has allowed her to pause and look through old designs, as well as consider new works. A painting left behind by Meclina—her way of sharing inspiration and collaborating with Douriean, even after the other artists had departed—has compelled Douriean to conceptualize new creations: combining metal with stationary art pieces to create standalone art.
The artists have been invited to display their completed works in a group exhibition in the Hillman-Jackson Gallery at the Daniel Arts Center at Simon's Rock in the spring.