Simon's Rock Student Awarded Massachusetts Space Grant Fellowship | April 08, 2022
April 08, 2022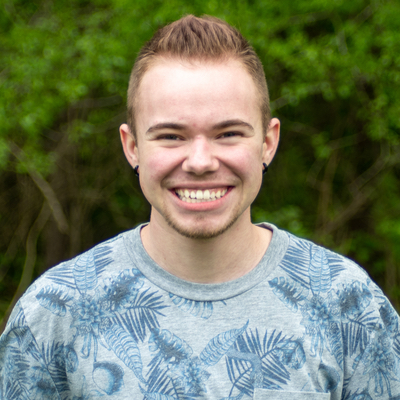 by Fiona Scruggs
One small step of applying for a Massachusetts Space Grant became a giant leap for Bard College at Simon's Rock.
Senior Tyler Farnsworth was awarded a Massachusetts Space Grant Fellowship to conduct research with Assistant Professor in Biology Amy Smith this summer at Simon's Rock, which puts Simon's Rock on the roster of the Massachusetts Space Grant Consortium (MASGC), an affiliate of NASA and the Massachusetts Institute of Technology (MIT), along with 18 fellow Massachusetts institutions including Harvard University, Northeastern University, Williams College, Boston University, Tufts University, UMASS Amherst, and more. Simon's Rock is the first early college to be included on the roster.
Smith, who has worked closely with NASA researchers throughout her career as a Postdoctoral Investigator at the Woods Hole Oceanographic Institution and as a Research Scientist at the Marine Biological Laboratory, applied earlier this year for Simon's Rock to become a member of the MASGC. She explained that she "thought it would be great to bring NASA research opportunities and resources to Simon's Rock and the early college movement." According to Smith, NASA distributes funds to the next generation of researchers who are working on projects that align with their mission and space-related research priorities.
Student researcher Tyler Farnsworth will partner with Smith remotely from his hometown of Stow, MA on developing a project and analyzing their findings throughout the summer. The program Farnsworth and Smith will be using to analyze their data is computer-based and completely online. The grant will support Farnsworth for 30 hours a week for 10 weeks to conduct this research along with Smith. Although they are in the beginning stages of developing their project, Farnsworth has already completed his first semester of his senior thesis and anticipates that this summer's research will further support his thesis next year at Simon's Rock.
His thesis focus is on the origin of eukaryotic life and cell biology. He is particularly interested in exploring what researchers have studied in the past and how his own study of astrobiology with Smith applies when searching for life in other places. Farnsworth explained that "if we understand how life started on earth, then we can find out more about how life in other places might happen."
One of the aspects of receiving the Massachusetts Space Grant that excites Farnsworth is that "what is interesting in biology and bioinformatics is translating the research from organisms in samples and cell biology into something more understandable for other people."
At the conclusion of the summer's research, Smith and Farnsworth will submit a final report of their research findings to NASA, contributing to the advancement of space research at Simon's Rock and beyond.