Meet John Weinstein, the New Provost of Simon's Rock
John Weinstein, who became the eighth provost and vice president of Bard College at Simon's Rock in July, began inventing languages in his notebook as early as the second grade.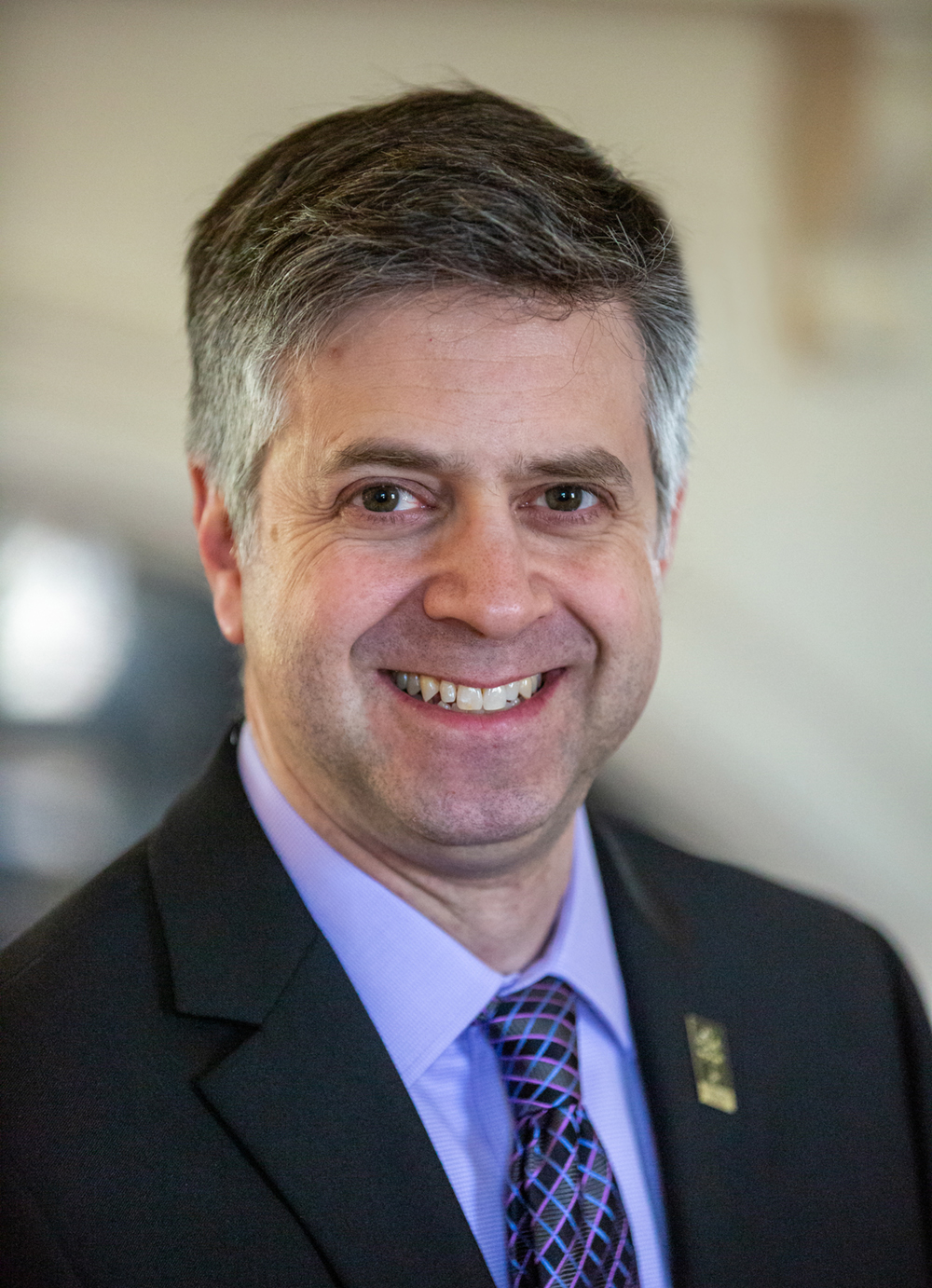 That same year, he convinced his teacher to let him write, produce, and perform in a class play, which may be considered the unofficial start of his teaching career. "I was putting myself in the instructor role from the start," remembers John. His propensity for theater and his interest in language was rivaled only by his high achievement in competitive figure skating, which he took up at age seven.
But it wasn't until John's senior year of college that he realized he might dedicate his life to education.
Having come out during his studies abroad in China, when he returned to the United States for his undergraduate commencement at Harvard College, John was heartened to see a group of gay and lesbian professors protesting the commencement speaker, a senior military official during the era of "Don't Ask, Don't Tell," in an event leading up to the ceremony.
"I was really blown away—seeing that this group of queer professors existed; that they were up there in support of the students in their community. I remember seeing that and thinking, 'I can be that—I can inspire students who may feel different to see themselves in me,'" recalls John. Since that moment, he's understood the importance of teachers being accessible role models, mentors, and reflections of their diverse array of students.
Discovering Simon's Rock
By the time he encountered Simon's Rock in 2001, John had nearly given up on academia. While he was pursuing his PhD in Chinese language and literature at Columbia University, John wasn't having much luck on the job market and was considering alternative career paths. Then he heard about an opening for a visiting professorship at Bard College at Simon's Rock.
According to John, one of his initial conversations about the role was with Pat Sharpe, Dean of Academic Affairs, which "felt more like we were envisioning a way to rethink education than conducting an interview." When their time was up, they both agreed that the conversation didn't feel over. Pat invited John to continue the discussion before he left for the day, and, "in a way, we've been working at rethinking education for nearly 20 years since," he says.
After joining Simon's Rock to teach Mandarin that year, John was chosen to become a founding member of the faculty in a new hybrid model of public-private education based on Simon's Rock's early college model, called the Bard High School Early Colleges (BHSEC). He later became the principal of BHSEC Newark, where he served with distinction for five years, and was eventually named Dean of Bard Early Colleges in 2017. Over the course of his career, John taught a diverse student body—both early and traditional college-age students in both public and private contexts—and would go on to become a leading expert in early college pedagogy.
A New Pedagogical Vision
With his vast experience and unique perspective on the pedagogy of young scholars, John came to understand that there was no one way to teach a specific age group. To help a student learn effectively, he had to dispense with prescribed notions of age-based pedagogy and think outside the box, letting intellectual curiosity lead the way.
John illustrates the point by citing an example of his teaching a passage from the Confucian philosopher Mencius to a class of Simon's Rock students. The passage involved a parable about the heart of an ancient ruler in which the ruler is unable to bear witness to the ritualistic slaughter of an animal. It was meant to convey the heart of a moral person. But John's student had another interpretation: it signified an ancient Chinese advocacy for vegetarianism. "I responded with all the reasons why that couldn't be the way this passage was meant to be interpreted," explained John. "But by the time I finished trying to be what was a not very flexible instructor, I thought, 'actually, that very well could be a correct interpretation; they had a really good point.'"
John points to these types of experiences with early college students to highlight what he sees as a transformational opportunity to apply non-traditional pedagogy in new contexts.
"We can use years of scholarship centered on a text to reconstruct the meaning of a certain teaching, but in my experience, the early college student can get to an answer that is just as valid by venturing their own novel take—they're not afraid of being wrong."
Bringing Simon's Rock into the Future
The coming year will not be without its challenges as schools adjust to operating safely and creatively during the pandemic. Nevertheless, John is committed to working with the community to preserve the meaningful and engaging education that students expect from Simon's Rock.
This year, Simon's Rock will offer socially distanced, in-person classes—as well as some virtual and hybrid classes—which will require the same degree of creativity and communal cooperation that John has seen time and time again on campus. "As a leader in educating young minds to think differently and to approach complex problems in new ways, we are just the type of institution to demonstrate how this can work," he explains. In a virtual meeting with staff, faculty, students, and families within his first week on the job, John outlined Simon's Rock's approach for a safe return to campus in the fall, and he has committed to continuing these weekly meetings through the end of the semester.
On his first day as Provost, John also set forth a set of strategic priorities to guide Simon's Rock over the next year and beyond. These included continuing to establish Simon's Rock as a bellwether for innovation in higher education, deepening ties with the local community, and enhancing engaging virtual learning opportunities.
With a focus on preparing students for an ever-changing world, another of John's core priorities is making explicit connections between what students learn on campus and the skills they'll need in the professional workforce. This means incorporating career-path mentorship into the College curriculum, in particular, including career-based projects and direct links between academic theory and real-world field practice.
What most excites John about becoming provost is the opportunity to work hand-in-hand with the entire Simon's Rock community—from the faculty, staff, and alumni that have become his friends over the years, to the new students discovering Simon's Rock for the first time. He notes:
"Now is the time for the next generation of scholars to bring Simon's Rock into the future, and I am honored to help them see this through."
And just like the professors that inspired his passion for education and pedagogy, he looks forward to serving as a teacher and mentor for Rockers for many years to come.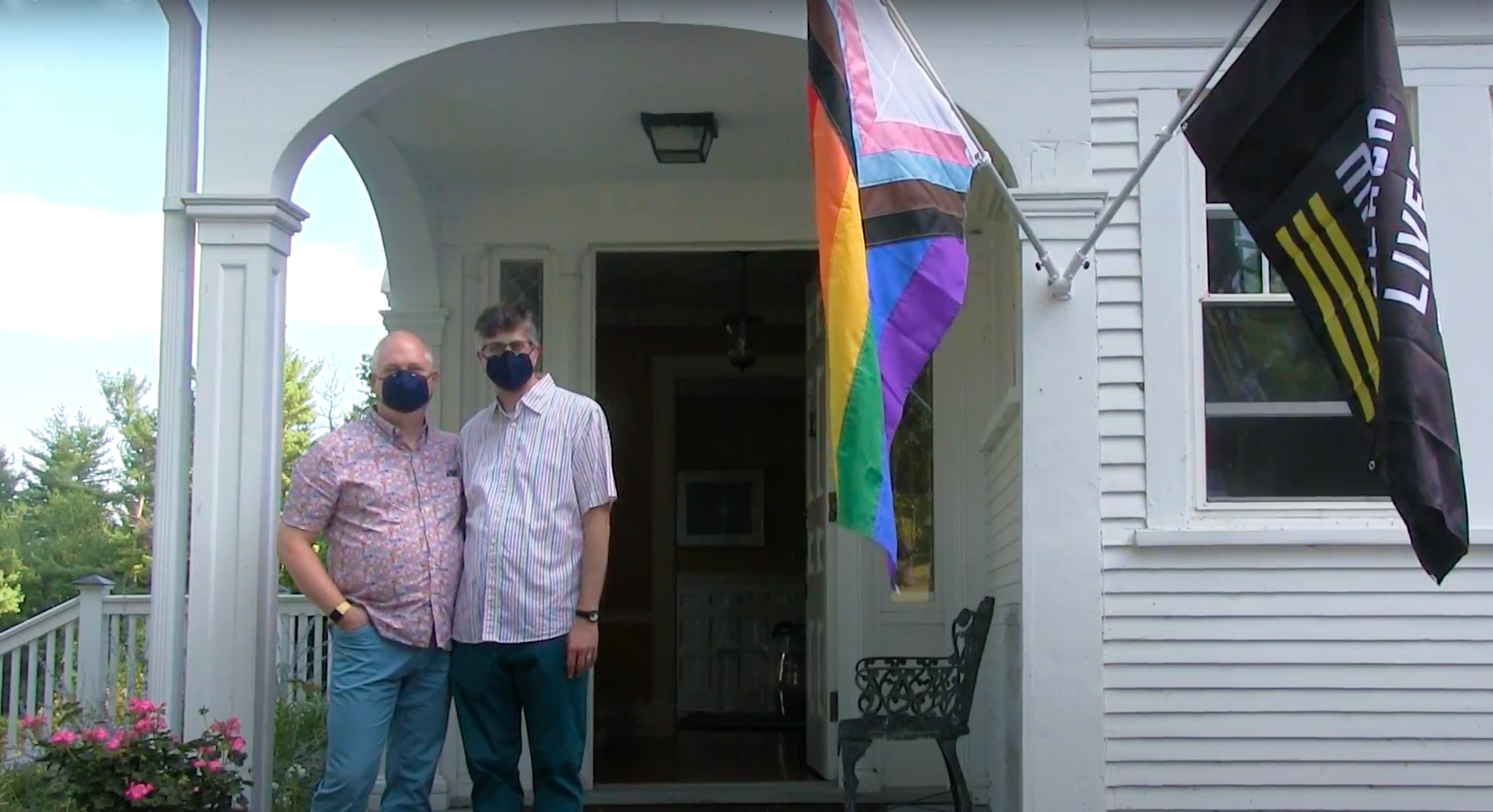 John Weinstein and husband, Brian Mikesell, raise the Pride and Black Lives Matter flags at the Whitehouse residence.