Rockers, Roommates, Best Friends and Fulbright Scholars
March 16, 2015
Marisa Benitez '11 and Zara Anwarzai '11 have always been ambassadors of culture. It's just what they do. Zara hails from Indianapolis—a quintessential all-American city—and yet her mother is Russian and her father Afghani. Marisa is an L.A. woman and second generation American, raised by a single mother and strongly steeped in Cuban culture. Each came to Bard College at Simon's Rock ready for the challenge of early college, and both were nurtured in their academic pursuits—French and German philosophy, political theory, the cultural inferences of translation.
Now the two friends, who forged a fast and lasting bond (they can finish each other's sentences), can add Fulbright Scholars to their already impressive roster of academic accomplishments. Zara and Marisa, with the encouragement and support of their Simon's Rock mentors and professors, have both been awarded Fulbright U.S. Student Program grants for English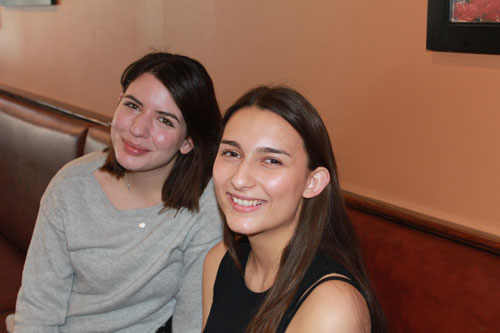 Teaching Assistantships.
Beginning in the fall, Marisa will travel to Belgium and Zara to Luxembourg, for the 2015-2016 academic year, to teach English and to immerse themselves in the richness of their host countries.
"I think the hardest part about the application process is to convince them, and yourself, that this is the best possible place for you to be, that there is no other place you should be," says Zara. "In the process of applying, I realized that it was the perfect place for me. It's so tiny and so landlocked and there are many people of different nationalities who have settled there, yet it still retains a very independent identity."
Zara's quest to find the headquarters of the Kant Yearbook—a passion ignited by her philosophy studies at Simon's Rock--and maybe delve into finally mastering the viola is equally matched by her best friend's excitement over being able to continue her thesis work, which began at the college as a translation project that involved translating popular French short stories, an undertaking that's opened the door to an intimate understanding of linguistics, politics, and what makes a culture tick.
"I like being in different places. I studied abroad in Paris for a semester and was able to be a teaching assistant in a French middle school, and it helped me develop a fondness for teaching and exposure to culture through the classroom," Marisa says. "I'm hoping later to continue studying at a graduate school, but the Fulbright program gives me a bit of buffer time to parse out my research interests and hopefully gain some experience around them! I'm not scared of the challenge but excited about it. When I first applied, it seemed like a lofty stretch, but why not? That's exactly what my advisors were asking, too. They had complete confidence in me. Now I get to be fully engaged in a totally different community. It's kind of surreal. I'm only 19, but I'm ready. This would never have been a possibility anywhere else."