Swim Lessons
SwimAmerica Swim Lessons will begin February 8, 2023 for school-age children.
School-Age Swim Lessons
The SwimAmerica School-Age Swim Lesson Program is one of the most progressive group lesson experiences your child will encounter. Because the swimmer proceeds through the ten stations at their own pace, each child feels that their needs are being uniquely addressed. The personal attention helps the most reluctant swimmer feel comfortable. The classes are goal-driven and technique-oriented, with emphasis on good swimming form — our ten teaching stations will take your child from bubbles to butterfly.
Registration Fee (for 7 lessons*)
*8th lesson is either a bonus, or a make-up, if you miss one of the seven lessons
Members: $80.00
Non-members: $100.00
School-Age Lessons for children ages 5 and up:
Starting February 8th, Wednesday Session: 4 and 4:40 – Station 1-5 and 5:15 – Station 6-10
Starting March 1st, Monday Session: 4 and 4:40 – Station 1-5 and 5:15 – Station 6-10
Please register for Monday OR Wednesday. If you are interested in attending both days, please register for each as a separate session.
Every student must start with an assessment to place them in the correct station.
Family Discounts
In an effort to make our programs more affordable to families, we offer the following discounts:
First Child: Full price
Second Child: 5% off
Third Child: 10% off
And for each additional child, another 5% is taken off.
Your child must be ready 5 minutes before the lesson starts. Late arrivals are strongly discouraged and may not be allowed in the class.
Swim lessons are an essential safety skill for the community, and we are dedicated to providing this service in the safest and most comfortable way for our students and instructors.
Swim Lessons: 6 months – 2 years
Incredible Infants:7 to 23 months
With a parent's assistance, the class helps infants develop a love of the aquatic environment and trains them to respond appropriately if falling in the water by accident. Goal-orientated songs and games teach your baby essential safety skills in a nurturing environment.
Thursdays, February 7 – March 14, 4:00 pm; May 4 – June 8, 4 pm
Terrific Twos:2 years
With a parent assisting, this class will set a strong foundation of good swimming technique and essential skills, introduced in a relaxed and enjoyable atmosphere. Emphasis is placed on the "roll-over" as the most important lifesaving skill.
Thursdays, May 4 – June 8, 4:00 pm
Preschool:3 to 4 years
Registration Fee:
Members: $80.00
Non-members: $100.00
For all of 2023, all preschool (3 to 4 years) lessons will be taught privately.
Private Swim Lessons
Private swimming lessons are appropriate for all ages and all skill levels. Our coaches are trained and ready to help if:
you are a child just learning to swim
you are an adult having trouble breathing during freestyle
you want to learn strokes that you have never done before
you are more comfortable in a one-on-one lesson situation
you are not ready for your child to take group lessons
Series of 4 Half-Hour Private Lessons
Members: $240.00; Nonmembers: $280.00
You must buy four lessons.
Series of 4 Half-Hour Semi-Private Sessions
Members: $320.00; Nonmembers: $360.00
You must buy four lessons.
April is Adult Learn to Swim Month
Learn to swim at the KAC!
Join us if:
you want to learn to swim
you want to improve your swimming
you want to be safe around water
Classes taught by volunteer instructors from the United States Masters Swimmers on the Simon's Rock PaceMakers Team. They will share their love of the water at NO COST TO YOU!!
Lessons given in English and Spanish.
Where?
The Kilpatrick Athletic Center
Bard College at Simon's Rock
84 Alford Road
Great Barrington, MA 01230
Snapper Swim Club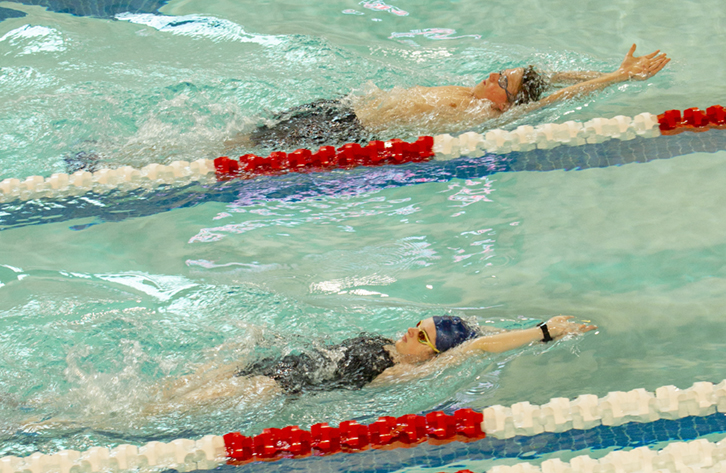 Youth Community Swim Team. USA/New England Swimming member club. Registration OPEN for the Fall/Winter, Try outs/ new swimmer evaluations.
Ages 7 – 18.