The concentration in music is designed to encourage students to expand their abilities in all dimensions of music, allowing them to intensify their involvement in performance, composition, or musicology, while introducing them to a wider musical and cultural context.
The student concentrating in music is expected to attain a level of proficiency in score reading and a basic understanding of theoretical concepts, as well as to develop a concrete grasp of a performance tradition through active participation on a musical instrument or voice. From this platform, the students explore their particular musical interests—intensively through a series of activities or courses that require increasingly sophisticated musical skill or intellectual insight, and extensively through exposure to varied repertory, materials, and approaches. Students are expected to choose a group of courses that broaden and diversify their concept of the field and that connect to related disciplines. Each student's creativity and point of view is considered integral to endeavors in this concentration.
Related career paths
Students with a concentration in music may enter into fields such as arts management, music publishing, production, writing, and education.
Curriculum
Students who concentrate in music may explore and develop proficiency in five core areas: Performance, Composition, Electronic Music, Cultural and Historical Studies, and Theory. The minimum needed to fulfill the concentration requirements is 24 credits. At least one non-music course related to one of the core areas listed above is required. For example, students interested in music performance could take a performance course in theater or dance, students interested in musicology could take related courses in history or other social studies, and students interested in electronic music could take courses in digital media. At least two upper-level (300- or 400-level) courses in music are required for the concentration.
Minimum Requirements
Students intending to concentrate in music must complete the following: six credits for Theory I and Theory II (required of all concentrations), four credits for Theory III (required of all concentrations), four credits of performing activity consisting of two semesters of private lessons (for credit) and two semesters of performing organizations (Chorus, Jazz Ensemble, Chamber Ensemble, Madrigal Group, Collegium), three credits for a related non-music course, and seven additional credits in music.
Course Spotlight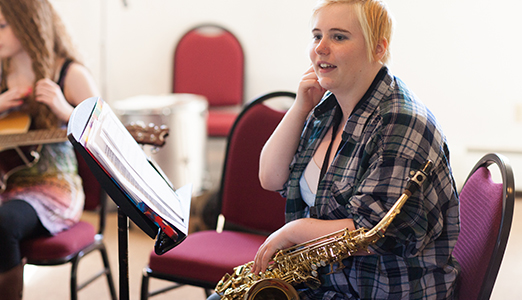 Music 218/318: Jazz: an American Encounter
This course explores the historical development, artistic traditions, and cultural meanings of jazz. Jazz is studied both as a musical phenomenon and as a vehicle for an ongoing cultural dialogue that continues to have a profound impact upon many dimensions of American life.