Curriculum
The concentration in music encourages students to develop as practitioners and theorists. It provides a foundation in key musical concepts, forms, styles and methods that you'll build on while acquiring proficiency in five areas: Performance, Composition, Electronic Music, Cultural and Historical Studies, and Theory.
Your core study includes three courses in Theory, where you'll learn the language and methods of music analysis. With a profound understanding of the tonal system, you'll scrutinize harmonic melodies, identify intervals, recognize the use of dissonance and resolution, and compose your own original polyphonic works.
Meanwhile, you'll be honing your technical and performance skills—not only as a fun, fulfilling activity, but as an integral part of your education—through combinations of private lessons and the college's performing organizations.
You'll choose additional music electives that speak to you—anything from advanced theory to independent tutorials—and offer the opportunity to make your own intellectual contributions to music. As you chart an individual path based on your particular interests, you'll also connect music with other areas of study by taking at least one related course outside the music department, whether it's dance, history, or digital media, to name a few.
Course Spotlight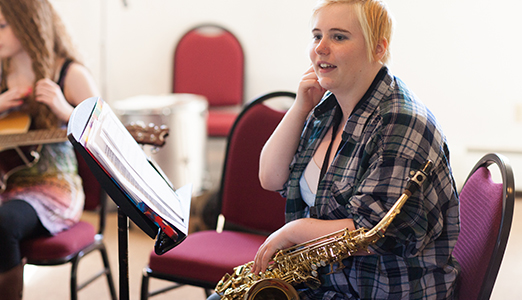 Music 218/318: Jazz: an American Encounter
This course explores the historical development, artistic traditions, and cultural meanings of jazz. Jazz is studied both as a musical phenomenon and as a vehicle for an ongoing cultural dialogue that continues to have a profound impact upon many dimensions of American life.