Experience a Safe, In-Person Learning Environment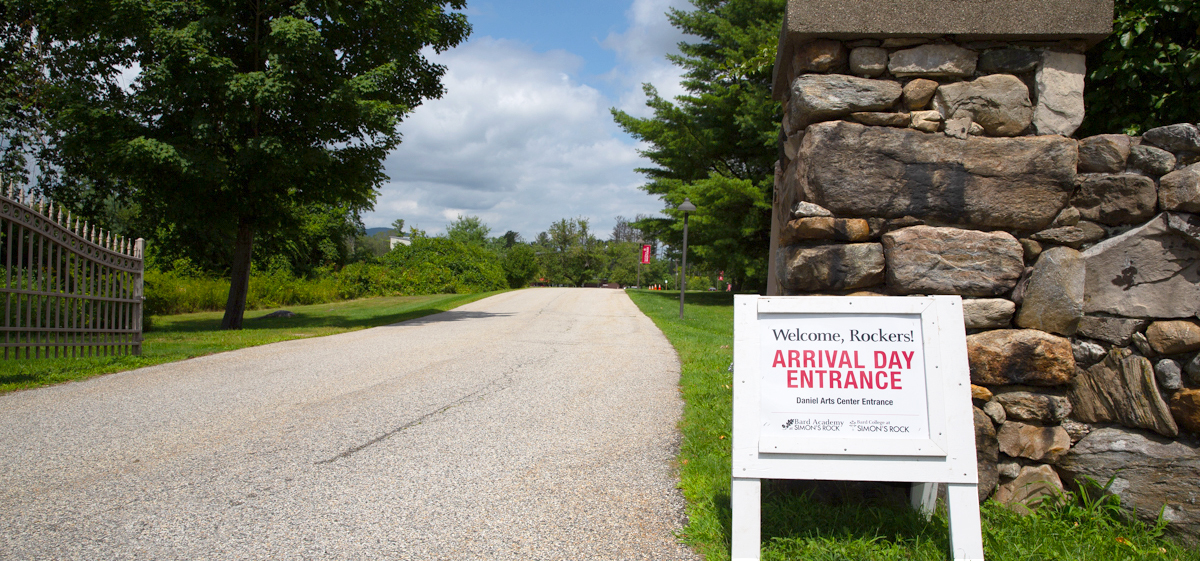 At Simon's Rock, every moment matters. That's why we've never wavered in our mission to help bright, motivated students to fully realize their intellectual and creative potential by starting college early—even in the midst of uncertainty caused by the pandemic. We have successfully created a safe (but still fun!) campus environment through careful planning, informed decision-making, and a culture of community support. During the in-person portion of the fall 2020 semester, Simon's Rock reported zero residential COVID-19 cases on campus.
In the fall 2020 semester, Simon's Rock welcomed over 300 students to our bucolic, 275-acre campus in the heart of the Berkshires, for primarily in-person instruction. Through ongoing testing and strict health and safety protocols, we've cultivated an active, engaged, and protected learning environment on campus—our Contained Community. We're committed to preserving the rich and engaging education that students expect from Simon's Rock by maintaining our safe in-person experience through the spring 2021 semester and beyond.
If you're yearning for a bold challenge that offers more than the traditional path to college, Simon's Rock is here to help jump-start your journey.
What Students, PARENTS, and Faculty Are Saying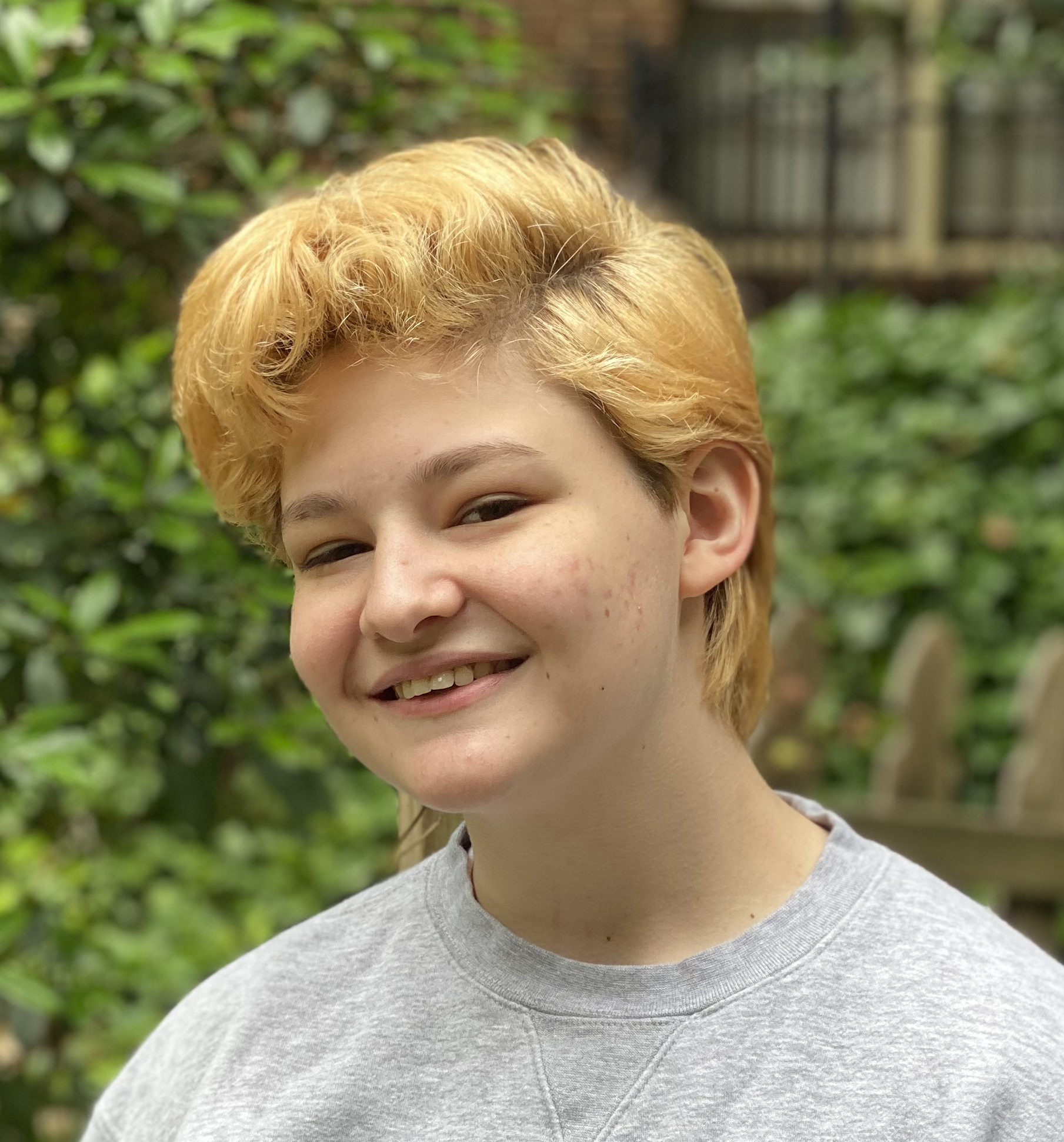 "I'm happy I'm here this semester. I think Simon's Rock remains a place for students looking for something new—for a different way to learn and live while still finding that sense of community and people you want to be around."

-Carson Stone, first-year College student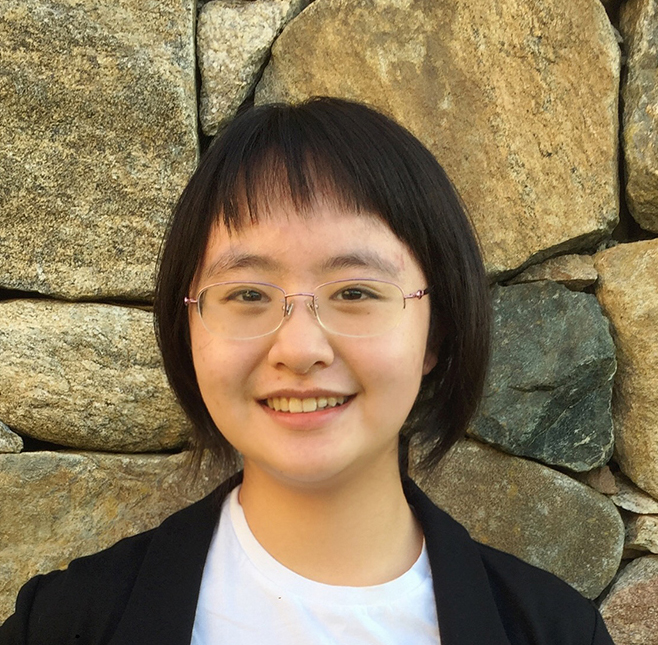 "I'm glad to be here and to be in the classroom. I feel safe because our community is safe, and I also feel connected to my peers both in and outside the classroom. Our professors are doing everything to make this work, and it shows in the quality of class discussions."

-Cathy Zhang, second-year Academy student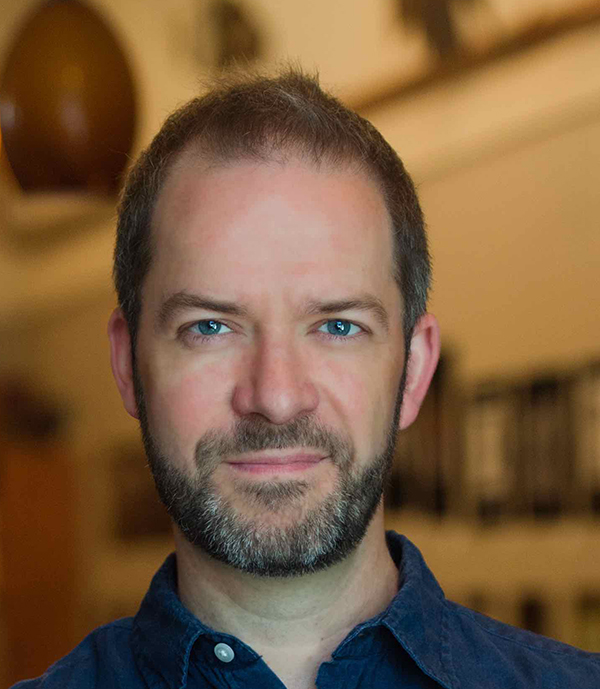 "What I've noticed about classes this semester is that everyone is especially present in the room. Engaging with one another in the same space has allowed for so many unpredictable moments of discovery. When everyone is together, it feels like we're advancing into real group discussion and inquiry—and the sparks fly."

-Brendan Mathews, faculty in creative writing and literature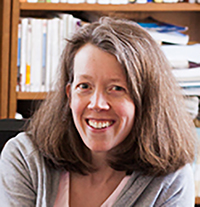 "We've been able to take these unusual circumstances and make class both fun and work really well. I'm teaching a cheese-making class where we meet in-person for a discussion one day and the next day we have a hybrid, hands-on class."

- Maryann Tebben, professor of French and head of the Center for Food Studies

"It was daunting to send our first child to college in this environment, but everything about our experience with Simon's Rock—from the detailed preparedness plans to interactions with faculty and leadership—was really open and transparent. We felt they would create a safe environment with a strong support system, and they have."

-Claire Raper, mother of Lily '20
"When we left campus after our tour, my daughter burst into laughter and said, 'I just found where I belong.' She was right. We were worried about sending a 16-year-old to college during a global health crisis. But Simon's Rock has been the best parenting decision we've ever made. I've never known my kid to be this happy."

-Lynn Cockett, mother of Hannah '20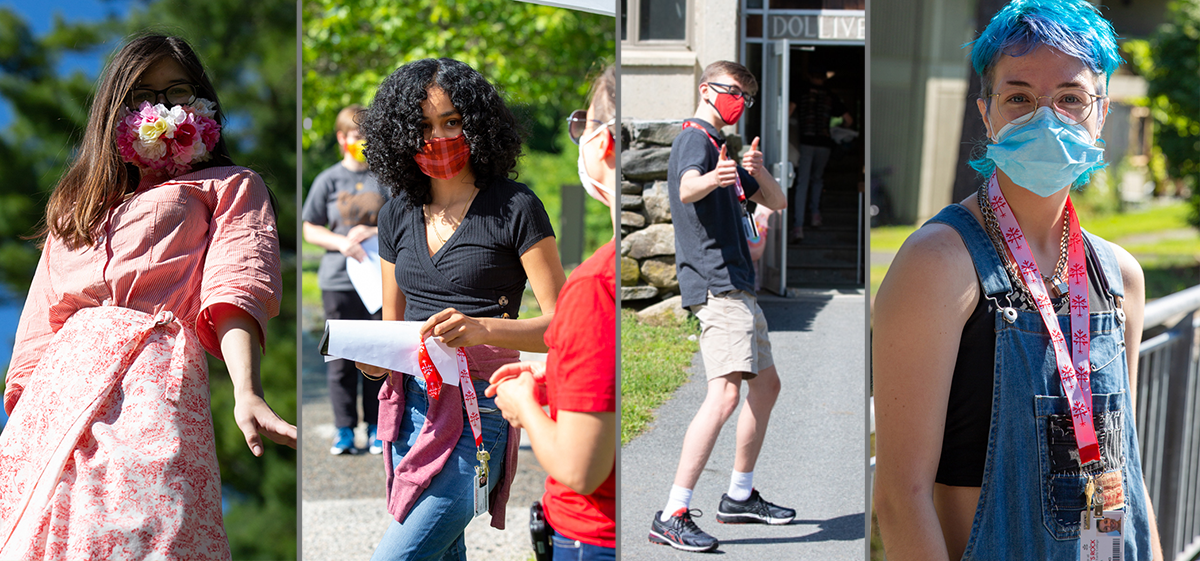 A Safe Community Grounded in Mutual Support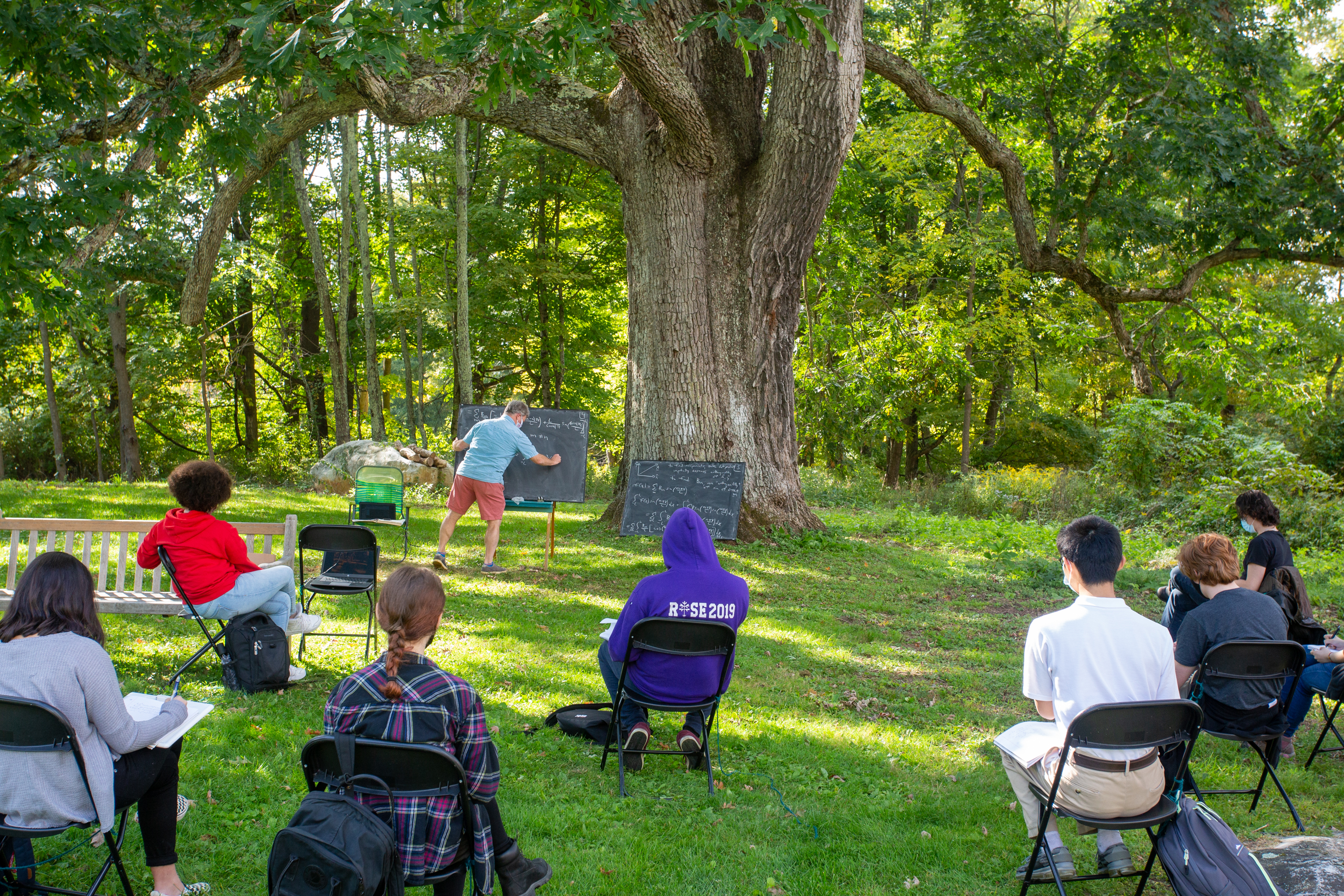 An outdoor physics class during the fall 2020 semester.
At Simon's Rock, our core priority is maintaining the health and wellbeing of our community and our neighbors while delivering on our academic mission. Our Spring Semester Plan follows the blueprint of our success fall semester plan — it has been meticulously developed in accordance with public health best practices and Massachusetts guidelines to allow for a safe and interactive in-person learning experience while offering students meaningful opportunities for connection, relationship-building, and autonomy alongside their peers.
The essence of our successful in-person operation is the establishment of a Contained Community on campus—a safe, supportive, and mutually respectful learning environment. Highlights of our successful safety protocols include:
Weekly COVID-19 testing administered by the Broad Institute of MIT and Harvard of our entire campus community
Campus-wide agreement to take our COVID-19 training course and abide by the Simon's Rock Return to Campus Safety Pledge
Detailed protocols requiring mask-wearing, social distancing, and personal safety best practices
Weekly briefings and open-forum discussions with Provost John Weistein and parents, students, faculty, and staff
Rigorous cleaning and sanitization of all campus facilities
Transparent, consistent, and timely communication
Easily accessible support systems for academics, campus life, and health and wellness
Apply Now
If you're curious about the world and want to take the next big step by starting college early, there's no reason to delay. We want to help you keep your academic goals on track, starting now.
Connect & Learn More
The admission team welcomes your questions. We've got you covered when it comes to learning more about early college at Simon's Rock, talking you through the application process, and helping you meet your admission and financial aid deadlines.