Abe Chu, Youngro Lee, and Bob Dunton
As teammates on the Simon's Rock basketball team, Abe Chu '00, Youngro Lee '00, and Bob Dunton '00 know what it's like to be underdogs.
"The other teams were bigger and stronger," says Youngro. "Clearly, we weren't going to win many games." It's fitting that NextSeed—a FinTech startup that they started in 2014—is devoted to the little guy. Through NextSeed, anybody can invest in small businesses such as restaurants and spas via debt or revenue-sharing securities.
The rigor of the Simon's Rock curriculum, the professors' high expectations, and the emphasis on learning as a process of self-discovery and self-discipline, encouraged all three men to set high standards for themselves and fueled their ambitions when they continued their educations after receiving AA degrees. "Simon's Rock was my first opportunity to interact with people clearly smarter than me," says Youngro, who was born in Korea and arrived in Great Barrington after two years at a high school in North Carolina. "It was a culture shock—an alternate reality. It opened up new perspectives and possibilities, made me want to be better. I was forced to interact with people who I thought I had nothing in common with. Simon's Rock made me think about life."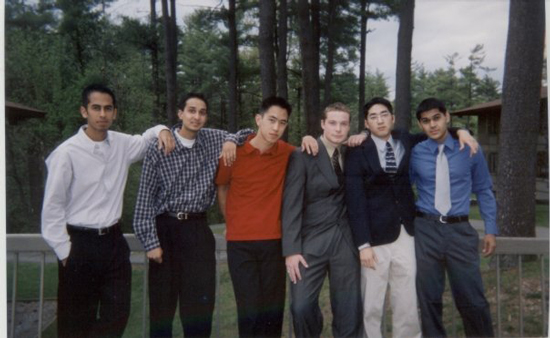 Abe came to Simon's Rock from a large public high school in Houston where he didn't feel engaged intellectually. "It was easy to skate by," he says. At Simon's Rock, his teachers and peers pushed him to be his best self. "Professors challenged us, and I got even more out of the debates inside and outside of the classroom. It's an environment that was completely different than what I had before. I was constantly pushed outside of my comfort zone, and I loved it!"
For Bob, who came from a private school in Wichita, Kansas, "Simon's Rock had the biggest impact academically," he says. "It pushed me to question at a deeper level and not take anything for granted, take blinders off, so to speak, and peer behind the curtain. I carried that ability into life experience."
Beyond the basketball court, the classmates cemented their bond as resident associates at Dolliver, which was another extracurricular activity for them to cultivate leadership skills that have been critical to their success. After Simon's Rock, they headed in different directions, but stayed close and reunited at least once a year. Youngro went to Cornell where he earned a BS in Industrial and Labor Relations as well as a JD/LLM in Comparative and International Law. He became a private equity lawyer at elite law firms—Cleary Gottlieb Steen and Hamilton, Kirkland & Ells, and Weil Gotshal & Manges—where his job took him to Hong Kong, Moscow, and Shanghai. "Simon's Rock is not for everyone," he allows. "While we are not a big brand, Simon's Rock gives you the tools to do what you want to do, and challenges you to try new things."
"Simon's Rock… pushed me to question at a deeper level and not take anything for granted… I carried that ability into life experience."

-Bob Dunton

Abe agrees with his friend. "If a student is motivated, Simon's Rock has a way to harness that motivation," he says. After his two years in Great Barrington, Abe moved to Texas, earning his BA in economics and an MBA at Rice University, honing his marketing and business development skills at Samsung, Premium Retail Services, as well as two startups and a brief stint in the Simon's Rock office of Institutional Advancement. Bob transferred to Union College to study computer science and mechanical engineering, and later attended Georgia Institute of Technology where he received a master's degree in mechanical engineering. His professional career put him in leadership roles with GE's Edison Engineering Development Program and then as chief information officer and deputy chief operating officer at the law firm Tully Rinckey.
With his private equity experience, it was Youngro who recognized that new finance laws offered unprecedented opportunities for business development that would benefit small businesses and investors. Knowing that he needed partners with marketing and technical expertise to launch NextSeed, he turned to his former teammates. Abe quit his job and signed on as NextSeed's chief marketing officer. "I knew that our shared Simon's Rock experience meant we would have a strong working relationship," says Abe. "We have an inherent trust. We can challenge each other without taking it personally. And Youngro is a phenomenal salesman!" And, most importantly, the new company had a mission that rekindled his youthful idealism. "Ever since Simon's Rock, I knew I wanted to build a socially responsible company. NextSeed is about empowering people and having a local impact on small businesses. We're creating jobs in our community."
"NextSeed is about empowering people and having a local impact on small businesses. We're creating jobs in our community."

-Abe Chu

Youngro and Abe agreed that Bob was their number one choice for chief technology officer. They hit him up on his wedding day, and it was an offer he couldn't refuse. "NextSeed came up at the right time," he says. "It was an opportunity to pursue something with more meaning— a chance to work on more impactful technology. And more than that, the ability to work with these guys, to change the way things are done."
It was just the three of them behind NextSeed's 2015 launch in Texas. They have since expanded to nine full-time employees, launched their national portal—the first SEC-registered Funding Portal under the JOBS Act—and closed the first ever Regulation Crowdfunding offering in US History. "To date, people across the country have funded over $2.5 million in business loans for 15 small businesses nationwide," says Youngro, adding that NextSeed has now established a presence in San Francisco, New York, and Los Angeles. "Two years ago, it was just an idea. Now real people are using and relying on our services— especially local businesses that truly depend on our financing and marketing solution. A lot of people didn't believe it could be done, but we're proving that this model works."
"What you learn won't always be visible right away, but Simon's Rock was a turning point. I learned skills there that I've applied throughout my life."

-Youngro Lee

When he reflects on his career trajectory, Youngro sees Simon's Rock as the starting line. "At the time you are there, it's hard to know what you will get out of it and how it will impact your personal and professional life," he says. "What you learn won't always be visible right away, but Simon's Rock was a turning point. I learned skills there that I've applied throughout my life."