Arielle King '14 Continues Activism at Vermont Law School
Bard College at Simon's Rock alumna Arielle King moderated a panel at the second annual 2018 EJ Law and Policy Convening on "Advancing Environmental Justice."
Arielle and fellow students from Vermont and Yale law schools
convened
to examine environmental justice in the Trump era. She helped guide the third panel discussion on "Building Capacity and Broadening Coalitions" (watch
video
at 4:09). "Environmental justice requires an integrated approach, considering human and civil rights as well as tackling environmental issues, in order to be successful," said Arielle, co-founder of the Environmental Justice Law Society at Vermont Law.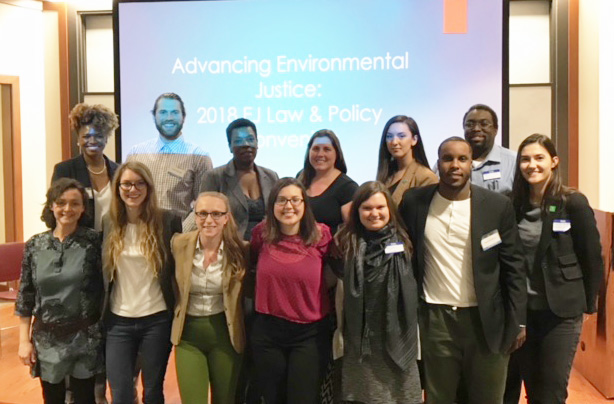 Arielle King, top left, and the Environmental Justice Law Society at Vermont Law School.
A member of the Black Law Students Association (BLSA), Arielle helped organize the annual Race and Law Forum. Held in February, the forum addressed prison and bail reform. Inviting the community to participate in the discussion, she stressed that "The time is now to address the fact that Vermont's black prison population is over three times the percentage of black residents living in the state."
On May 12, Arielle received her master of environmental law and policy. In her first year at Simon's Rock, she learned about the 3-1 Dual Degree program in environmental law and policy at Vermont Law School, and immediately knew that was the program she would pursue. Arielle also received her bachelor's degree from Simon's Rock.
She took the Law School Admission Test in February and applied to 11 law schools. Arielle decided to stay at Vermont Law School to pursue her JD in environmental law, with a focus on environmental justice, mental justice, and international law.
Over the summer, Arielle assisted with James Weldon Johnson Foundation's second annual artists retreat in partnership with Simon's Rock.