Study three years at Simon's Rock and one year at the nation's highest-rated environmental law school and receive a degree from both.
Accelerated Program for Bachelor's and Master's Degrees
Simon's Rock students who are interested in pursuing a law degree from Vermont Law School (VLS) may choose one of the following 3-1 dual degree programs:
Master of Environmental Law and Policy (MELP) from VLS
Master of Energy Regulation and Law (MERL) from VLS
Master of Arts in Restorative Justice (MARJ) from VLS
These programs allow students to earn a bachelor's degree from Simon's Rock and a master's degree from VLS in four years instead of the typical five.
The Master of Environmental Law and Policy (MELP) from VLS responds to the cutting-edge environmental challenges facing the United States and the world today, including climate change, sustainable agriculture and food safety, degradation of water resources, and conservation and management of public and private lands.
The Master of Energy Regulation and Law (MERL) from VLS dives deeply into the issues surrounding how energy is used, produced, and transmitted with a particular focus on alternative, sustainable energy and the environmental problems associated with traditional energy.
The Master of Arts in Restorative Justice (MARJ) from VLS is for students interested in helping to find better, more ethical and financially sustainable solutions to our criminal justice system.
These specializations build on the Simon's Rock BA and prepare students for an impactful career in creating government policy, sustainable business, and environmental justice.
The Benefits of Combining Simon's Rock and Vermont Law School
Not only do these programs offer an accelerated path to achieving your bachelor's and master's degrees, they also offer exceptional academic experiences.
Vermont Law School has the largest graduate environmental law program in the country and is consistently ranked among the best by U.S. News & World Report. Among other accolades, Simon's Rock received a higher academic rating than Harvard and Princeton from the Princeton Review.
Both schools take a multidisciplinary approach to learning in a small-town environment that has a community feel and small class sizes. The 3-1 programs emphasize student engagement with real-world problems and the development of responsive environmental policy. Vermont Law has educated thousands of students on the basis of one ideal: provide an expansive and challenging legal education rooted in a commitment to civic values. The result is that the dual degree graduates become socially-minded leaders who are skilled in working with public policy issues to meet the environmental challenges of the 21st century.
"I am using my interdisciplinary studies in writing and thinking from Simon's Rock to help reimagine environmental law as a catalyst for change in a more integrated way."

-Arielle King '14,
Simon's Rock and Vermont Law Dual Degree Student
Your preparation for Vermont Law School can take many paths at Simon's Rock. While studying science, global politics, social action, literature, or even philosophy, you will gain the important critical thinking and writing skills you will need for your master's. You will also find many ways to engage in environmental and social issues at Simon's Rock. Working in the community garden, becoming a member of the social justice committee, or joining one of the many other civic-minded clubs and student activities are good ways to steer your focus towards a dual degree with VLS.
Apply for the Vermont Law Dual Degree
Interested Simon's Rock students should contact Career Development early in the fall semester of sophomore year to discuss the VLS admissions process and apply to VLS by February 15 of junior year. Applicants must have a Simon's Rock GPA of 3.2 or higher and must complete all general education and degree requirements of your academic concentration by junior year.
Related News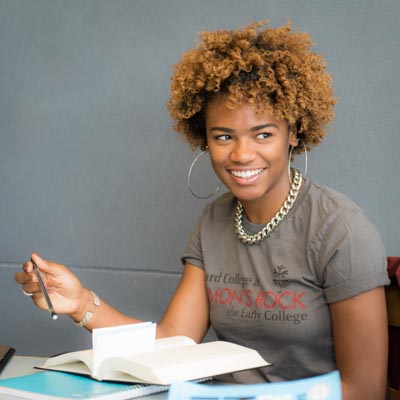 Student Activism at Vermont Law School