Stephen Carter to Discuss "Invisible" | June 06, 2019
16/07/2019June 06, 2019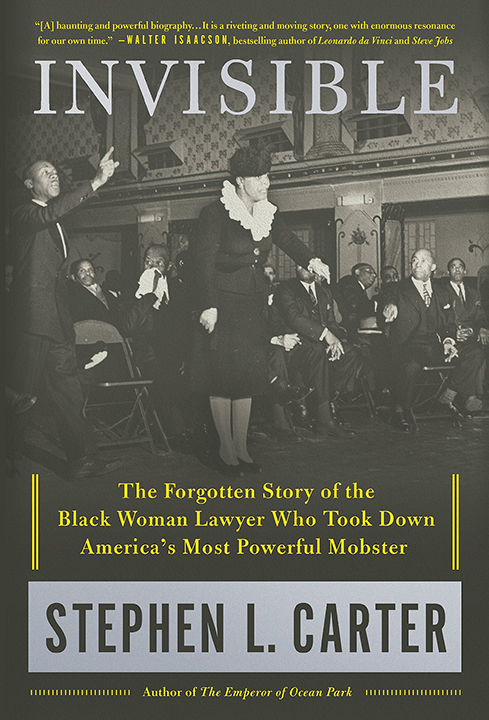 Bestselling author and Professor of Law Stephen L. Carter will discuss his new book, Invisible: The Forgotten Story of the Black Woman Lawyer Who Took Down America's Most Powerful Mobster, at Bard College at Simon's Rock on August 20, 2019. The lecture will be free and open to the public.
Invisible recounts the inspiring story of Carter's grandmother—Eunice Hunton Carter—a black woman prosecutor whose legal strategy led to the conviction of Lucky Luciano, the most powerful Mafia boss in history.
The New York Times Book Review describes the work as "not only a personal restoration project; it's the reclamation of a key figure in recent American history… Carter has revived his grandmother's voice when we most need it, and with utmost urgency."
Against the Odds, A Pivotal Figure Emerges
Eunice Hunton Carter was raised in a world of stultifying expectations about race and gender, yet by the 1940s, her professional and political successes had made her one of the most famous black women in America.
When special prosecutor Thomas E. Dewey selected 20 lawyers to help him clean up the city's underworld, he thought immediately of her; she was the only member of his team who was not a white male.
Moving, haunting, and as fast-paced as a novel, Invisible tells the true story of a woman who often found her path blocked by the social and political expectations of her time. In addition to her gender and race, family politics complicated her rise to prominence.
Her younger brother, Alphaeus, was an avowed Communist who―together with his friend Dashiell Hammett―would go to prison during the McCarthy era.
Professor Carter will be accompanied on the stage by his daughter who aided in the research to uncover the story of her great grandmother.
A Conversation Opener
Invisible has been chosen as the 2019 Book One selection at Simon's Rock. The Book One program asks all first-year students to read a selection by a contemporary living author over the summer and come ready to discuss the book. This shared foundation fosters a vibrant learning community, as students deliberate, debate, reflect, and respond to a common touchpoint.
About the Author
Stephen L. Carter is the William Nelson Cromwell Professor of Law at Yale Law School and the author of 15 nonfiction books and six novels, including The Violence of Peace: America's Wars in the Age of Obama, God's Name in Vain: The Wrongs and Rights of Religion in Politics, and The Emperor of Ocean Park, which spent 11 weeks on the New York Times bestseller list.
Professor Carter is a graduate of Stanford University and Yale Law School. He served as a law clerk for Justice Thurgood Marshall at the United States Supreme Court, and earlier for Judge Spottswood W. Robinson, III, of the United States Court of Appeals for the District of Columbia Circuit. He is a fellow of several learned societies and a life member of the American Law Institute.