Chazlee Myers '12 Shares Her Fulbright Experience | April 04, 2023
April 04, 2023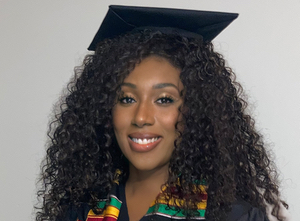 In 2022, Simon's Rock alum Chazlee Myers '12 was awarded an English Teaching Assistant (ETA) grant by the US-Italy Fulbright Commission to provide assistance to local English teachers in Italy and act as a cultural ambassador for the U.S from October 2022 to June 2023. We recently caught up with Chazlee to learn more about her experiences so far in the program and how her time at Simon's Rock prepared her for the Fulbright experience.
Growing up in Pittsburgh, PA, Chazlee Myers '12, was becoming bored with her traditional high school experience. Despite being highly academic, Chazlee shared that she was becoming apathetic about school. After a recommendation from a physics tutor in 10th grade, Chazlee found Simon's Rock.
Last year, Chazlee was looking for the next step to continue her interest in teaching. After remembering that a fellow Simon's Rock classmate had been awarded a Fulbright,Chazlee decided to pursue the prestigious scholarship for more hands-on teaching experience before starting her master's degree. For Chazlee, the years between finishing college and pursuing the Fulbright were crucial.
"I don't know if I had applied at 20 or 21 if I would have appreciated this opportunity," Chazlee says. As she started her application, she was certain this was right. "I am 25, and I want this. I need this. I was really laser-focused on preparing everything."
Chazlee describes crafting her Fulbright application as a "whirlwind" of emotion. She even kept the information that she was applying largely to herself. Working with Manat Wooten in the office of Career Development and Dean of Faculty Development & Curriculum Brendan Mathews at Simon's Rock, Chazlee worked on approximately eight drafts of the application.
"We did weekly Zoom meetings. Each time it got stronger and stronger," Chazlee shares. She remembers telling Manat: "I'm serious about this. I'm going to win this." When she shared she had been awarded the scholarship, Manat was incredibly proud. "I felt I had a lot of support from the Simon's Rock community, and that was really nice," says Chazlee. Chazlee cites her relationships with Simon's Rock staff and faculty as invaluable to her application.
"One thing I would suggest to people doing the Fulbright," she says, "is to really cultivate those relationships while you're at Simon's Rock with your professors and members of the Simon's Rock community. After that, keep in touch with those people…that's the biggest thing!"
Chazlee, a German language and photography major at Simon's Rock, has been asked many times why she picked Italy for her Fulbright application. Chazlee says it would have been easier to pursue a Fulbright in Germany but then clarifies, like a true Simon's Rock alum, that wasn't the point of the experience. After studying abroad in Germany while in college, Chazlee wanted to teach in an area where English as a second language is less prevalent. Chazlee was ready for a challenge. With only two semesters of Italian, this would feel like learning a whole new language.
Watching Italy handle both the COVID-19 pandemic and the refugee crisis in Europe built a connection for her. Chazlee describes being attracted to the openness of the country, particularly to refugees.
She admired "how they said 'come on in.' That's something I really like. The family of a community…embracing the now and staying uplifted despite challenges."
Chazlee's proposed projects for her application were an English language club and a photography club for high school students. Though she didn't know which town she would be placed in, she did know she was applying to teach in the southern region of Italy and was ultimately placed at a technical high school in the small town of Campobasso. The Fulbright program made sure to place Chazlee with students who did not study English as their primary academic pursuit or passion. As she had anticipated, Chazlee's work has been teaching students who have studied English minimally or not at all.
"The biggest thing for me while I've been here is motivating them to speak English," says Chazlee. She's also one of their youngest teachers and found that connection particularly helpful.
"When I applied, I saw that it was probably going to be high school, and I was a little nervous about that," says Chazlee. "It's been a long time since I've been in high school. I don't know if I remember how I was in high school. But they are really sweet. They're amazing kids."
Chazlee is working hard to meaningfully share an American idea of teaching in an Italian school system, particularly to pique the students' interest in learning English.
"I try to do hands-on activities. I try not to lecture so much. I try to be really interactive. I've noticed that that's not really a style of teaching here. It's very classic. The teacher teaches, and you guys take notes. Maybe we'll have a discussion. You'll take exams. That's it." She's been able to mix it up with different formats for projects and activities, including a lesson with invisible ink on Halloween that delighted her students. Integrating cultures in education is a balancing act, though.
"I'm still American in my way of thinking and style of teaching–but I've also understood that you have to be flexible," Chazlee says. "That's been a thing I've incorporated with life in general here. I just have to be really flexible. Not take yourself so seriously."
Chazlee has advice for potential Fulbright scholars at Simon's Rock. First, research the country you want to teach in. Make sure you know the answer to why this country. Then, turn that research inwards.
"Really sit down and self-reflect." Chazlee says to ask yourself: "Do I really want this? Am I ok with going to a country where I don't speak the language? Really assess yourself as a person. If you feel you're mature enough, feel that's your type of personality, then do it."
In addition to her advice on the Fulbright process and living abroad, Chazlee shared some of her favorite places she's visited while in Italy. Beyond Campobasso, Sicily is particularly special.
"It's just very beautiful and very ancient...I like Rome, and it's very similar to Rome, but it feels more diverse to me, which I like." In the true spirit of the Fulbright scholarship, the fusion of cultures grabbed Chazlee's attention. "You see a lot of the different influences because almost every nation has invaded in one way or another. There's a fusion of Greek, Roman, Arab, Turkish influence. Everything is all together. I really like this fusion of culture and identity."