Junior Mo Constantine: Vegan Activist in Italy
PERUGIA, Italy—Mo Constantine is pursuing a double Major in Electronic Media and the Arts and in Food Studies, Social and Environmental Justice at Bard College at Simon's Rock. This semester, those studies led Mo to participate in the Food & Sustainability Studies Program at the Umbra Institute, an American study abroad provider in Perugia, Italy. Already, Mo feels at home and recently sat down with Umbra staff to share what it is like to be a vegan activist in Perugia.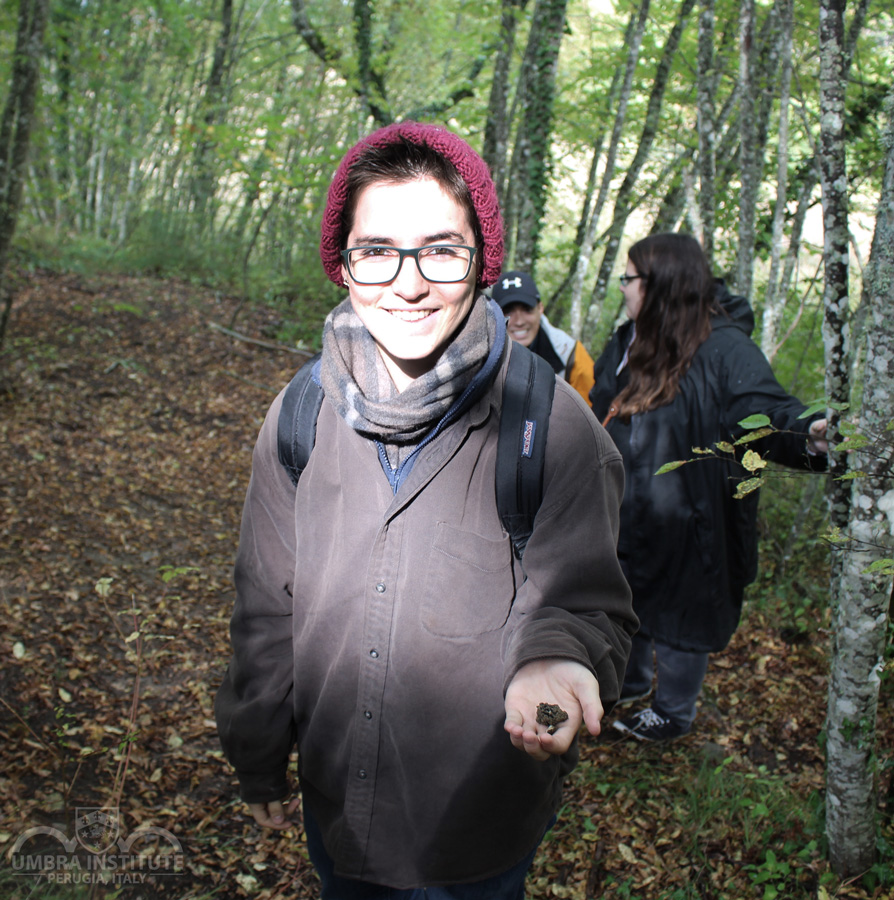 Mo is interested in the academic and social movements that are associated with animal rights and food justice, explaining: "I am interested in environmental justice and human rights problems associated with the food industry because I feel like it's a place where I can actually make a difference." A large part of the ability to affect change revolves around being educated about both sides of an issue, meaning that, to Mo, it is important to take trips like a recent one to Dario Cecchini, a Tuscan butcher.
Mo visited Cecchini with the Sustainability of Food in Italy class, a course that considers the complex interplay of social and political factors in food policies while analyzing various elements of food systems and alternative food movements in Italy and the United States. "As a vegan, I disagreed with Dario Cecchini when he said that he receives a 'gift' from the animals; they don't give it to you, you take it!" exclaimed Mo when commenting on the field trip to Tuscany. "I liked listening to Dario talk about where the food was coming from and the effect it's having," Mo said in regard to Cecchini's lecture on his belief that omnivores must practice responsible consumption habits, providing each animal with a dignified life and death. "[The trip] helped me learn about meat production in Italy," said Mo. "I like to know what is actually going on because you can't advocate against something with a compelling argument unless you know what is happening."
After discussing the trip to Dario Cecchini, Mo described what it is like to be a vegan in Perugia. "Everyone in Italy seems to know what vegano means," Mo says. "A lot of people in and out of the program are familiar with and supportive of the idea." It isn't necessary to worry if a restaurant will provide vegan-friendly food. Often the vegan portions are larger than the omnivore portions. Mo also discovered vegan Nutella, yogurt, and other foods that cannot be found in their part of the United States. "I like how strong the food culture is here. The slow food and a lot of organic food is cheaper and everything about the system seems so different from the rest of the world."
Through the Food & Sustainability Studies Program, Mo has also worked with classmates and locals in a therapeutic synergistic garden and travelled to Città di Castello to learn the history and art of foraging for truffles. Before the program comes to a close, Mo will have visited local bread and cheese producers to learn the traditions behind their family businesses, and Parma and Modena to personally view the production of prosciutto, parmeggiano reggiano, and balsamic vinegar. After the program, Mo plans to continue actively pursuing knowledge in all fields related to animal rights and food justice.
Umbra's Food & Sustainability Studies Program
The Umbra Institute Food & Sustainability Studies Program is an interdisciplinary study abroad program located in the central Italian city of Perugia. Often called a "big university town in a small Italian city," Perugia is the ideal setting to study abroad in Italy, with fine arts, business, and liberal arts courses.