Brendan Mathews Publishes Short Story Collection
In This Is Not a Love Song¸ faculty member Brendan Mathews takes love—its promises and its limits—as his subject.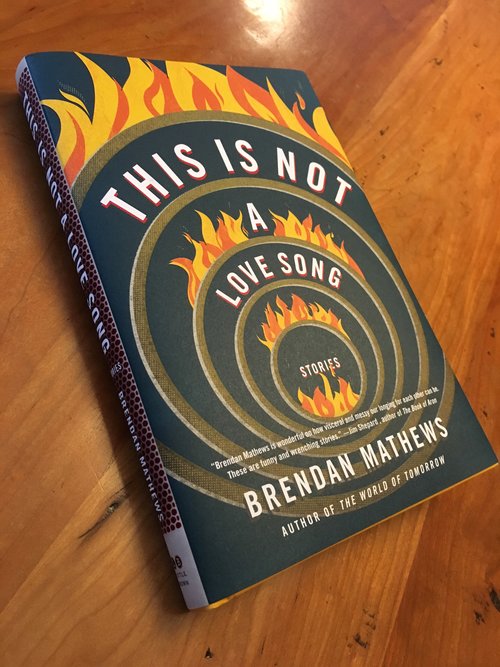 Even before his acclaimed novel The World of Tomorrow hit bookshelves in 2017, Brendan Mathews was writing and publishing the stories that comprise This is Not a Love Song. Like the novel, This Is Not a Love Song has garnered immediate attention, with favorable early reviews hailing Mathews as an ambitious and talented writer.
Publisher's Weekly describes the book as "an eclectic, accomplished collection," and Kirkus Review notes that "The book certainly is not a love song of the homely, sentimental sort. It's realistic without cynicism, more of an extended aria for a range of intimacies and attachments that never run smoothly."
Each of the 10 stories in This Is Not a Love Song, is an exploration of intimacy between characters who seem desperate for love and burdened by its claims at the same time. A noted stylist, Brendan takes advantage of the form, finding inventive ways to enhance the stories' thematic concerns. The titular story, for instance, unfolds as a series of vignettes, each section associated with a photograph or sound recording of the narrator's deceased friend, Her sense of loss is reflected and driven home by Mathews' decision to present fragmented images and disembodied voices.

Brendan Mathews, a professor at Simon's Rock since 2007, teaches creative writing and literature. For over a decade, he has been publishing short stories—two have appeared in the annual Best American Short Stories anthology.
Brendan Mathews Book Tour
Friday, February 8, 6 p.m.
The Bookstore in Lenox
11 Housatonic Street, Lenox, MA

Monday, February 11, 4 p.m.
Simon's Rock Alumni Library
84 Alford Road, Great Barrington, MA

Saturday, February 16, 7 p.m.
10x10 Upstreet Arts Festival
Methusaleh Bar, Pittsfield, MA

Saturday, February 23, 4 p.m.
Stockbridge Library
46 Main Street, Stockbridge, MA

Saturday, March 16, 3 p.m.
The Book House
Stuyvesant Plaza, 1475 Western Avenue, Albany, NY