Peter Filkins Publishes New Book of Poetry
Peter Filkins, Richard B. Fisher Professor of Literature and Creative Writing at Simon's Rock, releases his latest book of poetry, Water / Music (Johns Hopkins University Press), on April 6, 2021.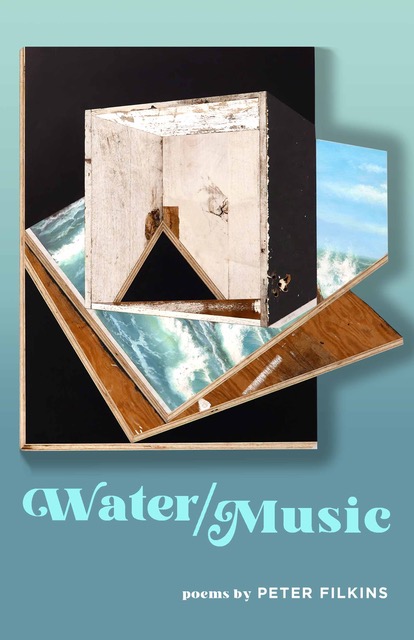 Water / Music, which includes 53 poems, explores the fraught relationship between the natural world and the human. Rich and diverse in their formal intricacy, the poems move from narrative to meditation, from close physical observation to the haunts of memory, and from lyric sorrow to the pleasure of living in the world. Initial critical acclaim lauds the collection as one that is "built to last" and "precise and beautifully tuned."
In support of the book, Professor Filkins will also participate in a nationwide, virtual book tour, which includes a free, publicly available reading hosted by Bard College at Simon's Rock on Monday, April 5 at 5:00 p.m. ET via Zoom. During several of the readings on the book tour, Professor Filkins will be joined by other acclaimed writers, including Prageeta Sharma '89, Lawrence Raab, and Rosanna Warren.
"It's a big book with a lot of moving parts—nature, culture, history, politics, art, memory, and elegy," noted Professor Filkins. "I'm so pleased to be reading with poets whose work I deeply respect, and who have brought out wonderful books during the pandemic."
Professor Filkins, who has been teaching at Simon's Rock since 1988, has a primary interest in writing poetry and has published four volumes of original verse to date, including What She Knew (1998), After Homer (2002), Augustine's Vision (2010), and The View We're Granted (2012). He has won various awards—including the Stover Prize in Poetry from Southwest Review, the Sheila Motton Best Book Award from the New England Poetry Club, and the New American Press Chapbook Award—as well as fellowships from the National Endowment for the Humanities, the Massachusetts Cultural Council, Yaddo, MacDowell, the Millay Colony for the Arts, the James Merrill House, and the American Academy in Berlin.
Following are additional dates and details for the virtual book tour:
April 7, 7:30 p.m. ET: Community Bookstore, Brooklyn, NY. Joint reading with Vijay Seshadri.
April 8, 7:00 p.m. MT/9:00 p.m. ET: Tattered Cover Bookstore, Denver, CO. Joint reading with Sidney Wade.
April 9, 7:30 p.m. ET: Words Out Loud Series reading, Glenn Echo Park, MD.
April 13, 7:00 pm CT/8:00 p.m. ET: Magers and Quinn Books, Minneapolis, MN. Joint reading with Sidney Wade and David Yezzi.
April 15, 6:00 p.m. ET: Northshire Bookstore, Saratoga Springs, NY/Manchester, VT. Joint reading with Rosanna Warren.
April 16, 7:00 p.m. CT/8:00 p.m. ET: The Book Cellar, Chicago, IL. Joint reading with John Hennessy.
April 19, 7:00 p.m. ET: McNally Jackson Books, New York, NY. Joint reading with Rosanna Warren.
April 20, 6:00 p.m. PT/9:00 p.m. ET: Vroman's Bookstore, Los Angeles, CA. Joint reading with Didi Jackson, Major Jackson, and Rowan Ricardo Phillips.
April 22, 7:00 p.m. ET: Grolier Poetry Bookshop, Cambridge, MA. Joint reading with Lawrence Raab and Prageeta Sharma.
April 27, 7:00 p.m. ET: Bookstore 1, Sarasota, FL.
May 12, 6:00 p.m. PT/9:00 p.m. ET: Green Apple Bookstore, San Francisco, CA. Joint reading with Rosanna Warren.
June 22, 7:00 p.m. ET: First and Last Word Reading Series, Somerville, MA.