Simon's Rock Mourns Loss of Literature Professor Rebecca Fiske
Rebecca Fiske, beloved teacher, mentor, colleague, and friend, died January 3 after a long battle with cancer.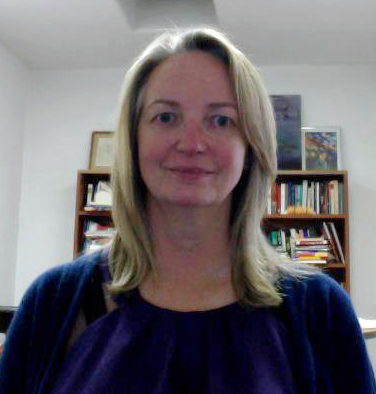 A faculty member since 1986, Rebecca devoted her enormous spirit to teaching and supporting students. During her tenure at Bard College at Simon's Rock, she served as faculty in Literature, the dean for new students, and the founding director of the Win Student Resource Commons.
The Win Commons was one of Rebecca's most significant accomplishments. This important integration of multiple types of student support came to fruition through her vision and understanding of what Simon's Rock students most need.
"Because Rebecca believed in her students so completely, her inclination was not to allow them to give up. Instead she challenged them to push through the difficulties and finish what they had started," shared faculty member and friend Jamie Hutchinson. "By believing in them, she helped them believe in themselves."
Rebecca was a committed and curious scholar whose work was published in numerous academic journals and books, and who frequently presented on her research and interests. "In recent years, her scholarly interests took her to international conferences in France, Spain, Canada, and Poland, where she presented papers that brought together her interests in critical theory, literature, religion, and politics. Rebecca had begun to reach a wider audience," noted Jamie.
Rebecca served as a peer reviewer for academic articles in M/C Journal: A Journal of Media and Culture for the University of Queensland, Australia, and also volunteered as a literacy/English as a Second Language tutor with the Literacy Network of Southern Berkshire. Rebecca was the founding director of Berkshire Learning Services, an organization devoted to gifted adolescents with learning challenges.
Rebecca was well known for her deep affection and committed advocacy for Simon's Rock students. Describing Rebecca's influence on her own work, Dean of Students Sue Lyon said, "Rebecca taught us how to really listen to and support our students." She was a recipient of the Richard C. Drumm Sr. Award, given annually by the senior class to a longtime member of the faculty or staff who has dedicated his or her professional life to the College.
"Rebecca taught us to really listen to and support our students."

-Sue Lyon,
Dean of Students, Bard College at Simon's Rock
In an email sent to current students, Provost Ian Bickford captured the love and admiration Rebecca felt for her students: "In one of my last conversations with her, she was still sharing details from class discussions, and at one moment she smiled widely—I will always remember this—and said, 'You know, Ian, our students are the most beautiful thinkers in the world. We're so lucky.'"
A memorial service will be held on January 21 at the Roche Funeral Home, 120 Main Street, Lenox, Massachusetts. Visitation begins at 1:00 p.m., with a memorial service beginning at 3:00 p.m. The service will be officiated by Monshin Paul Naamon. A reception will follow at 4:30 p.m. at Mazzeo's Ristorante, 1015 South Street, Pittsfield, Massachusetts.