Simon's Rock Becomes More Sustainable with Solar Panel Installation
With the flip of a switch, over 50 percent of the electricity use at Bard College at Simon's Rock will come from renewable resources.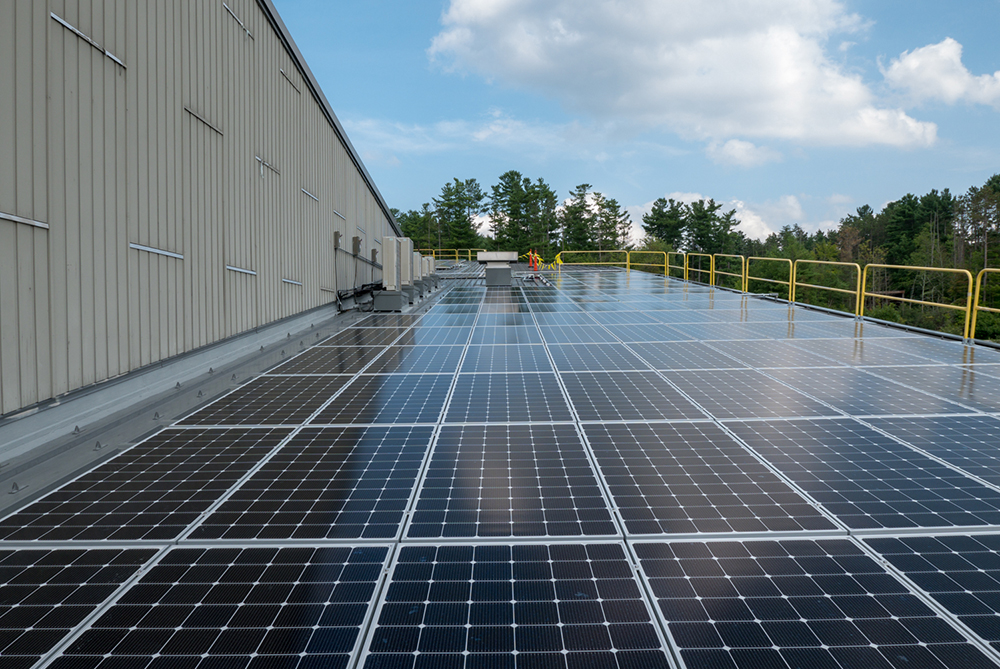 Solar panels on the Daniel Arts Center
Simon's Rock has partnered with Solect Energy, to install solar panels on the roofs of the Daniel Arts Center, the Ceramics and Wood/Metal Studio, and the Kilpatrick Athletic Center, totaling 360 kilowatts DC—the equivalent of 60 average homes. Andreas Schmid, senior director of business development for Solect Energy, said "the project will cover approximately 15 percent of the main electric meter's annual usage and help Simon's Rock achieve sustainability goals." The solar panels are expected to be fully operational in October, following approval from National Grid.
In addition to the installation of the solar panels, solar energy produced by off-site solar farms in Millbury and Cheshire will transfer net metering credits to the College's utility account, amounting to a combined 1,661,620 kilowatt hours (kWh) annually. This will result in 53.3 percent of the electricity use on campus being generated using solar power.
Philip Morrison, director of Finance and Administration at Simon's Rock, who has installed solar panels at his own home and personally understands the benefits of renewable energy, is excited to see this project move forward. "Installing solar panels on three of our largest buildings will benefit the campus financially, but more importantly, it positions Simon's Rock as a more sustainable campus and promotes environmental stewardship."
The solar array is being installed at no cost to Simon's Rock through a unique solar program offered by PowerOptions and Solect Energy, as well as with incentives that include a federal tax credit, a depreciation tax benefit, and the Massachusetts Solar Renewable Energy Certificate. Simon's Rock has entered into a Power Purchase Agreement with Solect Energy in which Solect installs, finances, and operates the solar arrays, and then sells the power generated to the College at a fixed, reduced rate (pre-negotiated by PowerOptions) for a period of 20 years. Philip said that over the course of the 20-year agreement, Simon's Rock can expect to realize an estimated savings of nearly $650,000, or around $32,500 annually.
Studying Sustainability
The solar panels will provide another avenue of study for Simon's Rock students concentrating in Environmental & Sustainability Studies. The solar arrays could also be used for student research or as the focus of a senior thesis. For example, students might use datasets from the solar array monitoring system.
Using the solar panels as a research tool is part of a larger offering of academic study. Students can learn about sustainability from a variety of disciplines and there are several programs explicitly focused on the topic. Students can learn about the agricultural practice of maple sugaring at the sugar shack, work with bees and collect honey in the apiary on campus, and even do fieldwork in Montserrat. Students studying Agroecology can often be found working in the Community Garden.
Commitment to Sustainability
Simon's Rock was an early adopter of solar, installing panels on the Fisher Science and Academic Center about 10 years ago, but that first installation only served a small portion of the campus's use. The installation of additional solar panels is helping Simon's Rock further reduce its overall electricity usage.
Tom Coote, visiting faculty in Environmental Studies and coordinator of sustainability programming at Simon's Rock, has long been a proponent of sustainability efforts on campus and is excited to see solar energy use expanded.
"I think the panels are great not only for the cost savings to the College, but also because they help Simon's Rock work toward achieving as low an environmental impact as possible."

-Tom Coote
The College leveraged the expertise of Enercon Services Inc. and National Grid to conduct a comprehensive lighting audit, and is planning to replace lighting fixtures in 13 buildings, likely starting with the Alumni Library and the Kilpatrick Athletic Center. Updating light fixtures throughout campus will result in substantial energy savings. The project will have significant upfront costs, but the reduction in energy use will lead to long-term savings. Simon's Rock is seeking immediate funding to help defray these upfront costs and to take advantage of the current technology being offered.
The Simon's Rock Sustainability Committee meets regularly to discuss and initiate overall campus sustainability, and the student-led Green Society is moving forward student driven sustainable efforts, like promoting campus-wide single-stream recycling and working toward a long-term composting system. The Green Society also collaborated with Dining Hall staff to introduce Green Mondays as an effort to serve more sustainable food. The Community Farm also contributes produce to the Dining Hall.
In 2013, Simon's Rock launched the Center for Food Studies to advance awareness of food cultures and become responsible stewards of a sustainable food system. The Center for Food Studies sponsors the annual ThinkFOOD Conference, connecting the Simon's Rock community with agricultural experts and resources.