Curriculum
The chemistry concentration requires a year of general chemistry, a year of organic chemistry, a semester of inorganic chemistry, a semester of biochemistry, Introduction to Quantum Physics and Modern Physics Laboratory, (or an approved Physical Chemistry course at another institution), and at least four additional credits of approved science courses selected from the list given below for a total minimum credit requirement of 32 credits. It is designed to provide the basic understanding required of any student pursuing a chemical education, as well as to furnish a firm basis for advanced work in chemistry, biology, or the health-related fields. All courses listed in this concentration will be offered at least once every three years if there is sufficient enrollment; courses that do not adequately enroll will be offered on a tutorial basis for students who have elected this concentration. The chemistry concentration nicely complements advanced work or concentrations in biology, environmental studies, ecology, mathematics, physics, or psychology, and provides one of the three bases for the premedical concentration.
REQUIRED COURSES
Chemistry 100 and 101 Chemistry I and II
Chemistry 302 and 303 Organic Chemistry I and II
Chemistry 306 Inorganic Chemistry
Chemistry 312 Biochemistry
Physics 220 Introduction to Quantum Physics
Physics 230 Modern Physics Laboratory
At least one course at or above the 200-level, chosen from the list below and in consultation with the Moderation Committee at the Moderation meeting.
Chemistry 310T Instrumental Methods of Analysis in Chemistry
Chemistry 410T Physical Organic Chemistry I
Physics 320 Statistical Thermodynamics
Course Spotlight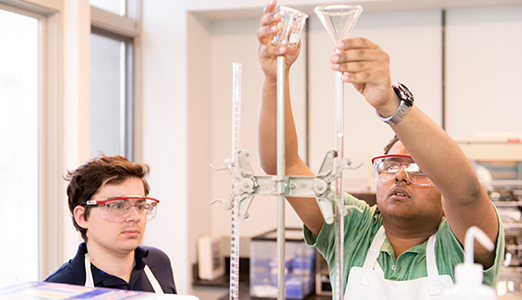 chem 302: Organic Chemistry
The course deals with the theoretical and practical aspects of the chemistry of carbon compounds. Topics include bonding, classification of functional groups, organic chemical nomenclature, electron delocalization, stereochemistry, beginning of reaction mechanisms, equilibrium, spectroscopy, and simple chemical syntheses. The laboratory experiments address the skills and techniques of organic chemistry labs, including syntheses, separations, and extractions and are designed to parallel many lecture topics.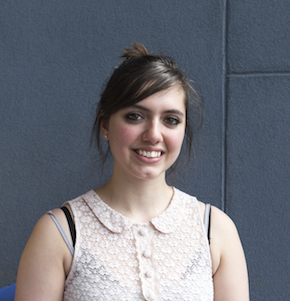 "Preparing for a Career in STEM."
MariaBiomedical researcher