The Simon's Rock theater program is limited only by the imaginations of the participants in any given year.
Students in the program receive one-on-one instruction, a variety of opportunities to learn about all aspects of performance, and the encouragement to fashion their own programs of study in consultation with the faculty. All aspects of theater performance and production are covered across the two tracks: (1) Performance Creation and (2) Technical Creation and Design. Within a single year, a student may have the opportunity to act, assist designers, work backstage, and even assistant direct. The course sequences are carefully designed to build lasting skills and a refined aesthetic. This concentration fosters individual self-awareness, knowledge of theater aesthetics, and the dynamics associated with working in close collaboration toward a common goal with one's peers. Students are offered the skills fundamental to theatrical communication born of effective performance, and an opportunity to interpret the human condition through drama.
Related career paths
Students with a concentration in the theater arts may enter into fields such as set design, performance art, directing, screen writing, stage management, and education.
Core Curriculum
Work in the program begins with introductory courses that offer students the opportunity to explore aspects of performances and production. As they progress in the program, students are encouraged to continue to take courses that expand their familiarity with the entire field of theater, from writing and history of drama to lighting, set design, and costume.
Course Spotlight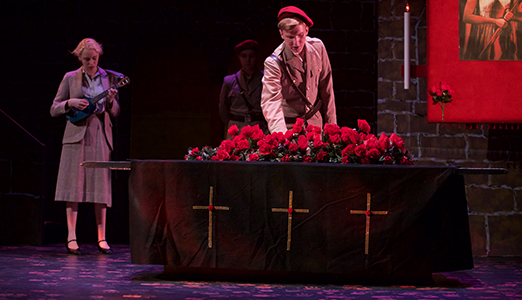 Theater 225: The Actor Prepares: Sense Memory
The exploration of sense memory and emotional memory was first written about and developed by Russian actor and director Constantin Stanislavski. Lee Strasberg continued this work further with the Group 119 Theater in New York and at the Actor's Studio. Although it is sometimes referred to as "the method," in this class we will specifically explore sense memory exercises and their application as a skill for the preparation of work on text, character, and relationship. These exercises will also aid in development of concentration, relaxation, and creative choice in monologue, song, and scene work.