Bard College at Simon's Rock: the Early College
We're Moving Science Forward
Professor of Physics
A recent NSF $115,000 grant allows Mike to continue his research on the Earth's inner core
It's very gratifying that my colleagues believe that this work is sufficiently interesting and merits funding. It's also gratifying to demonstrate that it's possible to do research here that moves the field forward. And it's important to realize that teaching classes doesn't preclude research.
"Mike saw through our aptitude towards science and that really matters to him as a teacher. Hard work was always evident in his classes and meeting his expectations meant something for all of us. Summer internships with him and subsequent thesis were a highlight of my college education. It was one of those turning points where the mandate was getting it right from the construct of an independent learner."

-Ingyin Hla,'06

several students help with research each summer…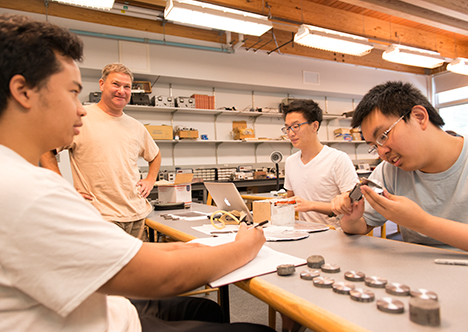 …We coauthor papers that are published in scientific journals and work on complex projects. Some students are able to work with me for three or four of their years here, and with time their investment in the project grows, and they can work independently. It's great when that happens. Doing research gives students experience on what doing science is, which is very different from studying it in the classroom alone.